Even the most fair-weather cyclist will be aware of the rise in popularity of bikepacking in recent years. More and more cyclists are trading Lycra for plaid shirts and strapping frame bags, tailfin bags, and, of course, the obligatory handlebar — aka 'burrito' — bag to their bikes and setting off to parts unknown. To help you know where to go, we've taken a look at some of Britain's best bikepacking routes.
Bikepacking's Surge in Interest
Based on data from Ahrefs — an online, search-engine monitor — "bikepacking" is undergoing a surge in queries, currently averaging a little under 3,500 searches a month on Google, up from 1,032 in 2016. Data from Google Trends supports this rise in interest over the last few years, and pegs Scotland as the spiritual home of British bikepacking. The data shows that over the past five years', interest in searches for 'bikepacking' in Scotland have (as a proportion of overall searches) been 31% higher than in Wales and 38% more than in England. Being home to plentiful wildlands and Highlands to explore, the Isle of Skye, and the North Coast 500 this result is no real surprise.
Why the Rise in Bikepacking?
Over the last few years foreign travel has been restricted, given Britain-based cyclists the opportunity to explore places closer to home. Cyclists like Lew, a photographer and keen mountain biker, took to the trails and backroads as an escape over the last couple of years, while foreign travel was less easy. "To scratch the itch for adventure," Lew tells us, "I bought a cheap gravel bike and began cycling from my backdoor. As places began opening up again, and we were allowed to go further afield, it seemed an obvious next step to combine a love of both camping and cycling. The rest, as they say, is history."
Where to Go Bikepacking
Given the rise in popularity of bikepacking, we've taken a look at some of the most popular routes across Britain. To compile our list, we used the excellent recommendations compiled by online gravel and bikepacking experts ADVNTR. Using this list as a basis, we cross referenced it with a route's 'likes' on online ride-tracking platform Komoot. The result is a list of routes spanning the length and breadth of the British Isles. Although it's by no means an exhaustive list, it certainly offers up some excellent options for beginners and experienced bikepackers alike.
In curating our list, we spoke with Rob Marshall, Komoot's UK Marketing Manager, to get some insight into why the routes in this list have prevailed. Rob tells us, "All of the routes take in some of the UK's most incredible landscapes and offer a real taste of UK adventure. Many of the routes and locations offer riders a chance to journey through changing landscapes, across multiple terrains. At Komoot, we've seen cyclists move away from performance in search of experience and exploration, and all these routes and landscapes offer this opportunity."
So, without further ado, here is our ranking of Britain's ten best bikepacking routes.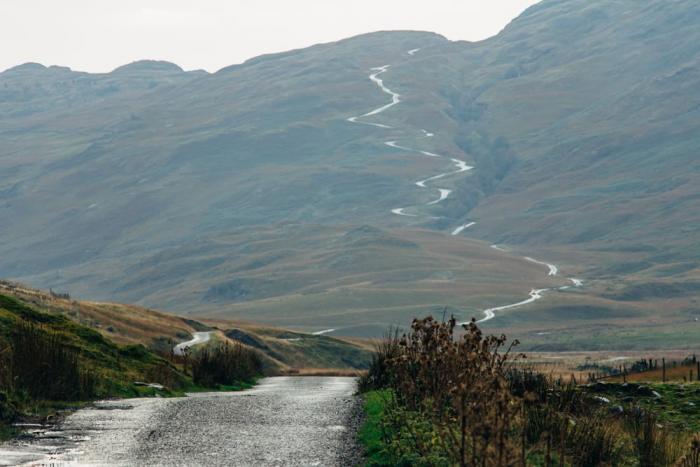 Britain's 10 Best Bikepacking Routes
1) King Alfred's Way, England
712 likes | 360 km / 220 miles | 3,610 m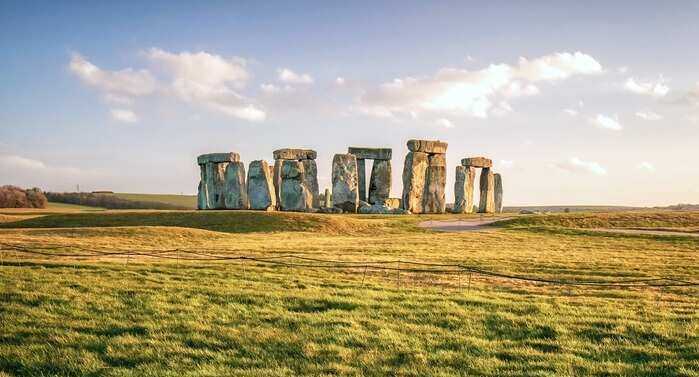 Taking its name from the Anglo-Saxon king, King Alfred's Way was established in 2020 by Cycling UK. This loop takes you on a roundtrip of parts of the historic kingdom of Wessex, covering the modern-day counties of Hampshire, Wiltshire, Berkshire, and Surrey. Starting in Winchester, Alfred's burial place, the route takes in a number of iconic monuments, including Stone Henge, Farnham Castle, and both Winchester and Salisbury Cathedral.
Although there might be some hardcore gravel racers out there that take on this course all in one, this route is best enjoyed as part of a multi-day adventure. The official starting point is in Winchester and Cycling UK recommend you travel clockwise; but being a loop, you can start it where it's most convenient and ride it in any direction. Regardless of how or when you take on this journey, you can look forward to quintessentially English villages, the chalk grasslands of the South Downs Way, and the leafy Surrey Forests, in what is soon to be an absolute must for bikepacking and adventure-cycling enthusiasts.
Speaking with Rob on why King Alfred has once more reigned supreme, he tells us that the route "is super accessible for lots of great reasons, which I believe has really helped with its popularity over the last few years. You'll find many train stations and parking opportunities, on and just off the route. And if you're local enough, you also don't have to complete the whole route in one trip, for example, you could ride it over a number of weekends picking up where you left off."
What's more, taking in much of the south of England, Rob continues, "There are plenty of re-supply points and accommodation options along the route, which makes it a great choice for those who want to travel lighter, meaning you can really tailor the route to the experience you want."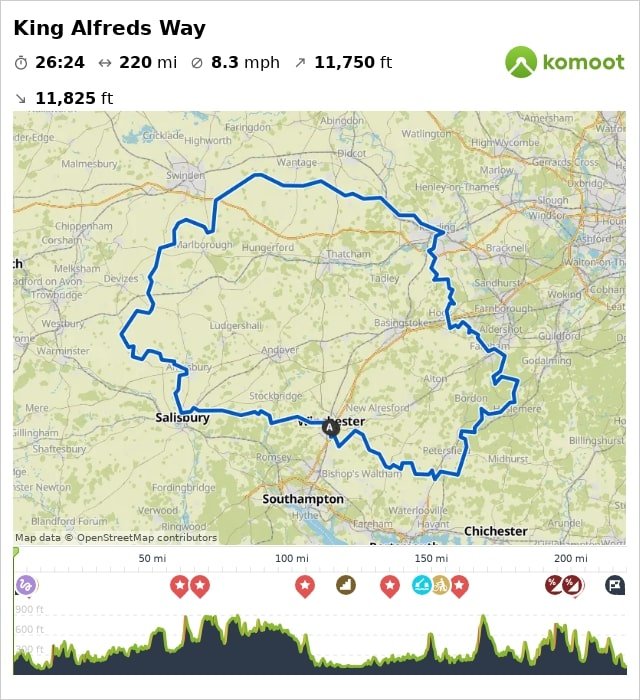 2) The Badger Divide, Scotland
487 likes | 342 km / 212 miles | 5,070 m


Starting in Inverness, on the northeast coast of Scotland, and finishing in the city of Glasgow, in the western Lowlands, the Badger Divide traverses spectacular scenery across the Scottish Highlands. Incorporating well-established trails, such as the Great Glen Way and West Highland Way, this route takes in some of the best landscapes in the Highlands, while still remaining an accessible route. Best enjoyed over a week or so, it's possible to tackle this epic route with only an overnight stop. Of course, being an A–B route, you'll need to give consideration to your arrival and departure; fortunately, both Inverness and Glasgow are well connected by rail.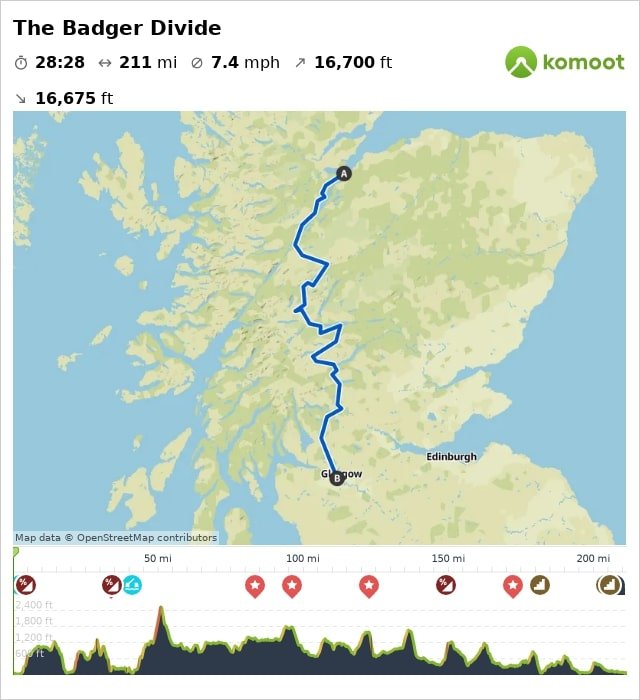 3) Lakeland 300, Lake District, England
411 likes | 299 km / 185 miles | 6,390 m


As the name implies, this is a 300 km (185 mile) lap of the Lake District. As you might expect from a lap of the Lakes, this route takes in a number of the iconic and dramatic climbs of England's largest National Park. Having been pieced together by local mountain-bike racer and bikepacker Chris Hope, there are clear signs of heavy input from an experienced local: the route expertly weaves together well-known bike trails of the area, including Loughrigg Terrace and Walna Scar Road, with some lesser-known sections. Compared to some of the routes on this list, it's quite testing, and a mountain bike might be a better option than a gravel bike. The official start point for this loop is Cockermouth but if travelling by train, Penrith and Carlisle are also options.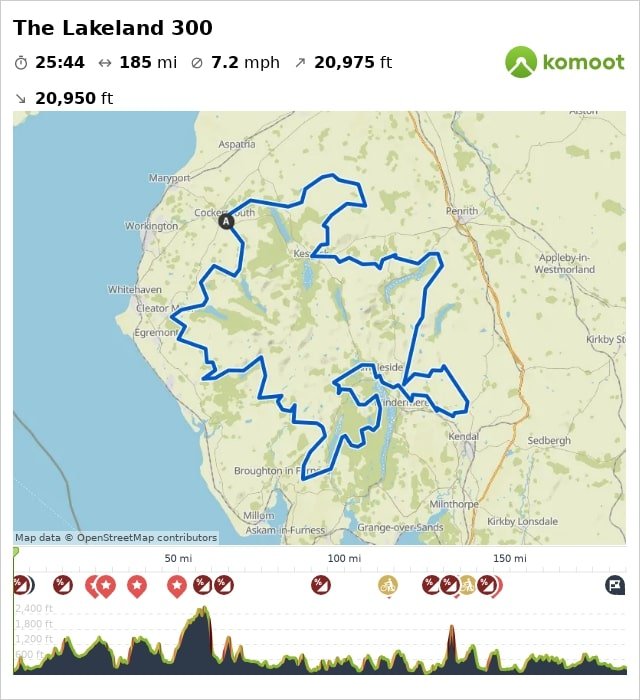 4) The Faultline Trail, Scotland
380 likes | 1,175 km / 730 miles | 14,070 m


Do you want to take in virtually all of Scotland in one fell swoop? Look no further than the Faultline Trail. Beginning at the Mull of Galloway, on the southern tip of Scotland, this route heads over 1,000 km north to finish on the peninsula of Dunnet Head. Covering remote moorlands and reaching nearly 800 metres above sea level, it goes without saying that this is a challenging route that requires serious thought and preparation before taking it on.
Incorporating a mix of road and off-road sections, this route is accessible on a gravel bike; but you'll not be upset if you opt for a mountain bike. Covering so much ground in remote locations, wild camping is unavoidable and so preparation is vital. Though it is a challenging route and not one to be taken lightly, for those that do take it on there's endless stretches of unbelievable scenery.
5) The Yorkshire Dales 300, Yorkshire, England
338 likes | 306 km / 103 miles | 6,240 m



As "God's own country" and the largest county in England, it's no wonder a Yorkshire-focused route features in this list. Brainchild of Stuart Rider, owner of the Skipton-based, Riders Cycle Centre, the Yorkshire Dales 300 can be done as part of the annual event linked to the shop; equally, you can tackle this epic route whenever you fancy. The route features a number of tough climbs, challenging singletrack, as well as passing through idyllic Yorkshire villages and ideal spots to enjoy some mid-ride refreshment.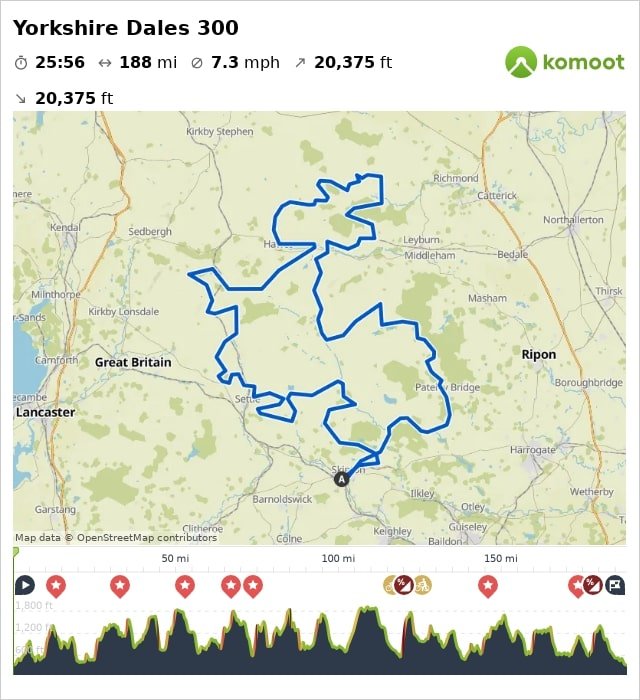 6) The South Downs Way, Hampshire/East Sussex, England
303 likes | 165 km / 103 miles | 2,890 m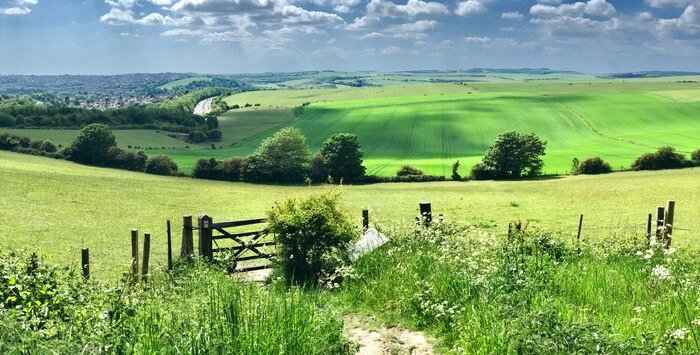 The South Downs Way is another A–B route, starting out in Winchester and ending on the south-coast town of Eastbourne. This a route that the fitter riders could quite feasibly traverse in one day, but for more enjoyment two or three days would be best. Having been used as a pathway for thousands of years, the route itself is reasonably accessible in terms of technicality; but what it lacks in technical features it makes up for in its climbs and sheer distance. Topping out at 270 metres on Butser Hill, there's plenty of opportunities take in wide ranging views on this route, with features from the prehistoric ages to the Romans. Taking in the countryside without going too remote, makes this an ideal starting point for those looking to get into multi-day bikepacking adventures.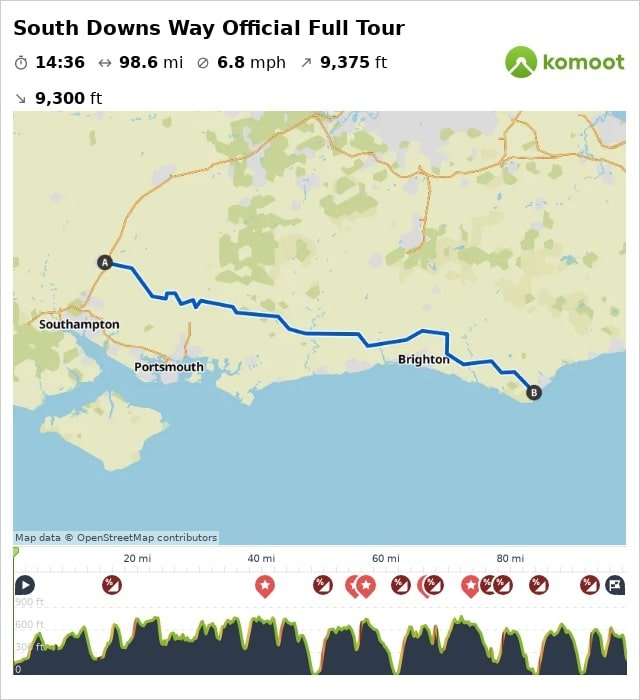 7) Wild About Argyll Trail, Scotland
299 likes | 677 km / 421 miles | 9,090 m
A long-distance route not for the faint of heart. The Wild About Argyll Trail covers gravel tracks, forest roads, lanes, cycle paths, and singletrack there's something for everyone on this route. Skirting around a multitude of lochs, you'll never be too far from a waterside view. Exploring Loch Lomond, the largest lake in Great Britain, and the Trossachs National Park, the route offers fantastic natural scenery to explore, as well as ancient burial grounds and castles.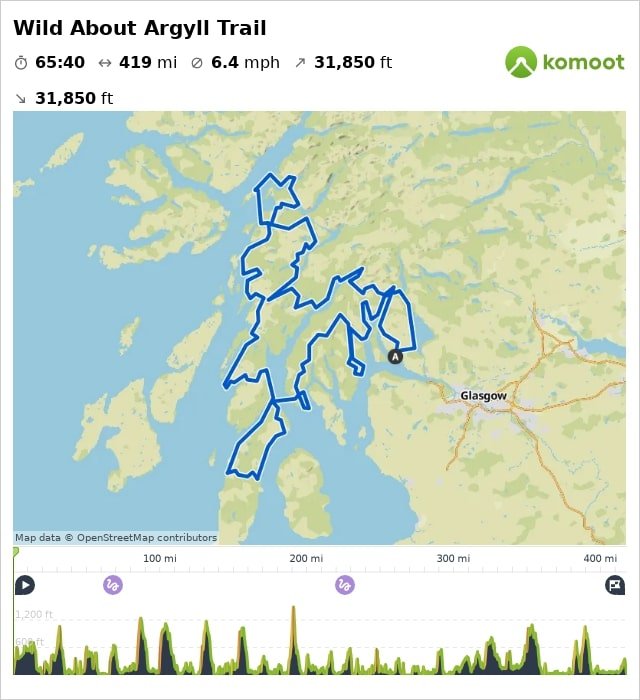 8) Trans Cambrian Way, Wales
286 likes | 177 km / 110 miles | 3,280 m


Winding its way through the heart of Wales, the Trans Cambrian Way covers some remarkable scenery. Travelling from the border town of Knighton to the mouth of the river Dyfi on the Welsh coast, this route takes in the Cambrian Mountain range (the oldest mountain range in Europe), the Elan Valley, and a series of man-made reservoirs, most notably the Claerwen. This is more of an MTB adventure than gravel tour as it takes in a number of forest trails, singletrack, and the more-than-occasional river crossing.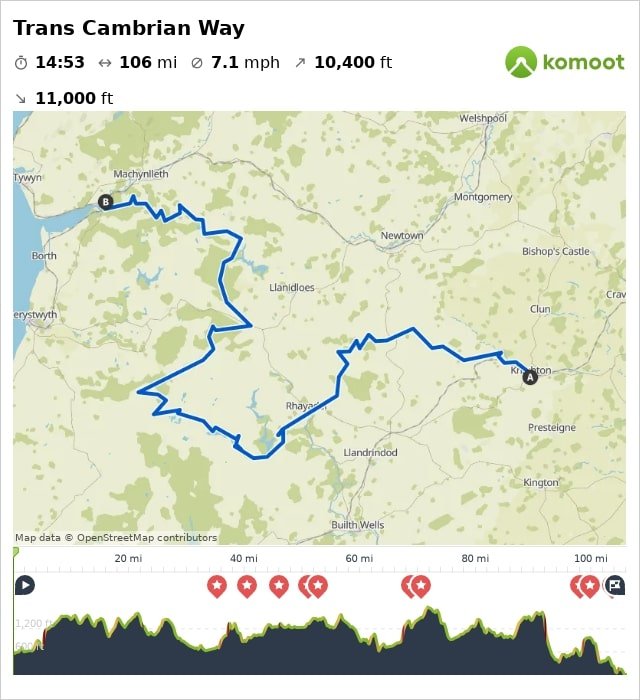 9) Peddars Way, Suffolk/Norfolk, England
278 likes | 142 km / 88 miles | 780 m


Starting out in Thetford, the route follows a Roman road north to Hunstanton on the North Norfolk coast. Reaching the dizzying heights of approximately 90 m above sea level, this is one of the most accessible routes on the list. There might not be any staggering climbs on this route, however, what the route lacks in leg-sapping climbs it more than makes up for in rural landscapes, wildlife, and ancient castles. This is a route well suited to beginners, looking for their first dip into the world of multi-day bikepacking adventures.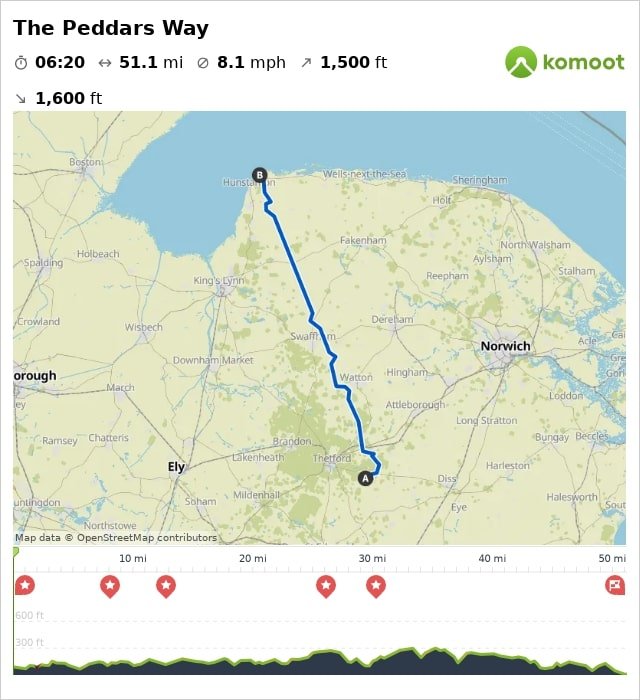 10) The Pennine Bridleway, the Pennines, England
261 likes | 296 km / 184 miles | 5,900 m


The Pennine Bridleway covers the Pennine Hills from south to north, frequently referred to as the "backbone of England". However, don't be misled by the use of 'hills', these peaks are not to be taken lightly. Covering the Derbyshire Dales, Greater Manchester, Lancashire, the Yorkshire Dales, and Cumbria, it goes without saying this route offers up some spectacular views, along with some challenging riding. The route passes through some remote and inaccessible areas, but there are numerous options for rest stops along the way.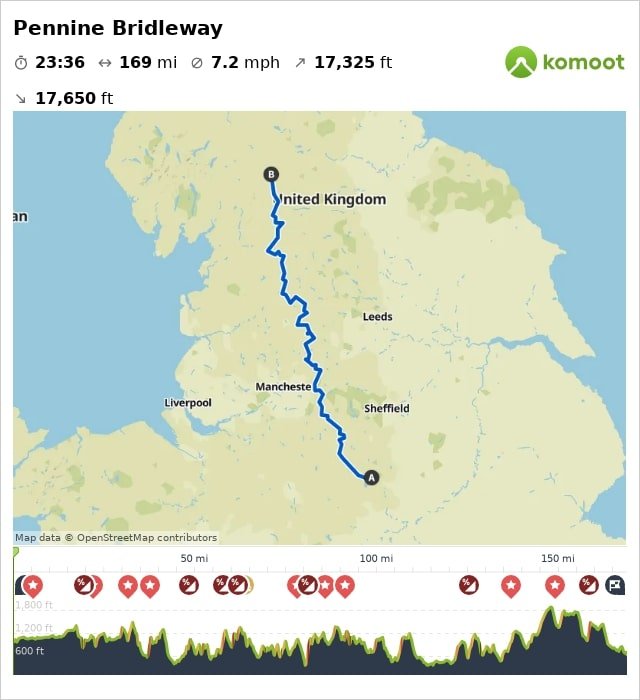 Time to Get Out and Explore
If you're feeling inspired after all that, here is some advice on where to begin.  Rob says, "Just give it a go! One of the wonderful things about bikepacking is that there are so many options and ways to do it. You can travel light and stay in hotels and B&B's or carry all of your sleeping kit and (wild) camp, or even something in between, which is often my favourite way to do it."
Lew tells us that a great way to begin exploring is from your backdoor. Rob echoes this, saying "A great tip is to start local, turn one of your local weekend day rides into a bikepacking overnighter, and be back home on Sunday in time for lunch. This is also a great way to test your kit out before heading a little further afield."
In terms of kit, it can be a bit daunting when starting out. Lew says he "almost fell into the trap of buying the most fashionable bags and gear" for his first bikepacking trip. In the end he just went with what he had. Similarly, Rob recommends to "start by borrowing some [equipment]. You'll probably find friends and cycling club members that are happy to lend you some kit to try bikepacking out and suss out exactly what you need."
Lastly, it's important to set sensible daily distances. "There can be a pretty big difference in your average speed when cycling a 'fully loaded' bike, and especially if you're off-road", says Rob. "You want to make sure you give yourself plenty of time to take in the views and have time to stop and take in local delights."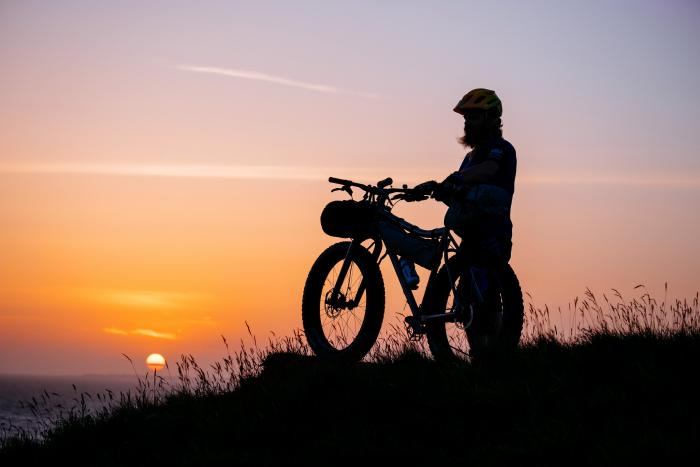 Credit | Nick Russill on Unsplash
For all things cycling and the latest news, follow us on Instagram, Twitter and Facebook.