When you hear words like passion, style and romance where do you think of? For us, it's Italy. The way the people dress and how they conduct themselves, their culture, their cars and their cuisine. Everything is done with a certain elegant flair, the Italians simply don't do 'ordinary'. While most of us wrestle to look good on a bicycle the Italians seem to do it effortlessly. The likes of Coppi and Moser looked as poised in the Dolomites as they did riding over the roughest of pavé in Northern France. Fondriest and Pantani looked equally at one with their machine while in recent years Bettini and Nibali have won the world's biggest races in emphatic style.
Cycling in Italy evokes a certain feeling I've not felt while riding anywhere else in Europe. The French Alps, the Flemish Ardennes and Mediterranean coastline are all great places to cycle, but Italy is special. The rolling hills and Sienese dirt roads that weave their way across the Tuscan countryside are truly a pleasure to ride.
Small Villages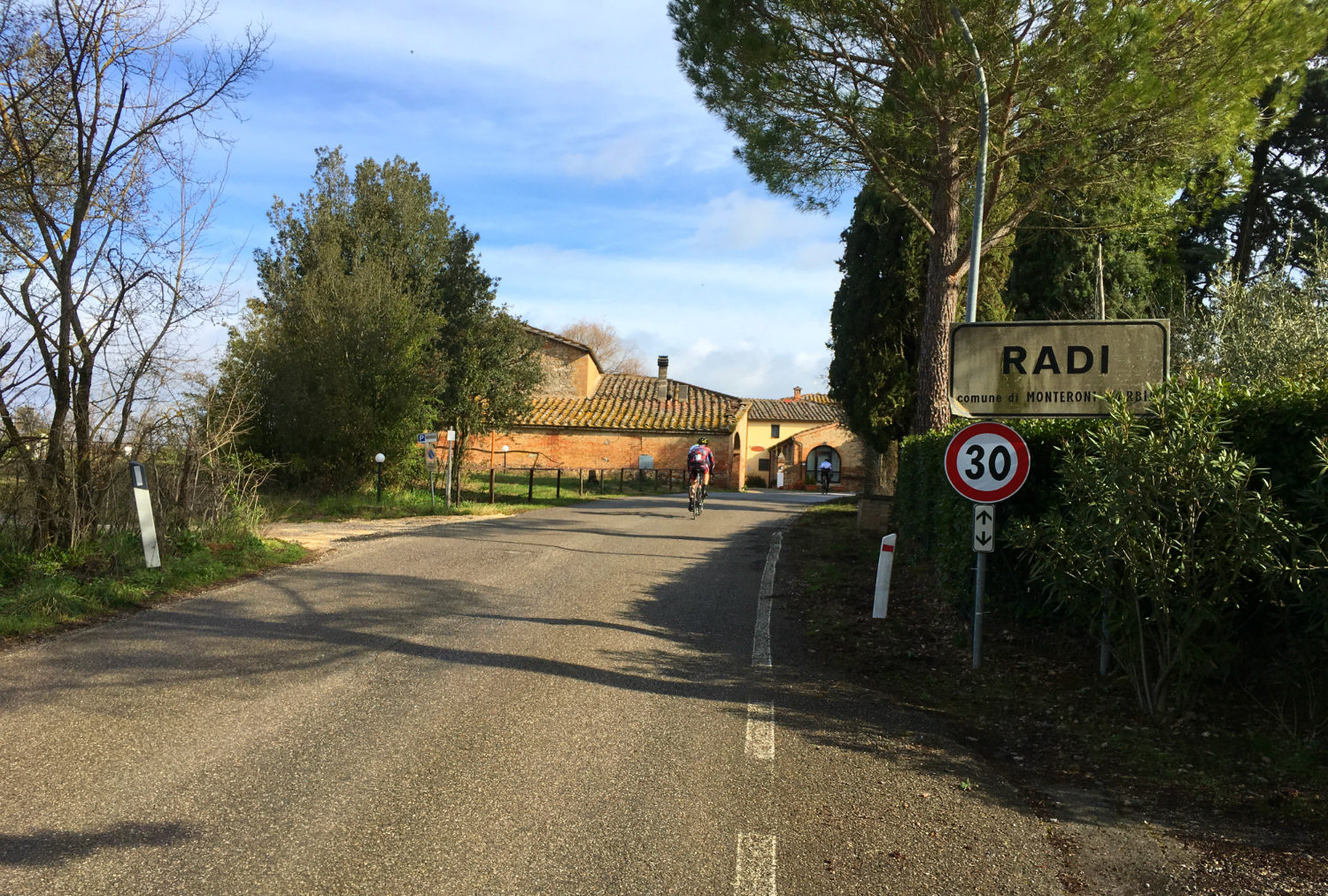 The province of Siena is littered with sleepy villages like Radi. With a population of sixteen, yes sixteen, you needn't worry about swerving to avoid the locals. You won't find even a café but small communes like these break up the long, open roads that stretch out over the horizon.
Sienese Dirt Roads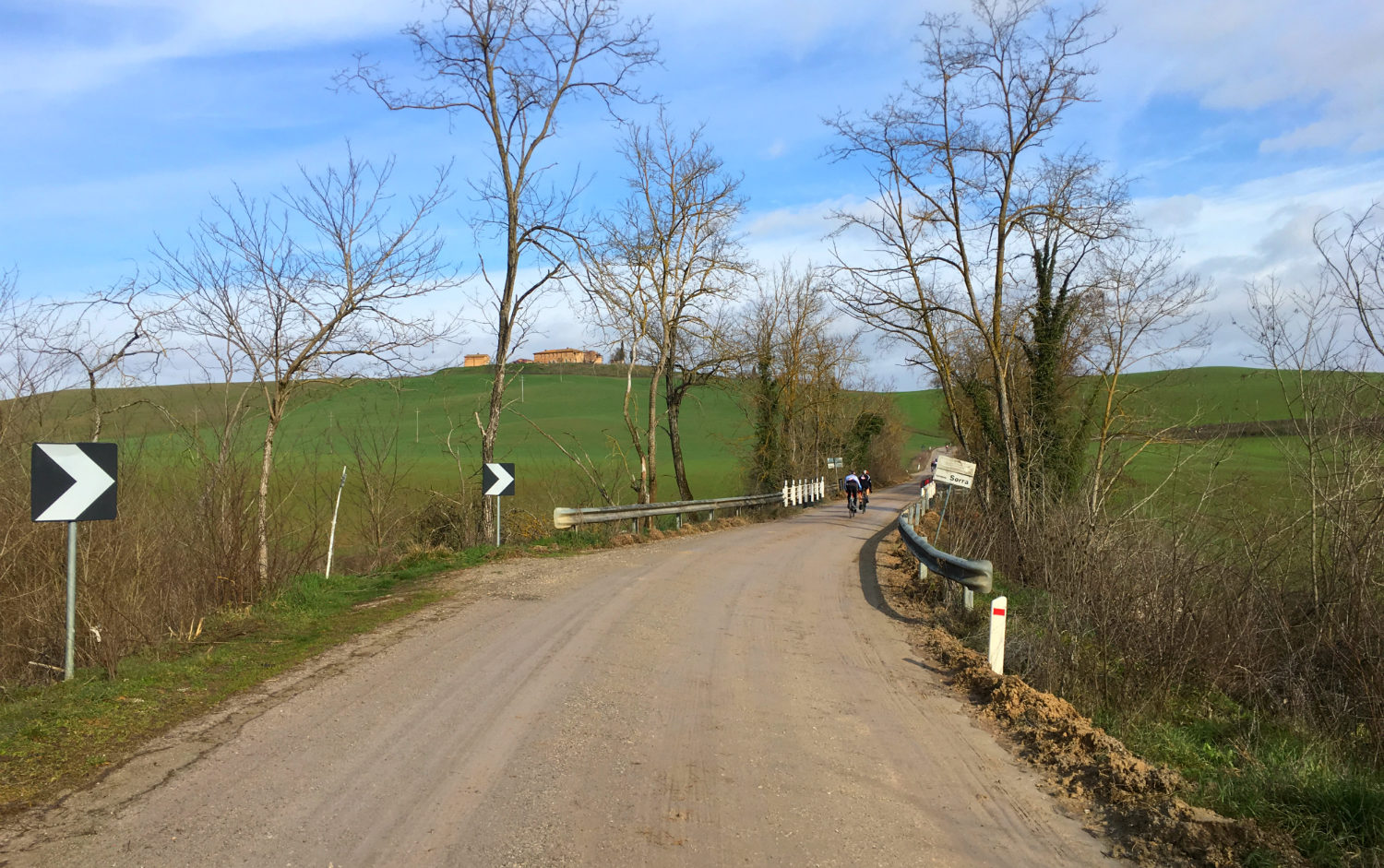 The dirt roads in Tuscany have come alive in recent years with the resurgence of one of the most beautiful bicycle races; the Strade Bianche. The name literally means "white roads" and refers to the network of roads that run among the olive groves and vineyards of the Tuscan countryside. In the dry, the limestone gravel kicks up dust as your bike moves beneath you and your tyres fight for traction. When wet the roads change in both colour and consistency. Grip becomes even more of a challenge and the heavy nature of the road surface and ever-changing gradients sap the energy from your legs.
While the above may sound unpleasant it is, in fact, a welcome break to what you're used to. The narrow roads and rutted tracks add a whole new dimension to riding that you'll struggle to find anywhere else in such a breathtaking setting.
Challenging Terrain
The term 'rolling' is relative in cycling. A Frenchman may call a ride in the Alps with only a few small climbs 'rolling' while a Dutchman will use the same term to describe a ride with six canal bridges. Tuscany is far from flat which can make the riding challenging but as cyclists, that's something that appeals to us all. It's definitely worth giving some thought to your gearing before flying out otherwise you could find yourself doing a lot of grinding. If you do start to feel tired just do what I did and stop every 5km to take a photo of the scenery.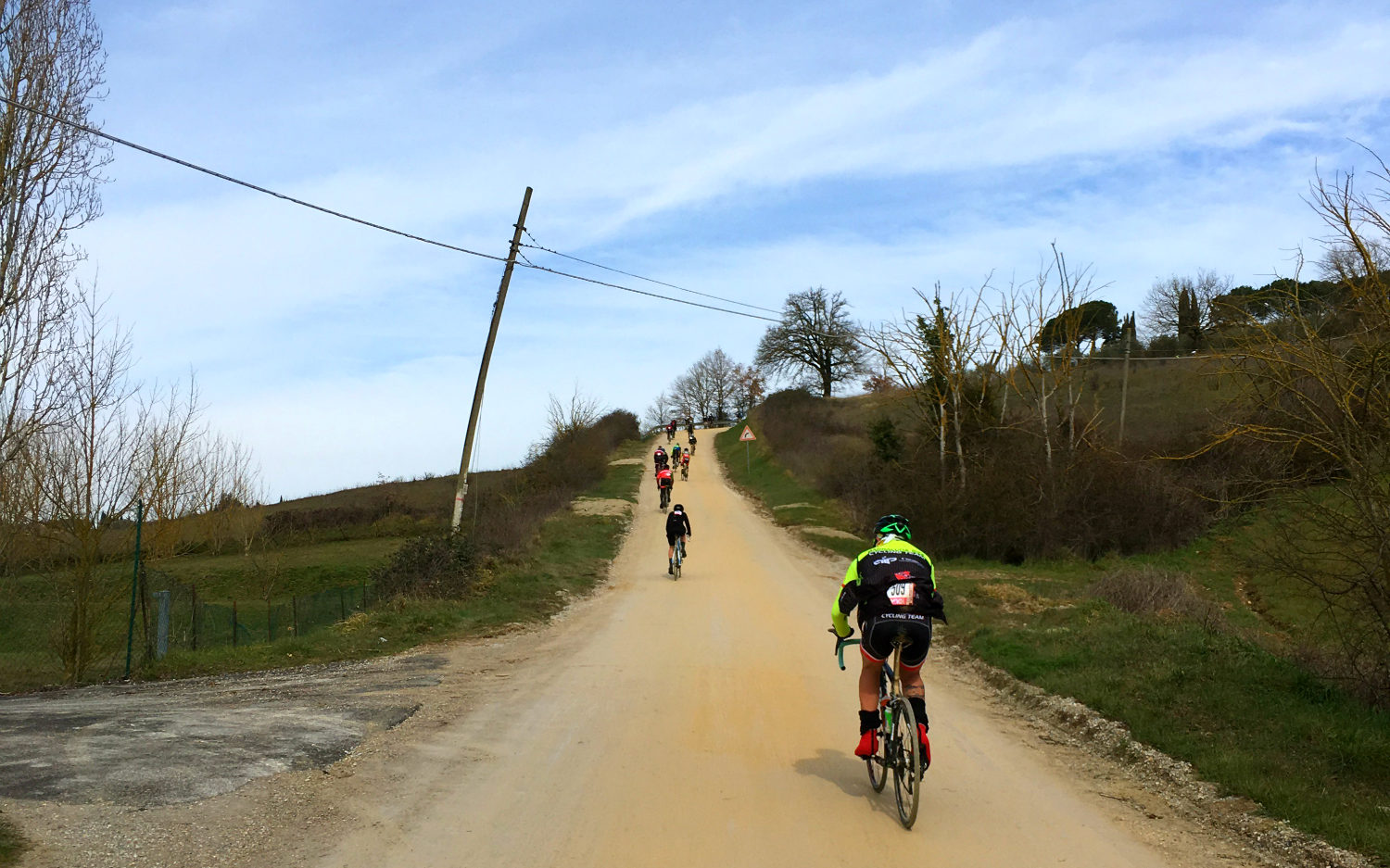 The descents can be pretty gnarly; twisting bends, constantly changing road surfaces and farm dogs chasing you all make for one hell of an adrenaline rush. In addition to thinking about a bigger cassette at the back, it's always worth considering wider tyres. The increase in traction will be greatly appreciated both on the downhills and when you're fighting to get your bike up a 15% gravel climb.
Siena
If you do take your bike with you on a trip to Tuscany then I implore you to visit Siena. The medieval city encapsulates everything that is great about Italy. While certain nations scream and shout about what it is that makes them great, Italy just quietly goes about its business. Siena is famous for a horse race ran twice a year known as Il Palio. An event that undoubtedly would be run with the same enthusiasm with or without visitors.
The architecture is fascinating, particularly in the Piazza del Campo. Siena is the perfect place to start and finish a ride in Tuscany. Just make sure you don't visit by bike when Il Palio is on as you might not be able to find a seat at the café at the end of your ride.