The brand new PBK Clothing range is kicking off with a variety of spring/summer apparel including two ranges of jerseys and bib shorts: each garment is handmade in Italy, none compromise on quality.
What is PBK Clothing?
PBK clothing is a brand new Italian cycling clothing range designed and manufactured by ProBikeKit in Piedmont at the foot of the Alps. The Spring/Summer 2017 range comprises two jersey categories, where the Fashion Range has many different patterns and prints and the Core Range of jerseys features elegant designs, with both sets printed on high-quality Ball Fabric. Spring/Summer 2017 also features two different types of bib shorts.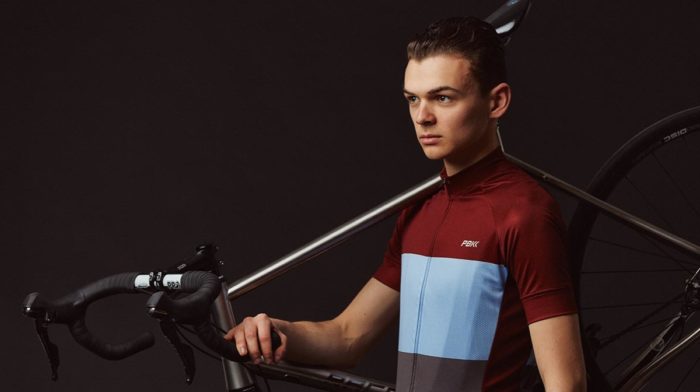 After months of researching, designing and manufacturing, PBK Clothing has officially launched.
The Core Range
The Core Range of PBK jersey is available in many different colourways in two essential designs. These jerseys are made from premium quality Ball Fabric which is comfortable next to the skin, durable and keeps you dry from sweat.
The Montagna Cycling Jersey is a three-tone blend of classic cycling colours, where multiple colourways mean a unique wardrobe.

The Velocista Jersey sports a classy design, and in a number of different colours, is simple and stylish.

The Fashion Range
The fashion range has a tight, Italian fit and is made with performance-enhancing fabrics. Designs focus on a solid colour for the main body of the jersey and a fashion pattern on the sleeves and back pockets.
The fast Vision Jersey has a slim fit with aero sleeves. It's been decorated with a unique triangular pattern.
Offering premium all-day comfort and performance, the Sea Palm Jersey is a PBK favourite. The deep navy blue combined with vivid, high-resolution palm leaf print makes this jersey a real eye catcher.

Inspired by the architecture of Barcelona, the Gaudi Jersey blends explosive Spanish colours with Italian garment production heritage.

A passion for style has produced this sensational design. A slim fit combined with aerodynamic elbow length sleeves results in a jersey that performs as boldly as it looks.

"Scala" translates from Italian to English as "climb". This is a high-performance jersey with aerodynamic lycra sleeves and a fast wicking and breathable soft core finished with an eye-catching design.

Bananas have been fuelling cyclists from their very first club ride to Tour de France stages since the dawn of the bicycle – this jersey pays homage to the role of the banana in the development of the sport we love.

The Poppies jersey has an eye-catching design that remains elegant and classy with soft Italian fabric, fit, comfort, and performance combined.
The Bib Shorts
PBK bib shorts are available in both Altitude and Premium specifications, with the latter suitable for racing. Made with two different types of padding to ensure the most comfort when riding, these pads have been thoroughly tested, and are both of the highest quality.
Altitude Bib Shorts
Premium Bib Shorts