When you became a cyclist it is likely that you never thought one day you would be scratching your head at the thought of purchasing a bike pump. It's not as glamorous or exciting as shopping for a frame but it is an integral part of riding a bike.
The brand of tyres you use will have a recommended min and max PSI for a reason, ensuring you stick within these recommendations will guard against punctures, rim damage and prolong the use of your tyre.
So where does one begin when deciding on what type of pump you will need? My first recommendation is to have two pumps. One track pump with a gauge that you have at home to use before each ride and one small hand pump to take out with you on the road.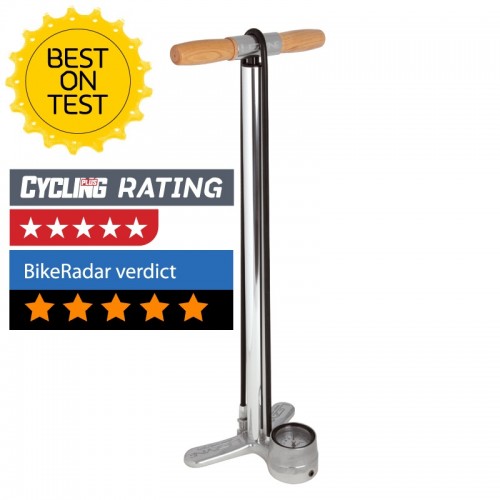 For those that use tubular tyres and pump your tyres up over 160 PSI then the Lezyne Alloy Floor Drive Bicycle Track Pump V2 is a great item to keep in the bike room or take with you to events. The Floor Drive uses the patented ABS air bleed system, meaning that the ABS button releases air pressure into the pump hose, making it easy to remove the flip chuck and eliminating the chance of unthreading Presta valve cores.  A flip chuck that makes it compatible with both Schrader and Presta valves and the 130cm hose makes it easier to reach. An easy to read gauge will make your life a bit easier when trying to get a specific PSI in your tyres and the included Speed Chuck makes the pump compatible with disc wheels, so you can use it on all your bikes.
If you are more prone to using clincher tyres then it is likely that you will not require a pump that goes higher than 160 PSI. The Topeak Joe Blow Sprint Bicycle Track Pump has a TwinHead hose to fit Presta, Schrader and Dunlop valves and includes ball and air bladder needles so you can keep your children's footballs fully inflated too. It is really easy to use and also has a pressure release button for a more precise adjustment of tyre pressure.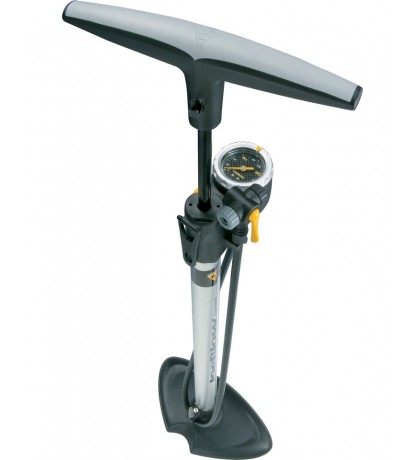 When it comes to a pump that you can carry with you on a ride then the smaller the better, nothing ruins a beautiful looking bike like a massive frame pump hanging off the top tube. However, there are some really classic looking hand pumps that you can mount to your bike without it looking out of place.
The Topeak Micro Rocket comes in both aluminium and a carbon version and is easily carried in a rear pocket but also comes with a mounting bracket if you prefer to attach it to your frame. It will inflate to 160 PSI (Does take some serious pumping action to get it to that though) but it is for Presta valves only.
The small Lezyne HP Drive V2 Bicycle Pump is a mere 170mm long and it hosts a reversible Presta/Schrader hose that secures onto the valve head for an air tight seal. It is incredibly easy to use and takes less time and energy to get to the max PSI. A frame mount is also included but it is small enough to fit in a jersey pocket. The downside to this pump is that it only allows for a max pressure of 120 PSI and weighs at least 10 grams more than the Micro Rocket.
Whether you ride little or often anyone who rides a bike needs a pump. A track pump is easier and much, much quicker to use but it is rather unpractical to take with you on a ride (unless you are pulling a trailer). However, a small hand held pump will store easily on your frame or jersey pocket, the downside being that you will never know what pressure you are running unless you have a tyre gauge.
The trick is to buy two, but don't spend an absolute fortune on both. As long as there is air in your tyres and the road is long, nothing else really matters.