The Tour of Flanders, Paris-Roubaix and Liege-Bastogne-Liege are arguably the three most iconic one day races in the cycling calendar. Such is their notoriety that each race now has its own accompanying sportive event allowing amateurs and fans of these cycling monuments the chance to ride the same roads, suffer on the same hills and savour the same atmosphere as the professionals. One event bucks this trend. One event is so majestic it inspired its own professional race – Strade Bianche. One event is like no other in the world of cycling: L'Eroica.
Born in 1997, L'Eroica bike festival is a celebration of cycling in its purest form. Only 92 riders attended the first event that wound its way along the hallowed white roads that characterise the Chianti region of Tuscany, but from this innocuous beginning and a philosophy rooted in the heartland of Italian cycling, grew a legend. The brainchild of Giancarlo Brocci, L'Eroica was conceived in parallel the Tuscan's desire to save these strade bianche and is a reflection of his admiration of the values of cycling's past. In his own words:
"L'Eroica is a return to the deep roots of cycling, rediscovering the beauty in fatigue, getting back to real needs, like hunger and thirst [and] an opportunity to rethink the cycling of the future, the type of cycling that is capable of attracting people to a world of adventure and unexpected events, enterprise and crisis."
For 2015, L'Eroica is celebrating the heritage of cycling with 6 huge cycling festivals across the world. Thousands are expected at each event including, from 19th-21st June, at the Eroica Britannia – Britain's take on this quintessentially Italian event.
What is it that sets the Eroica events apart and what galvanises so many people to come together to celebrate the rich heritage and culture of cycling?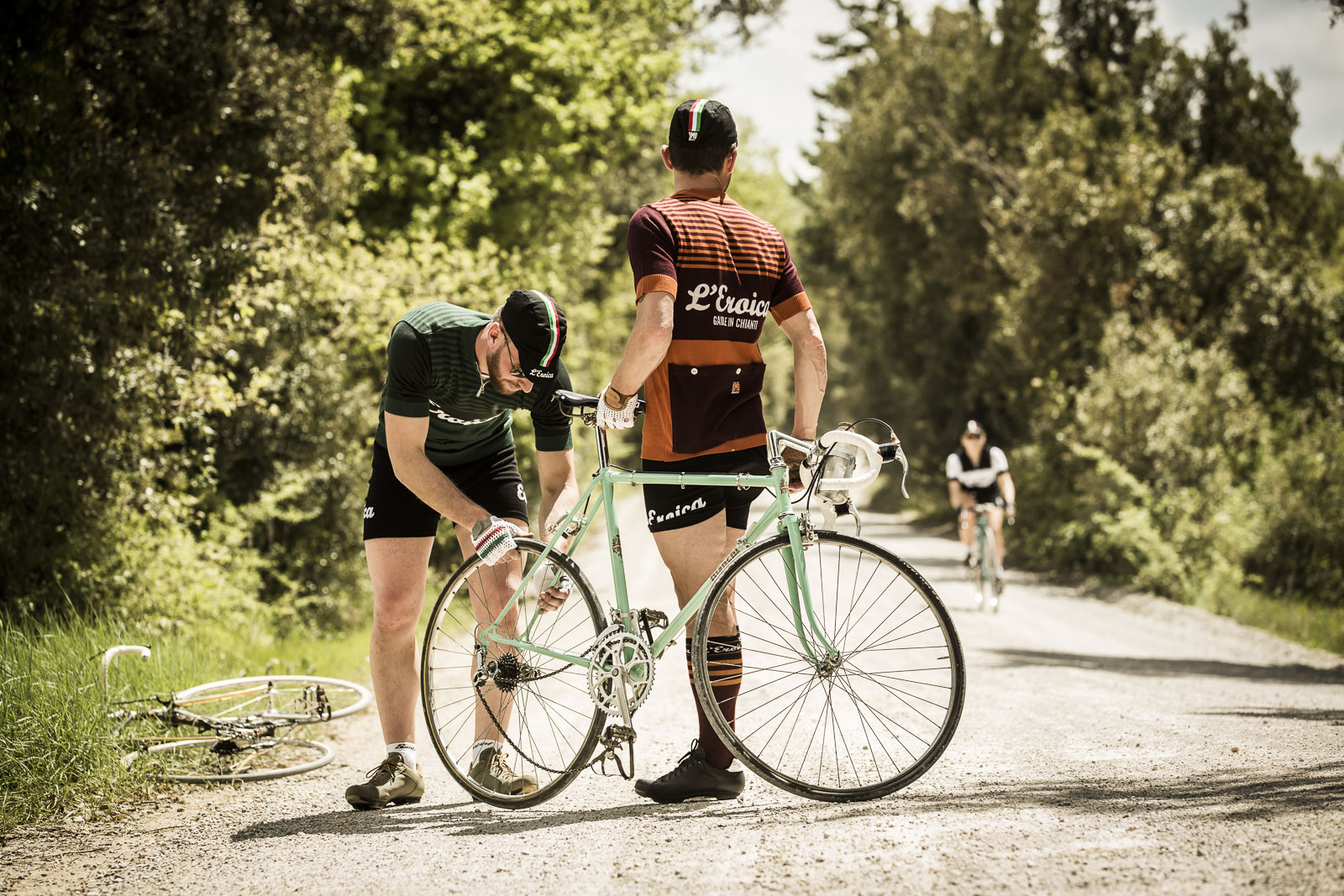 A Step Back in Time
Carbon fibre, aerodynamics and power meters are replaced with steel, wool and leather as Eroica Britannia hails back to the halcyon days of cycling. Held in Bakewell, a charming town nestled deep in the Peak District National Park, Eroica Britannia offers three sportive rides of varying difficultly as part of the food, drink and fashion festival. At Eroica Britannia there really is something for everyone and no matter how strong your love for 21st century innovation it is impossible not to fall completely into the spirit of this unique spectacle.
With some 30,000 attending the inaugural Eroica Britannia in 2014 the festival surrounds itself in a lighter, more jovial atmosphere than can be found at most competition driven sportives. Eroica Britannia takes the best of the Italian original and introduces its own British identity to the event with Chianti replaced by local ales, biscotti substituted for Bakewell tarts and the famous strade bianche exchanged for abandoned railway lines and viaducts.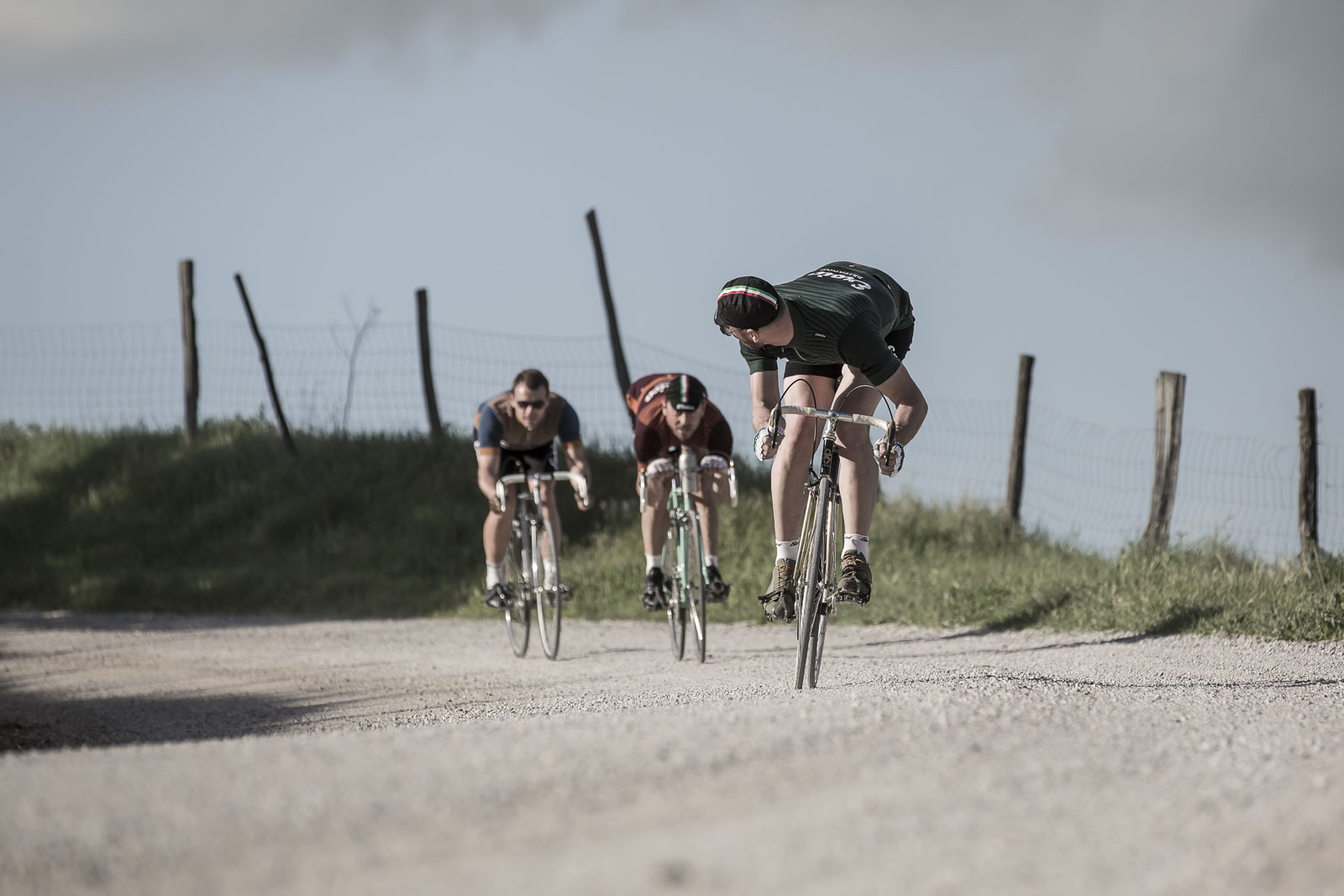 The Rules
The philosophy of Eroica Britannia is perhaps best summarised with their 10 commandments:
Heroic bikes will only be permitted. Road racing bikes built before 1987 both with gears and without gears.
Heroic reproduction bikes will only be permitted. Steel frame new construction with vintage look and characteristics may be used if they are assembled using vintage components or replicated parts similar to the original. No mountain bikes or modern racing bikes.
Gear shifters must be on the downtube.
Pedals with toe clips and straps. Quick releases are NOT allowed apart from Cinelli M71.
Brake cables must pass outside the handlebars but other cables can pass inside the frame.
Wheels must have at least 32 spokes laced to a low profile rim. 20 mm depth or less, except for the wood rims. Tyres. Both tubular and clinchers with inner tubes are allowed.
Participants with disabilities with specific bikes will be OK to take part as long as they make a specific request to the organisation at the time of registration.
Specific authentic bikes such as Pashley Guvnors, Speed 5s, Moulton and Bromptons can enter the 30 mile and 55 mile routes. These bikes are not encouraged for the 100 mile route. Other bikes such as military, postman and delivery bikes are allowed for the 30 and 50 mile routes.
Participants must be dressed in vintage or era specific clothing.
Helmets are not compulsory.
These rules at first seem restrictive but they are what make L'Eroica and Eroica Britannia such special events. This year, Santini have collaborated with L'Eroica to produce their Event and Race heritage collections. With the majority of lines approved for use in Eroica events, Santini have ensured you can easily adhere to the Eroica philosophy.
You can see our complete range of Santini Eroica clothing here.