PBK Clothing – AW17
The PBK clothing brand was first launched at the start of 2017, with a variety of spring/summer apparel, including two ranges of jerseys and bib shorts. Our clothing is manufactured at the foot of the Alps in a factory near Piedmont, in the very heart of Italy. Following on from the success of our SS17 range, we've designed and developed a brand new range of PBK AW17 clothing.
Our fresh new clothing range is sleek, stylish and cutting-edge. Sharp lines and bold colours will help you stand out from the crowd and brighten your winter.
For cyclists looking for exceptional performance clothing with style, the new PBK autumn/winter range includes a range of jerseys, shorts, tights, warmers and gilets to keep you riding through the coldest part of the year.
Jerseys – Winter Roubaix Range
There are two types of jerseys in this season's range, available in multiple colours and designs. The Winter Roubaix jerseys have a soft fleecing on the inside, keeping you warm and sweat-free on your ride.
Poligo Winter Roubaix Jersey
The Poligo Winter Roubaix Jersey is arguably our most striking design, it's sharp lines and varied patterns will help you stand out from the crowd.
Available colours: Black/White | Blue.

Capra Winter Roubaix Jersey
Available in two eye-catching designs, the Capra Winter Roubaix Jersey is sure to brighten up your winter riding. The Capra Rainbow, pictured below, is bold and vibrant, while the Capra Blue is a more subtle three tone blend.
Available colours: Rainbow | Blue

Vello Winter Roubaix Jersey
A simple yet stylish design makes the Vello Winter Roubaix Jersey a PBK favourite. The slim fit of the jersey is complemented perfectly by the narrow, vertical lines.

Jerseys – Water Repellent Range
Our brand new water-repellent jerseys regulate temperature and maintain their ability to repel water for up to 10 years. The Stelvio is extremely versatile making it the ideal choice of jersey for changeable weather conditions. It's made using a breathable material, which prevents overheating when the sun comes out, with a water-repellent membrane which provides a surface-layer of protection. The PBK Stelvio Jersey is available in both long and short sleeve versions and comes in a range of colours.
Stelvio Water Repellent Long Sleeve Jersey
Available colours (Long Sleeve): Black | Red | Fluro | Navy Blue | Light Blue
Available colours (Short Sleeve): Black | Red | Fluro | Navy Blue | Light Blue
Shorts and Tights
Our bib shorts and tights are ideal for riding in colder conditions. They have been designed with a moisture wicking material that allows moisture to evaporate more easily, which in turn keeps you dry and warm whilst riding even in the harshest of climates.
Atomo Winter Bib Shorts | Cold Weather Bib Tights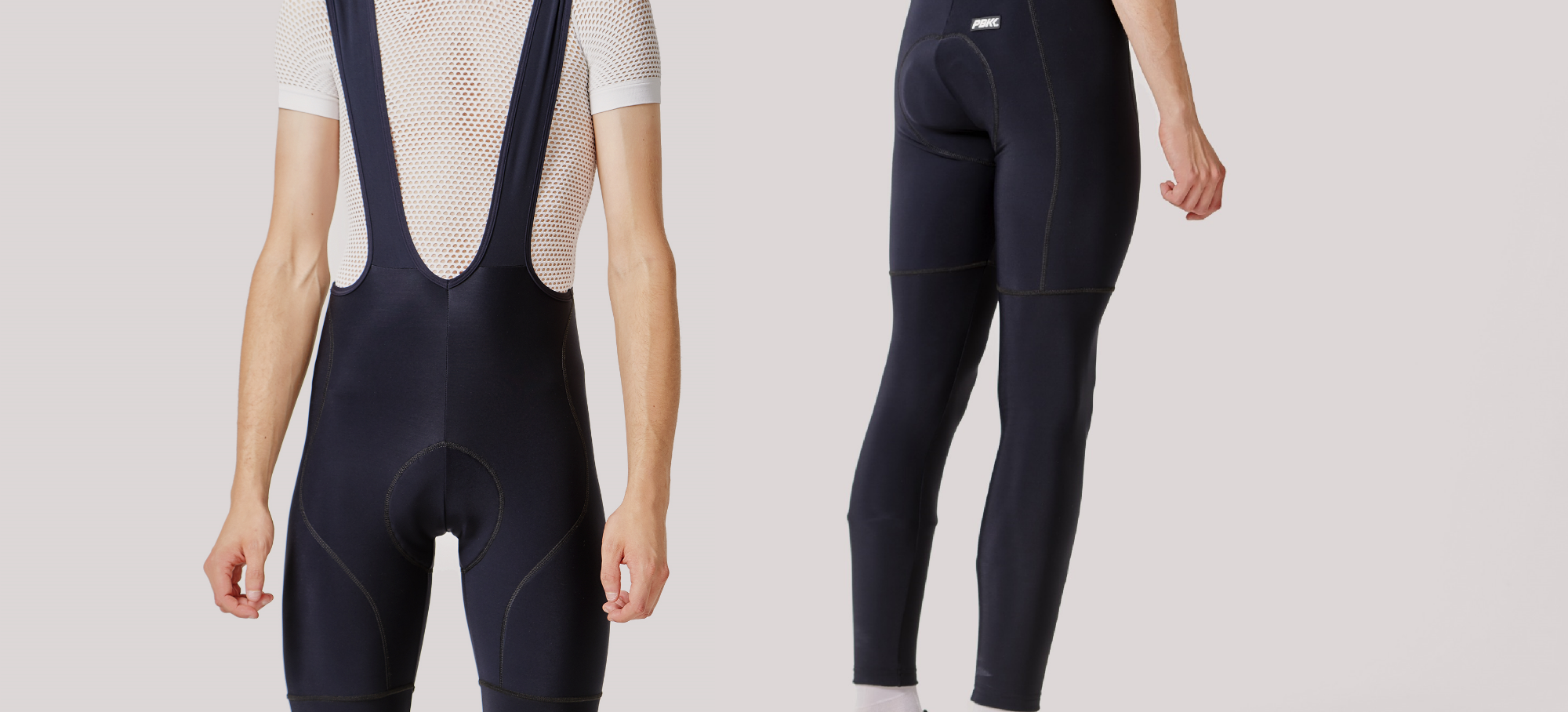 The pad is an essential part of any cycling short or bib tight. The Airmesh pad utilizes a multi-level structure of spacer knit fabric, created using an innovative 3D manufacturing process. The flexible nature of the fabric moulds itself to the shape of the body, whilst the layering process provides shock absorbance and temperature regulation.


The pad is entirely seamless, anatomically formed and interwoven with bioactive carbon strands for antibacterial properties – proving extremely popular with our long-distance product testers. The pad has been designed to be suitable for over 8 hours of riding, keeping you comfortable on your longer rides.
Gilets
Our lightweight gilets have been designed to keep you riding during unpredictable weather conditions. They're crafted with a windproof fabric and a water-resistant outer face – produced with eco-friendly water repellent treatment, to keep you protected from the elements, whilst the 3-layer technology allows for ultimate breathability.
Available colours: Black/White | Blue


Available colours: Blue

Made from slightly thinner materials than our other PBK gilets, the Minimo Ultra-light is ideal for those slightly warmer winter rides when you still need an added layer of protection when the temperature drops.