How do you stay ahead of the curve and how do you keep on inventing new formulas and new compounds to give people what they are looking for in a performance tyre.
We look at the history of Michelin, Their best developments, their best achievements, the here and now and what the future holds.
How it Happened.
In 1891, an English cyclist suffered a puncture outside the factory run by the Michelin Brothers, who were then producing rubber brake pads. At that time, it was a three hour job, followed by overnight drying, to repair tyres which were glued directly to the rim. Edouard Michelin then thought about what the future of the tyre might be if it became easier to repair and lodged his first patents. The Paris-Brest-Paris cycle race won by Charles Terront on removable Michelin tyres brought them to the notice of the public at large. In 1892, the Michelin brothers organised a cycle race between Paris and Clermont-Ferrand. They took the opportunity to strew nails all over the road to demonstrate that a puncture was no longer an insurmountable problem with Michelin detachable tyres! Since then, Michelin have led the way in a whole series of innovations.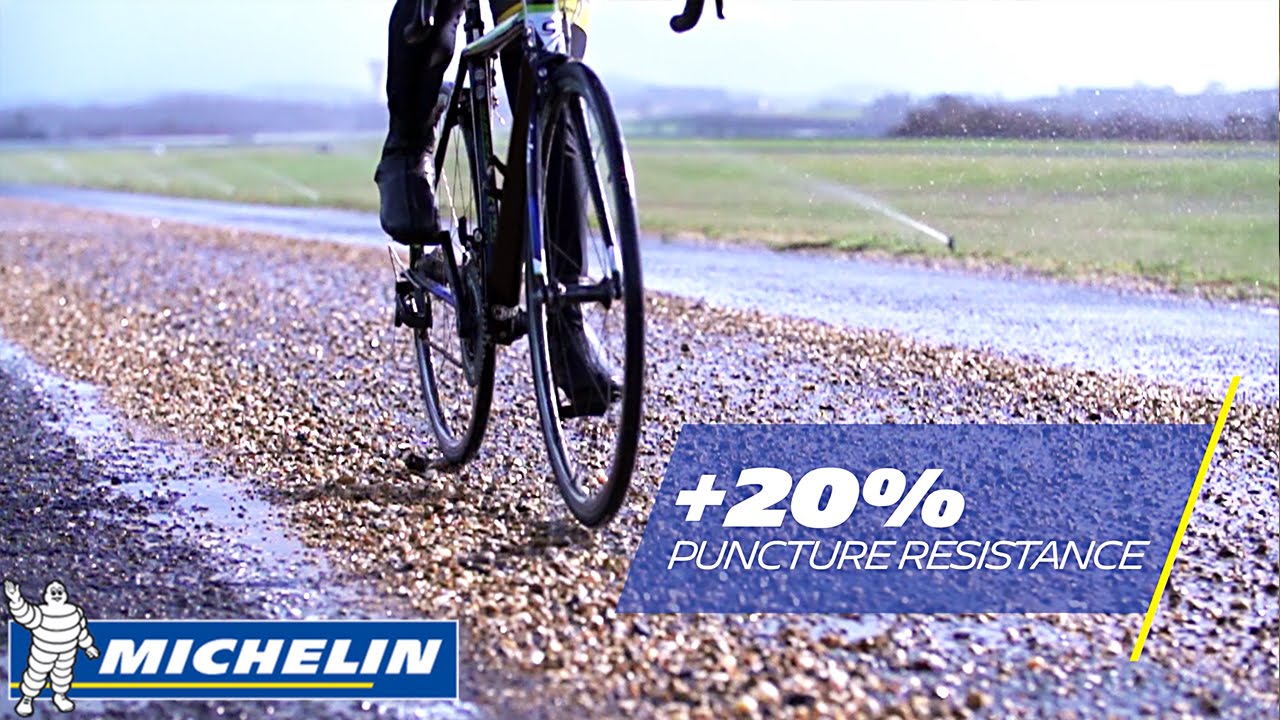 There had to be a better way.
Michelin have been going strong since in 1889 the two brothers, André and Edouard, The Michelin brothers were always thinking of a better way to improve the reliability, simplicity and versatility of the tyre. A few years later in a whole new invention was born because of an English cyclist who suffered a puncture outside the factory run by the Michelin Brothers, and at this time the carried out a painstakingly 3 hours of repairing followed by overnight drying from gluing the tyre back onto the rim. It was then the Michelin brothers thought there had to be a better way.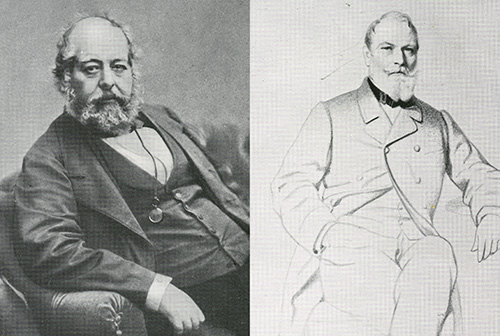 In 1892, the Michelin brothers organised a cycle race between Paris and Clermont-Ferrand. They thought it would be a fantastic opportunity to show off their new invention and strew nails all over the road to demonstrate that a getting a puncture was no longer an insurmountable issue with Michelin new detachable tyres! Since then, Michelin have always led the way in a whole series of innovations granting pro cyclists major wins and amateurs a whole new world of freedom.
So nowadays, the development of cycle tyres benefits from the same research and methods that is used in designing tyres for high performance high speed motors such as Formula 1 cars, Moto GP bikes and even the space shuttle.  Michelin is the only manufacturer developing tyres for such diverse and innovative R&D conditions.
Feel The Power
British Summers, Harsh winters mean that its a difficult job for a tyre to stand up to the task.  We, as the consumer want it all! Lightweight materials, puncture proof, grippy but hard wearing. The Michelin Power All Season road tyre was designed with difficult riding conditions in mind. Made from a unique special rubber mix Grip Compound, the all season Power tyre is capable of performing  in low winter temperatures. The Hi-Grip Design provides greater safety on slippery, wet and unpredictable surfaces thanks to the new generation of tread pattern. The new design on the shoulder tread area has an increased number of sipes to offer improved grip in the corners.
Michelin reinforced  Aramid Protek+ resists cuts and slices from debris much more than traditional materials. And Michelin found that the majority of riders change would replace their tyres well before they needed to, so each tyre in the Power range has a handy TWI (Tread Wear Indicators) to clearly point out when your tyres will need replacing for new ones. With alot of road bikes now using disc brakes Michelin were ahead of the game yet again and their disc Brake Ready design increases the grip of the tyre to ensure optimal braking performance.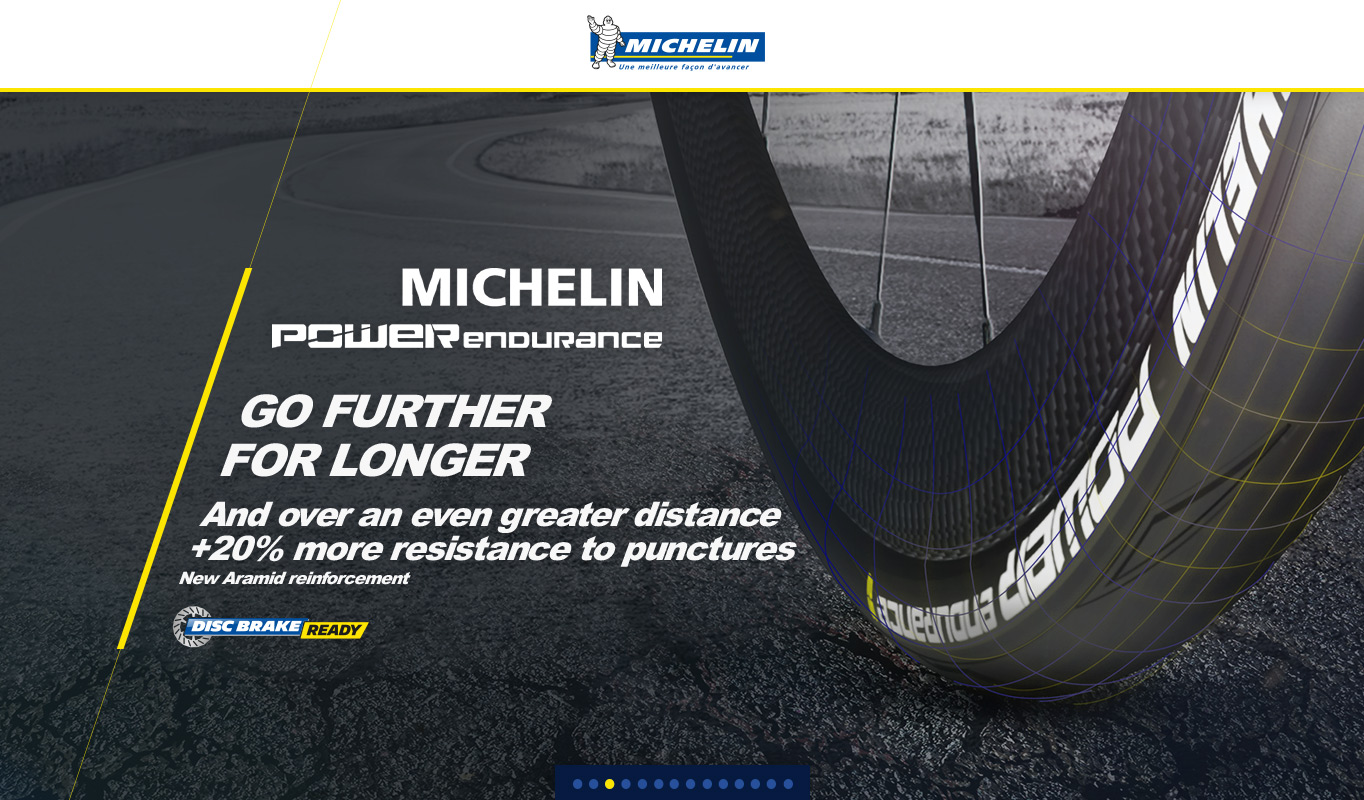 Features:
Designed for cycling in difficult conditions
Grip Compound is capable of performing in low temperatures
New Grip Design tread pattern enables greater speed when cornering
Tread Wear Indicator highlights when tyres will need replacing
Increased efficiency with a low RR mix in tread area
Aramid Protek+ offers increased puncture resistance
Disc Brake Ready design ensures optimal braking
Like the pro 4 the Power gets reviews from the most reputable reviewers in the cycling industry.
http://road.cc/content/review/196109-michelin-power-all-season
"Ride in total confidence thanks to the new Grip Compound. These special rubber compounds can function in low temperatures and thus increase your security on slippery, dirty, and humid surfaces."
What makes the power so good?
In Michelin's testing they found that combining materials to finally form the Protek and Protek plus, the power was performing 20% better than the pro 4 for puncture resistance and wear on the tread. They road the bike for a number of hours over sharp flints to test the tyre to the maximum stress levels and their results shown that the power was the most robust on the market.The power has now set a standard that is unbeatable on performance.
The power range has built on success
The Michelin Pro Range has been around for many years with the Pro 4 now at the core of Michelin's range.
Michelin key tyres such as the Pro 4 are being widely used and rated by the most demanding of riders and testers and has come out as one of the best tyre manufactures in the world year after year. Lets look back at some of the best reviews on in the cycling industry and see what they have to say.
Road.cc – Renowned for their unbiased reviews and accurate representation of a product, here give the Michelin glowing reviews on their performance, durability, and comfort.
http://road.cc/content/review/82468-michelin-pro4-service-course
Roadcyclinguk – An independent reviewer who say MICHELIN CRACK COMBINATION OF PUNCTURE DEFENCE, LONGEVITY, GRIP AND SPEED
What makes a tyre like the service course so good?
Here we take a look at some of it properties and understand why a tyre like this works so well.
Two rubber compounds in one tread! This gives the centre a rubber mix to give more rigidity and on the shoulder area a rubber compound to give good grip when cornering. A High Density-Protection ply on top of the casing makes for  excellent protection against punctures
Thanks to the Bi Compound technology the Michelin tyres have to offer they give a super lower rolling resistance, superior wear resistance and much greater grip in all conditions making it a great all-round tyre. Michelin really did create a genius of a tyre when they came up with the Pro 4.
Michelin looked at the profiles of the tyres and thought how they could improve the contact with the road. This new tyre profile was developed to be more peaked to optimise its handling and point of contact with the road.
Key Features:
HD-Protection puncture ply: +10 % better resistance to punctures on average compared to the main competitor!
New casing ply – 3X110 TPI
Tread area is Michelin's "Bi compound" technology: +30 % better grip on wet ground on average compared to the main competitor
Lateral tread width optimised for improved grip when cornering
How do you know which Michelin tyre to choose?
What tyre is best for the job you need it for? Whilst Michelin's pro 4's are a popular choice for all round cyclists. Michelin understand that certain features and qualities are needed for extra performance when it is needed the most.
Road cycling and fast paced sportives. – Michelin – Power Competition Folding Clincher Road Tyre – Technology that's used in Moto GP. Now that is pushing rubber to the limit and transferred to Cycling, you can be quite confident that this is a very sure and competitive ready tyre.
Crit racing- Tight circuits – Michelin – A1 Aircomp Latex Road Inner Tube this is clearly not a tyre, but latex tubes are game changers for tight circuits and are perfect for a high-performance tyre.
Weekend club runs, long distance riding – Michelin   Power Endurance Folding Clincher Road Tyre  – Known as the most durable in the Michelin range. This is a stayer. The top of the tyre casing has reinforced Aramid Protek+ which resists cuts much more than other tyres. Certainly a go-to tyre for long endurance club run type rides.
Michelin pro 4 – This is a fantastic performance tyre that can be relied on in most conditions and is a popular choice amongst the avid cyclist.
A tyre for freedom. Go anywhere with this tyre – Michelin  – Michelin Jet Folding Cyclocross Tyre the 'fast' off road tyre. Suitable for use on the road as it responds quickly yet perfect for mud off road conditions where you need the bike to handle.