Our 5 Favourite Cycling Holiday Destinations
We're well into winter, which means a couple of things for cyclists – it's cold, it's damp and it's difficult to stay motivated out on the bike. While you can wrap up warm with tights, jackets, gloves and overshoes, it's nowhere near as enjoyable as riding in summer. Fact. With that considered, many cyclists opt for a holiday around this time of year, to keep their morale high and their pedals turning. But when choosing your location, there can be a lot to consider – Is it easy to get there? What type of terrain do I want? Will my non-cycling family enjoy themselves too? Well, we're here to help. Here are our top five favourite cycling holiday destinations to clock up those base miles.
No. 1 – Calpe
The early training destination of choice by hordes of professionals and elite amateurs for its warm climate and varied terrain, Calpe has become an incredibly popular destination for cyclists in recent years. Averaging around four days of rain per month, and with the temperature barely dropping below 15-degrees the whole year, it's perfect even during the depths of winter.

While many cycling holiday destinations are defined by one single type of terrain, like the short steep climbs of the Ardennes, the extended ascents found in the Dolomites or the rolling roads of Tuscany, Calpe has all three. As a coastal town, if you'd prefer a flatter, rolling ride, hug the coastline. Conversely, if you want a short sharp test, it's got climbs like the Cumbre Del Sol, a 4.1km ascent which maxes out at 20%. If you want something bigger, the flagship climb of the area, the Coll de Rates offers incredible road surfaces, scenery and, taking around 20-minutes to climb, it provides the perfect testing ground for an FTP effort. If you want a massive day out, head inland to the Port du Tudons, which climbs to around 1024 meters over 15.3km. See? – something for everyone.
It takes around two hours to fly from London to Alicante airport, with return flights being relatively cheap when booked in advance. We'd recommend staying in Calpe itself, as you'll have access to plenty of shops, cafes and bars, but also because you're never more than around 50km from the foot of any of the aforementioned climbs.
No. 2 – Mallorca
No list of winter cycling holiday destinations would be complete without Mallorca. Offering a massive variety of terrain, it's perfect for a huge range of cycling abilities and strengths – from flatlands in the east, to rolling hills in the middle and south, and the Tramuntana mountain range in the west. It's easy to see why Mallorca was a firm favourite for Team Sky during the off-season. Like most of the Mediterranean, the Mallorcan climate is temperate during winter and hovers around 10-degrees, making it a great place to train year-round.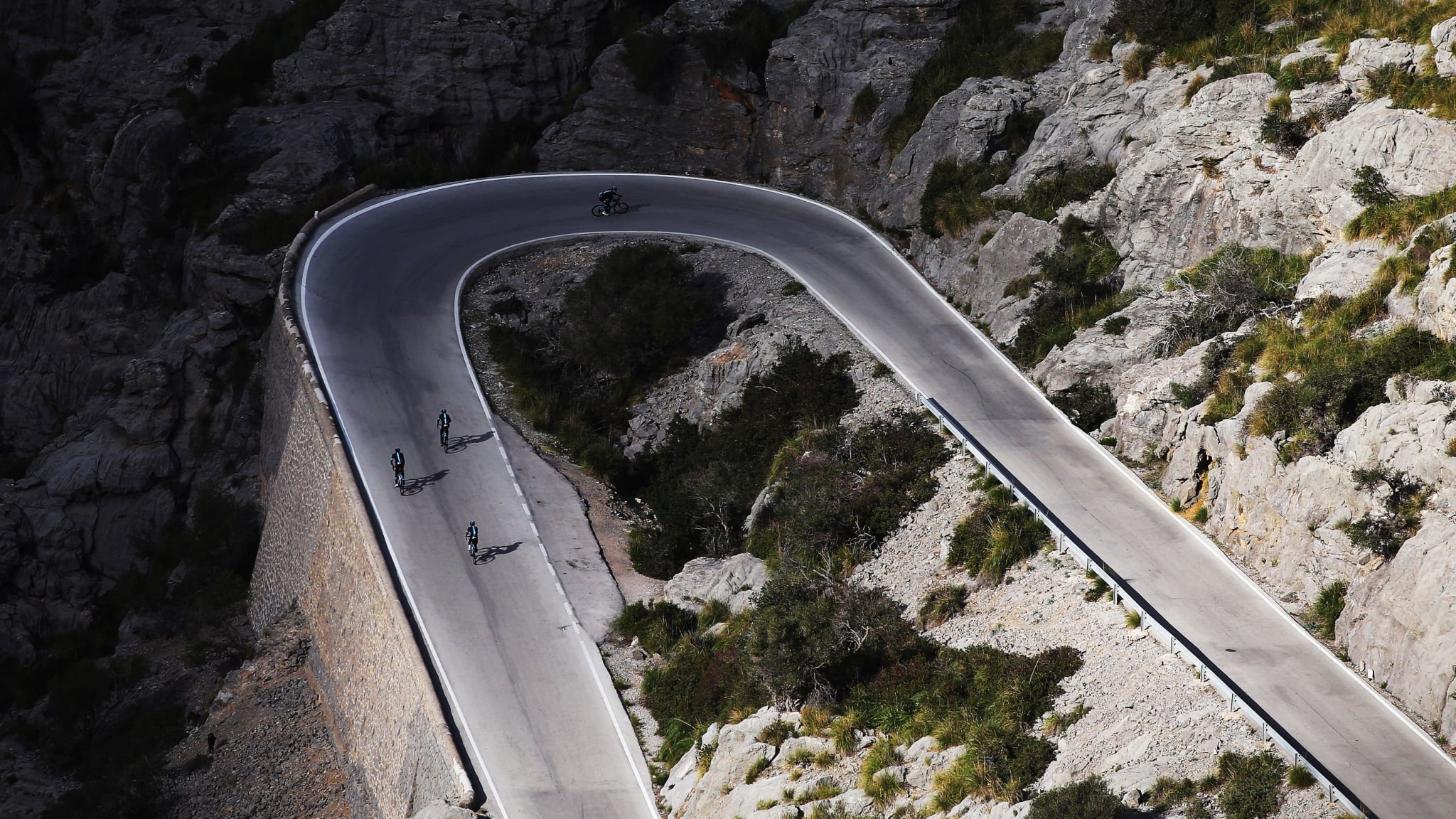 Some of our favourite 'must-do' climbs on the island include Col Du Soller, Puig Major and of course, Sa Calobra, which take between 30 and 45 minutes to climb for most riders. If you want a real test though, the Mallorca 312 Sportive covers all best terrain that Mallorca has to offer and takes in over 5000 metres of climbing.
Additionally, as a hotbed for cycling, any town you visit is usually incredibly well served with plenty of good quality bike shops and rentals, perfect for those who don't want to fly with their pride and joy.
On Mallorca, there is plenty to do aside from cycling, making it a perfect choice for those holidaying with non-cycling loved ones. If this is the case, we'd stay in Palma, as it offers plenty of culture and activities without being too far from the best riding. However, if you're going purely to train, then the town of Soller, in the heart of the Tramuntana mountains provides an excellent base. On a side note, if you do visit Soller, don't forget to sample the delicious orange juice, which is grown in enormous quantities in the region.
No. 3 – Tenerife
Many mistakenly assume that because Tenerife and Mallorca are both Spanish islands, the riding is similar as well. This couldn't be further from the truth. Famously used by Grand Tour winners and World Champions for decades, the island of Tenerife is dominated by one colossal mountain – Mount Teide, which offers the longest continuous ascent in Europe and is paved up to 2300 metres above sea-level. Suffice to say, flat roads are few and far between.
Thankfully, there are a variety of ways to ascend Mt. Teide, meaning you can mix up your routes to keep things interesting. As a bonus, the gradients never get ridiculous either, meaning you can test yourself with hour-long, consistent efforts too.
Importantly, because the temperature hovers around 20-30 degrees year-round, riders can train at much higher altitudes than would usually be possible on mainland Europe during deep winter, making it a perfect place for serious pre-season preparation. Be in no doubt, Tenerife is a climber's paradise.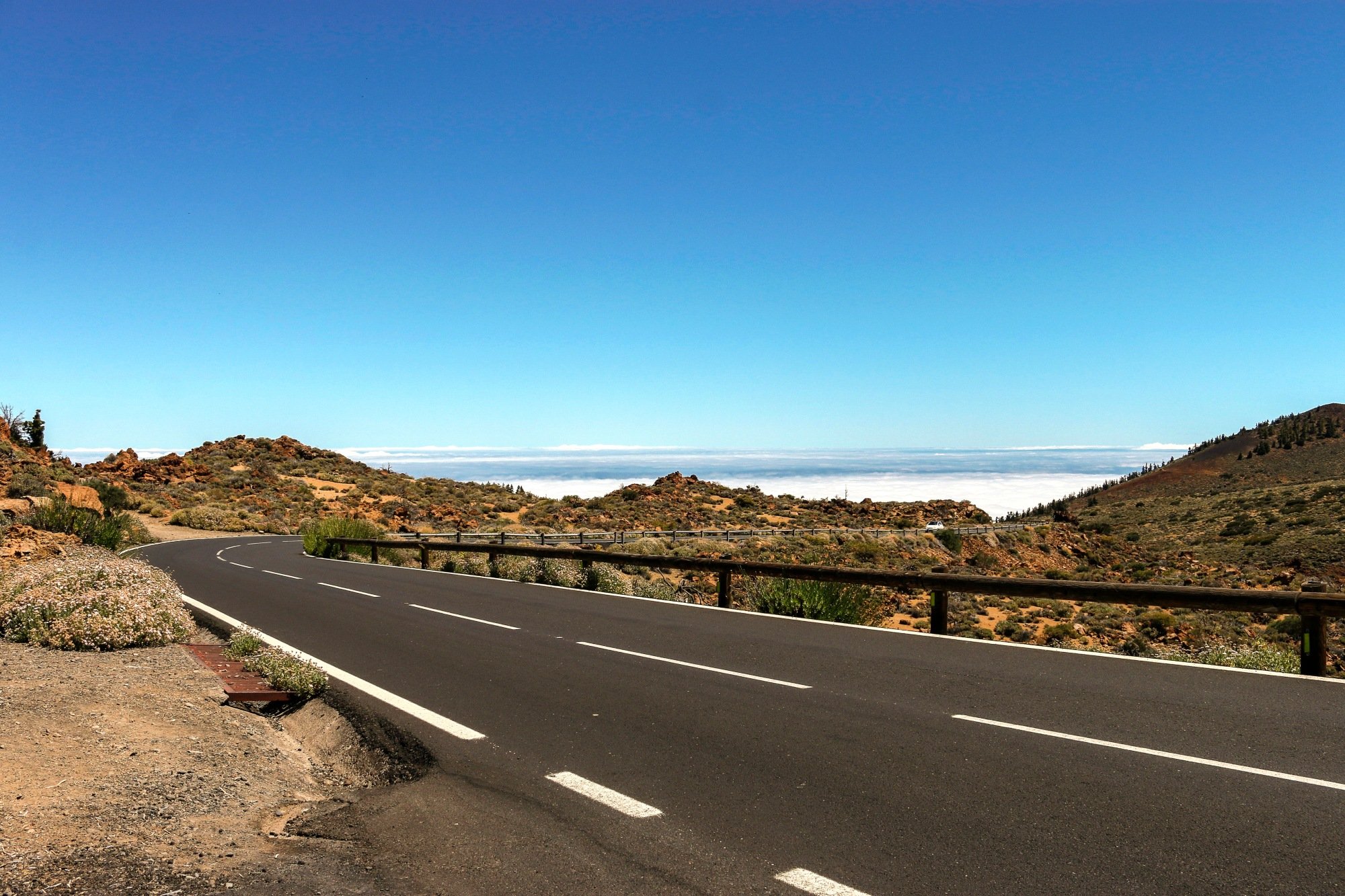 If you're making the trip purely to train, you can also reap the benefits of sleeping at altitude too and stay at the famous Hotel Parador. However, if you'd like to do a little relaxing off the bike too, we'd recommend staying at a port town like Los Cristianos, where you can sample some of the many bars and restaurants post-ride. It's also worth noting that as Tenerife sits off the west coast of Africa and is a 4-hour flight from London, it's probably best visited for a week rather than a long weekend. If you're planning on taking your bike with you, then you'll need a high-quality bike bag or case. Here are some of our favourites: