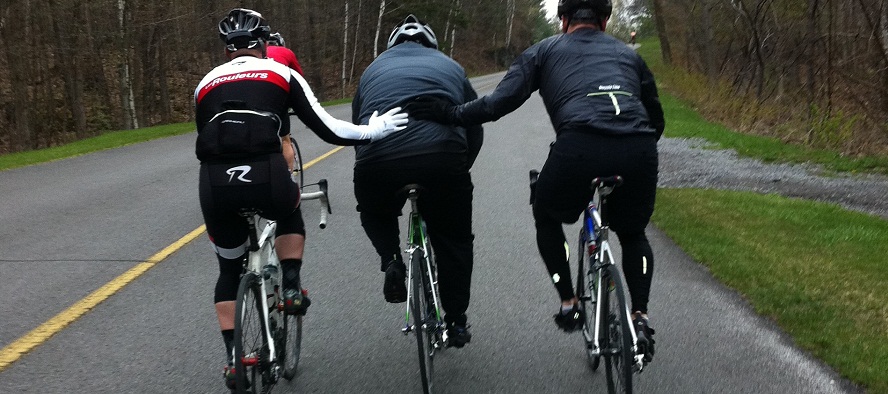 In order to reach one of its missions (promote physical activity and healthy lifestyle) the Grand défi Pierre Lavoie encourages each team to include a sedentary person among its members.
Meet Robert, 44 years old and 140 lbs overweight at the beginning of the Grand défi Pierre Lavoie's Team Maxmedia training in December.
Overweight since early childhood and afflicted by illnesses, personal and family drama, Robert self-destructed for over 25 years using drugs, alcohol and eating fast food on a daily basis. Having reached the end of the rope, Robert needed to make a significant changed to avoid the ultimate destruction. He embarked on a personal journey that would free him of hate, make him heal and find the inner peace that would give him the motivation to take care of himself and want to live a better life.
When Team Maxmedia was picked by drawing lots out of 547 teams to participate in the Grand défi Pierre Lavoie, a 60 hour, 1000km (600 miles) cycling marathon that will criss-cross the largest province of the second largest country in the world (Québec, Canada), Robert was invited to participate as the team's sedentary person.
Robert started his training on January 23, not even five months to the event.  He had not exercised in years!  He started by stretching, gradually introducing weights, treadmill and spinning. Five days a week, he was at the gym for 90 minutes with a personal coach. For the first three months, he had three balanced meals and two snacks prepared for him by a nutritionist each day. After three weeks, he had lost 25 pounds. After a month, he had lost 55.  Today, 3 weeks to the event, he has lost close to 80 pounds and teaches spinning twice a week!
In April, when the team was (finally) able to ride outside, Robert had to re-learn how to ride a bicycle: changing gears, finding appropriate cadence, climbing rolling hills. The road to riding six legs of 75km (45 miles) in three days in a 400 cyclist peloton was long…
Ugo, the most experienced cyclist on the team gave a one hour coaching session to Robert and along with the other team members, we circled slowly on a semi-closed circuit. When comfortable, we hit the road in the Gatineau Park, a cyclist heaven with its panoramic winding roads.
At his own pace, Robert took on the small ascents aiming to reach the bottom of Pink Hill before returning to the parking lot. But something magical happened.
Instead of being discouraged by this sudden never ending 3 km wall, he continued. Being passed by cyclists did not discourage him one bit. (At that stage of the Park, you will pretty much only meet stick thin, lycra-dressed, shaved-legs, carbon bike riders…). Robert continued, supported by his team members and other cyclists who would first offer encouragements when passing him ("Way to go, buddy!" "Keep going, man!") and later, sticking around to support him. Robert and the group reached the top of the hill after a gruesome 15 minutes of steady climb at a pace of 9 km/hr (5m/hr).
Robert had climbed Pink Hill, a feat that is a challenge to even the strongest cyclists. A personal achievement that would bring more healing; An achievement that felt like balm on years of bullying and being the "fat kid who has no friends". Not only had he done something he had never even dreamed of being able to do but he was finally a member of a group, surrounded by people who loved him and were proud of him.
Today, Robert has climbed Pink Hill five times (once, twice in one day!) and has even reached the Champlain Lookout, the summit of the Gatineau Park, an 18 km (11 miles) climb.
We knew that training for the GDPL was an opportunity to push ourselves to new heights, that it would push us out of our comfort zone and bring us to discover untapped inner strength. But mostly, this is an unforgettable adventure, filled not only with moments of intense effort but also with remarkable human ones.