We're a dedicated lot, Jose has been busy riding in the Lancaster 50 TT:
My first '50' of the season.  I left the house at 6.30 to face the near 100 mile drive to Cockermouth for the first flat(ish) '50' of the year.  For me a '50' is a midway point between a long distance event demanding accurate pacing and stamina and the more pure speed based distances like the 10 and 25, so it's always nice to get one in to give me an indication of how I'm going.

I arrived at 8.30 which left me exactly an hour to get the tubs to full pressure, sort my bottle and warm up the legs just a little.  With a relatively small but top quality field I was realistically looking at a top 10 place.

From the off I felt quite strong on the first leg towards Keswick, the tailwind helped to give me an average of over 27 mph by the first turn, however the return leg to Cockermouth was a different story especially up the drag of Embleton Bank, and by the time I reached the top end back at Cockermouth my average had dropped to a touch over 25mph.  I knew I had to 'up it' if I stood any chance of 'getting under' two hours.

I decided it was time for the second of my 3 High 5 isogels and that coupled with the increasing wind helped me back to Keswick to face the last return leg back into the wind and up the long drag.  At Keswick round about it was time for my 3rd gel and then the final push to the time keeper.  Still feeling strong I kept the power on right up the flag.  I had just managed to 'get under'.  1.59.12 which gave me 6th over all on what turned out to be a very tough but promising day.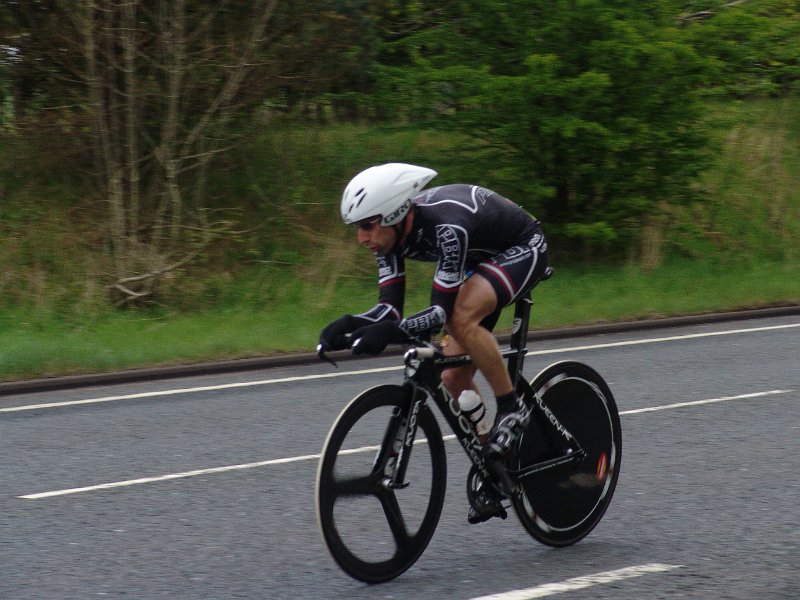 Jose in action