Here at Probikekit we do have a serious side, most days we all put are heads down with our headphones on and concentrate on the website. However, sometimes we do allow ourselves to have a bit of a laugh and nothing pleases the boys more than the chance to prove their manhood whilst dressing up in silly outfits.
Although men's health is a serious issue and we all want to do our part to raise awareness and of course money to contribute towards the specific charities set up by Movember.com, we at PBK welcomed the challenge as a way to have a bit of lighthearted competition amongst the boys.
It started with a bit of banter; dreams of a Mo that would be so impressive women would throw themselves at their feet, and to raise enough money that we wouldn't end up looking like we were just in it for the chance to avoid shaving for a month. What was achieved was a little bit of facial hair, on some more than others, some itchy faces, and a lot of laughter.
We began with a small collection of spare change amongst the staff, a little Mo jar where we could throw our pennies that rattled around in our pockets. To us the small collection was never going to be enough and in the end it was decided that for all orders over £150 Probikekit would donate £1 to our Movember fund.
For a few minutes every Friday in Movember the participants could put on silly hats or jerseys and pose for the camera. It was discovered that some Mo's just wouldn't grow, some took a bit of effort to keep neat and one member of staff cheated and had to be kicked off the team for just not shaving at all and breaking the strict Mode of conduct.
By far the best Mo poser of the bunch was Grant, as impressive as he is with a spread sheet this man should have been a model. His poses were professional, attractive and charming to say the least. In the end everyone got involved and even the girls sported their Mo's around the office and warehouse for a day.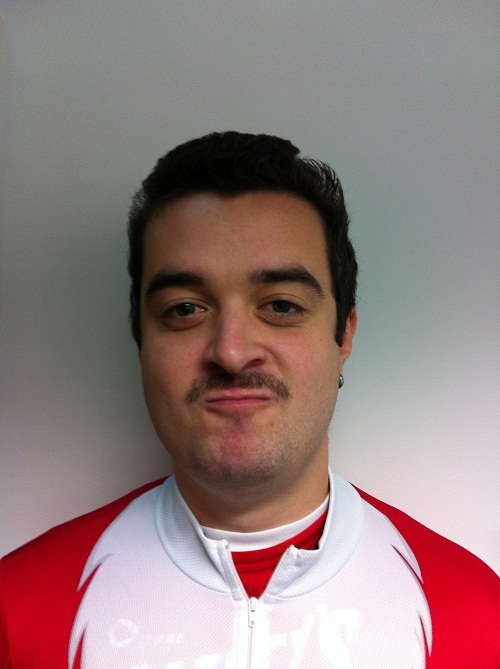 We applaud all that helped us raise the funds to donate to movember.com combining the spare change drive and the orders over £150 PBK we are happy to say that we raised £2100 for the Movember cause. There is still time to donate, so if you didn't get the chance to spare some cash for a stache, now is the time, you can visit our Mo page for more info. http://mosista.co/jennifershepherd