Armstrong Admits to Fabricating Past Conflicts, But It's Real with Contador.
Lance Armstong admits the conflict between Alberto Contador and himself is real, while in the past he admits that he was playing mind games with the competition. In a recent interview with Sports & Style, a magazine from the Sydney Morning Herald, Lance admits the he and teammates in the past fabricated tension but he says, with Alberto Contador "We are not making it up. It's there."
Check out the SMH article:
I create conflict but my feud with Contador is real deal: Armstrong
RUPERT GUINNESS – December 3, 2009
LANCE ARMSTRONG has revealed that he deliberately created conflicts during his seven-year reign as the Tour de France champion to sharpen his competitive edge, but the 38-year-old Texan is adamant that his fallout with this year's Spanish winner Alberto Contador is for real.
In an exclusive interview for the December issue of Sport&Style (out today in Sydney metropolitan editions), Armstrong speaks about the former Astana teammates' rift in this year's race (in which he finished third) that has set the stage for a tumultuous head-to-head clash next year when they compete for rival teams.
Armstrong, who this year raced after a 3½-year retirement, will relish the scenario. His best wins from 1999 to 2005 came when engaged in bitter conflict. And as he tells Sport&Style: "We would create those things. But I am a different person than I was 10 years ago."
But when pressed on his rift with Contador, he says: "We are not making it up. It's there."
Armstrong also speaks to Sport&Style about his reaction over how their testy relationship spilled into the public domain after the Tour. He did not attend Contador's celebration dinner in Paris, but joined executives of RadioShack, who will sponsor his new ProTour team to debut at next month's Tour Down Under in Adelaide.
Contador later told media in Madrid that his relationship with Armstrong was "non-existent" and, "even if he is a great champion, I have never had admiration for him and I never will".
Armstrong's terse response on his Twitter read: "Seeing these comments from AC. If I were him I would drop this drivel and start thanking his team. w/o [without] them, he doesn't win."
Armstrong's view has not changed since: "It's no secret we are not friends," he says. "It was just typical. Young guy, tons of success, never faltered. I called his PR guy and said, 'I don't want to tell you what to do, but I don't think that's such a good thing to say. That's stupid."'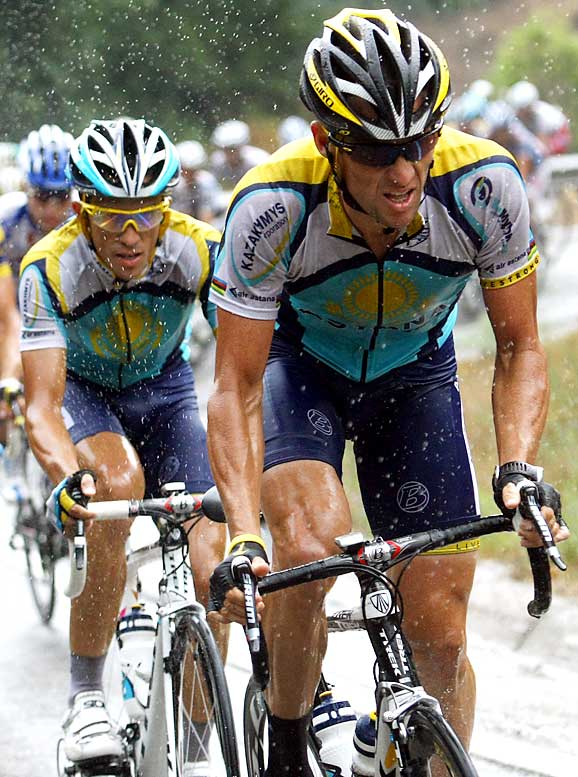 Although, Armstrong does concede that their rivalry will be terrific for cycling, and especially the Tour.
"It will make for an epic build-up, an epic Tour. Those key stages will be epic," he says.
And while he might not like Contador, he admires his physical and mental prowess, saying: "He is strong physically, but he is possibly even stronger mentally. He ain't easy to disintegrate." For Armstrong, who overcame testicular cancer in 1996 before winning his record seven Tours, fighting against the odds has been a part of life since he was a child.
"I got into a few fights. There was only one time when I really got my ass kicked," he recalls of his mid-teen years. "I had gotten into a fight with another guy. I kicked his ass pretty good, or he gave up. [His friends] then came out and f—ing kicked the s— out of me. But that wasn't one of those events that shaped [me]. No, my epiphany was being sick. That was like: 'Winning, losing, winning, dying … listen."