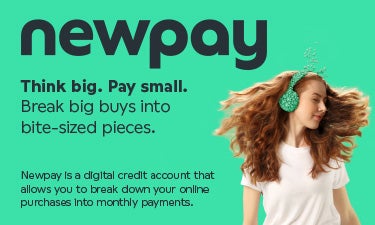 How Newpay works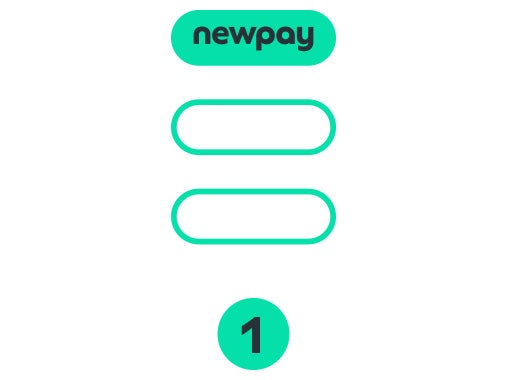 Choose Newpay at checkout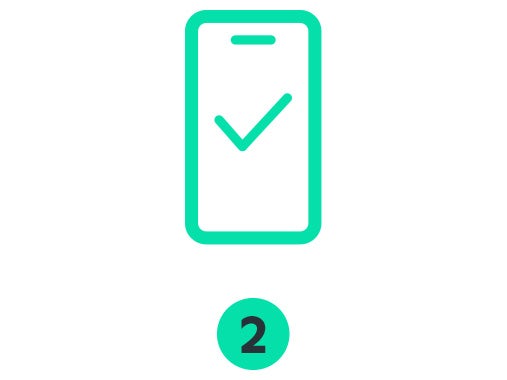 Check your eligibility risk-free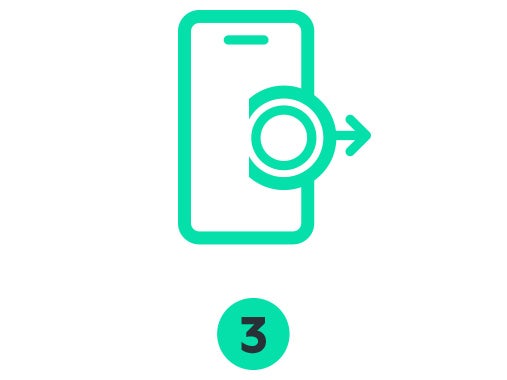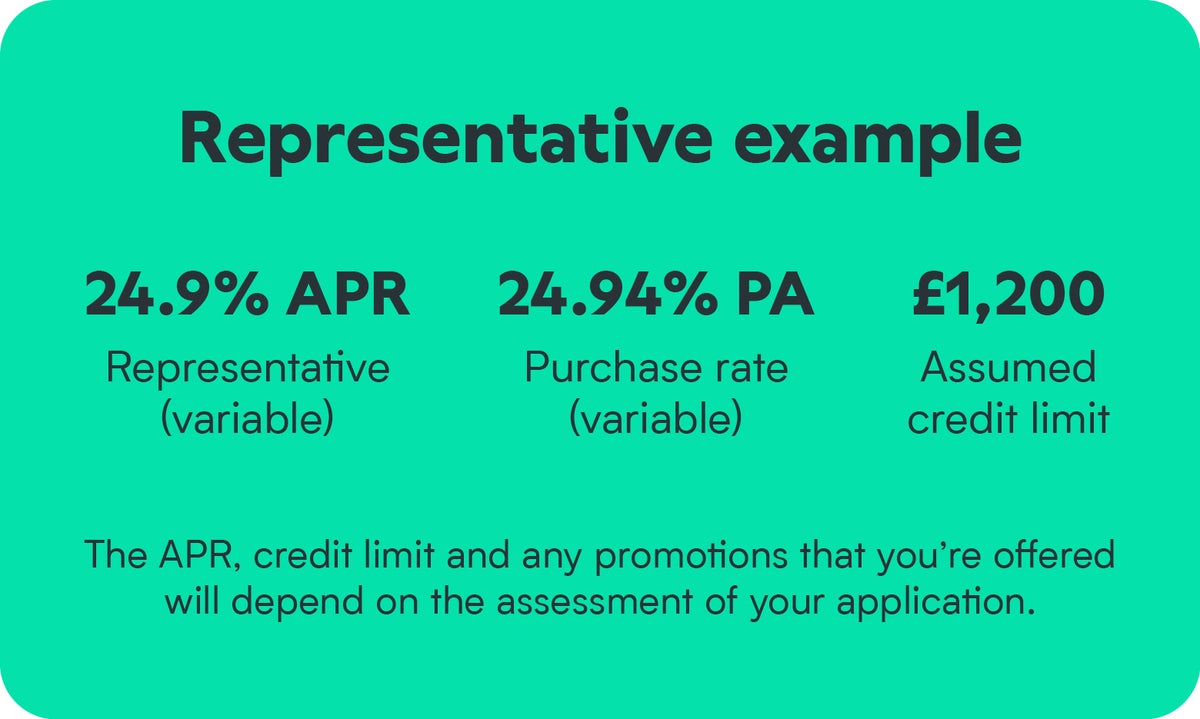 Eligibility criteria
Be 18 or over with a regular income
Have no existing Newpay account
Have a UK bank account and phone number
Have been a UK resident for at least 12 months
Newpay FAQ's
It's a flexible finance account provided by NewDay. With it, you could enjoy credit to spend everywhere you see the Deko and Newpay in the checkout., along with various payment plan options – an instalment plan, flexible credit. So, you can repay the balance however suits you best. Just bear in mind, the interest rate, credit limit and payment plans you're offered will be based on a credit check.
NewDay Ltd will be your finance lender, and emails about Newpay will often come from them. So, remember to keep an eye out for their name while you're scrolling through your inbox. NewDay Ltd is authorised and regulated by the Financial Conduct Authority (ref no 690292) and authorised by the Financial Conduct Authority under the Payment Services Regulations 2017 for the provision of payment services (ref no 555318).
Deko is a credit broker, not a lender. Deko's secure technology helps make your Newpay application fast and simple. Deko is a trading name of Pay4Later Ltd, which is authorised and regulated by the Financial Conduct Authority (ref no 728646).
Deko may receive a small commission from NewDay for arranging your finance on their behalf. This will not influence the product, or any element of the cost of the finance you are offered. You are entitled to ask the amount of commission paid in relation to your application. If you'd like to find out, please contact Deko's Client Services Team on 0800 294 5891, or support@dekopay.com.
That depends on which payment plan you choose. There's no minimum spend if you want to use the flexible credit payment plan. But for an instalment plan, there's a minimum spend of £50, which includes the cost of any extra services you might need (e.g., installation, recycling, etc.).
Anyone can apply for Newpay, as long as you:
Are 18 years or over and have a regular income
Are a permanent UK resident and have lived in the UK for the last 12 months (unless you are HM Armed Forces Personnel)
Have a current UK bank account
Have a valid email address and mobile phone number
Don't have an existing Newpay account
Of course, but just be aware that not everyone will be accepted for it. It's worth remembering that NewDay will have to run a credit check as part of your application. So, your credit score will be taken into account when NewDay decide if you'll be approved for Newpay.
It should only take 5-10 minutes to apply, and you should find out straight away. There are occasions where NewDay might refer the decision to an underwriter to assess. If this happens, they might contact you for a bit more information before they decide if you've been accepted.
Yes, NewDay will always carry out a credit search. They run a no risk eligibility check first though, to tell you if they think you'll be eligible for Newpay.
The first no-risk eligibility check won't affect your credit rating. But the full credit check might, and it'll be recorded against your credit file.
There are details of how NewDay use your information to make a responsible lending decision in their privacy policy.
You can reapply, but we'd suggest not doing it immediately. The best thing to do is to check your credit score and credit report online, then we'd advise waiting 6 months before you apply again.
Unfortunately, you can't cancel the application. But, once your Newpay account is set up, you can withdraw from the agreement and close your account – just bear in mind that you'll have to repay any money you owe NewDay, including any interest. When you get an email from NewDay to confirm your credit limit, you'll have 14 days to close the account. You can do this by calling their customer services on 03308380170. They'll tell you how much you owe and how to pay it, then you'll have 30 days to repay it.
Yes – you're more than welcome to appeal the decision, please call NewDay on 03308380170. Bear in mind that you'll have one month to submit your appeal once NewDay has told you about their decision.
Can I pay a deposit?
No, there's no need to make a deposit payment when you choose to pay with Newpay.
Your Newpay account will be ready to use straight after you have signed your credit agreement. Then you can finish making your purchase.
Of course – if you need to buy a few items at once, just add them all to the basket at the same time. When you choose a payment method, simply select one plan to pay for all of the products together.
If you've paid using Newpay but decide to return the product, the cost of the item will be refunded and put back into your Newpay account. If this refunded amount covers the whole cost of the items, the payment plan will be cancelled and you won't have to make any payments. But, if some interest has built up the refunded amount might not clear the balance in your account. In this case, you'll still have to pay the previously agreed monthly payments to clear the balance.
You'll get monthly statements electronically (these are called eStatements), and you can view them on your Online Account Manager. NewDay will send you an email every time an eStatement is sent to you and is ready to see. So, please remember to tell NewDay if your email address changes.
You will be charged a late payment fee if you don't make your agreed payment on time and any promotional interest rate will be lost if you do miss a payment. If you pay by Direct Debit, you will incur a fee if your Direct Debit payment fails. You can find more information about any fees or charges in your credit agreement.
How do I make a payment?
A few days after creating your Newpay account, you'll get an email from NewDay asking you to set up an Online Account Manager with them. Here, you can edit your details and view transactions. So, when you're making a payment, just visit your NewPay Online Account Manager and follow the quick and easy steps.
NewDay starts charging interest when a transaction's been made (including any applicable fees), until it's been fully paid off. On an instalment plan, it's from the date the plan is set up until it's repaid in full.
You are not charged interest on purchases (not including those made on an instalment plan) made during your last statement period if you repay your outstanding balance by the due date and if you repaid the previous month's outstanding balance on time.
NewDay charges interest on all fees, but not on default fees until at least the 29th day after they have told you about the default fee being charged. They work out interest daily and add it to your account on your monthly statement date.
If you're struggling to make payments towards your balance, please call NewDay's customer services as soon as possible – they'll be able to make suggestions on how to help. Their number is 03308380170.
If you can't afford to pay the fixed monthly instalment, that's OK – it's optional, so you won't go into arrears if you can't pay it. But, it means that your payment plan will be cancelled and you'll be moved onto the flexible credit account. On this new plan, you must at least pay the monthly minimum amount, but you can pay more when you can afford it. If this happens, interest will start being charged at your standard rate, and if you've set up a Direct Debit, it'll automatically be adjusted so NewDay won't collect any monthly instalment payments.
What is a credit limit?
This is the maximum amount you may borrow on your Newpay account. The amount you're offered is based on NewDay's assessment of your application, which includes the information you gave us and the result of the credit check.
If you want your credit limit to be increased or decreased, you can simply log on to your Online Account Manager or call NewDay's customer services on 03308380170. They always keep an eye on your account to see how you're getting on – they need to see that your account is well-managed, and that you're making payments on time over a number of months before they can offer an increase. It's best to keep your account up to date, as this will improve your chances of getting an increase accepted. To do this, make sure you stay within your credit limit and pay at least the contractual minimum payment each month.
How do I change the details on my Newpay account?
Please visit your Newpay Online Account Manager to change the details on your Newpay account, and follow the instructions on there.
Please contact NewDay's customer services as soon as possible. Please remember that phone calls may be recorded or monitored for training and security purposes.
Of course. Just log on to your Online Account Manager and follow the instructions. Here, you can easily change the details of your account. You won't have to pay any penalties, costs or charges for closing your Newpay account.
What should I do if I'm unhappy with how the process has gone?
If you're unhappy with how we've dealt with your Newpay plan or application, and you wish to make a complaint, please contact NewDay as soon as possible and they'll do their best to put things right. If you're not happy with NewDay's decision following a complaint and you wish to take it further, you can ask the Financial Ombudsman Service to review your complaint.
If you want to find out more about each payment plan, please visit your Online Account Manager, or feel free to browse through these pages.
If you have any questions, it's really easy to contact NewDay's customer service line on 03308380170. Calls to 03308380170 are charged at a standard national rate. Call costs from mobiles and other operators may vary so please check before calling. New Day lines are open 9am to 7pm Monday to Friday, 9am to 5pm Saturday, 10am to 4pm Sunday. Please have your account number ready when you call. You can find your account number within emails, a SMS New Day sent you shortly after opening your account or on the top of your statement. Calls may be recorded and monitored for training and security purposes and to help them manage your account.