AfterShokz Bluez 2 open ear wireless headphones combine the convenience, reliability and performance of Bluetooth wireless connectivity with the comfort and safety of open ear bone conduction technology to provide consumers with an entirely new way to stay connected. Unlike conventional Bluetooth headphones and earbuds that use the eardrums to transmit sound, Aftershokz Bluez headphones utilize patent pending bone conduction technology to deliver sound through the listener's cheekbones to the inner ear. This enables anyone using them to make/take phone calls and stay connected to both what they are listening to and the outside world - from warning sounds outdoors while walking or driving to a nearby colleague in an office setting.
We can't say we invented bone conduction, but our technological enhancements certainly push its boundaries. Our patented design guides mini vibrations through your cheekbones to your inner ears, delivering stereo sound without plugging or covering them. Sound waves travel directly to the cochlea, bypassing the eardrums completely—an alternative for anyone concerned about potential hearing damage caused by traditional headphones and ear buds, and even a solution for those with certain forms of hearing loss.
Most bluetooth devices are designed for use in one ear, but AfterShokz Bluez sit comfortably in front of the ears and provide listeners with a stereophonic sound experience. The innovative and elegantly simple design of AfterShokz Bluez open ear headphones is built around a beautifully designed, highly ergonomic, extremely stable, one-piece warparound headband. The open ear design and the light weight of AfterShokz Bluez make them extremely comfortable and stable, even when used over extended periods of time.
The Aftershokz Way: How Does It Work?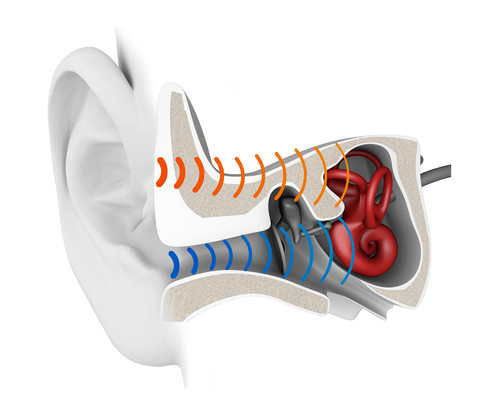 Bone conduction is a natural part of the hearing process—sound travels through our eardrums and bones simultaneously. We've taken the concept to the next level through development of a suite of proprietary audio technologies and design patents. The result: headphones that deliver unrivalled situational awareness and comfort.
Transducers guide mini vibrations through the cheekbones to the inner ears, delivering sound without plugging or covering them.
PREMIUMPITCH™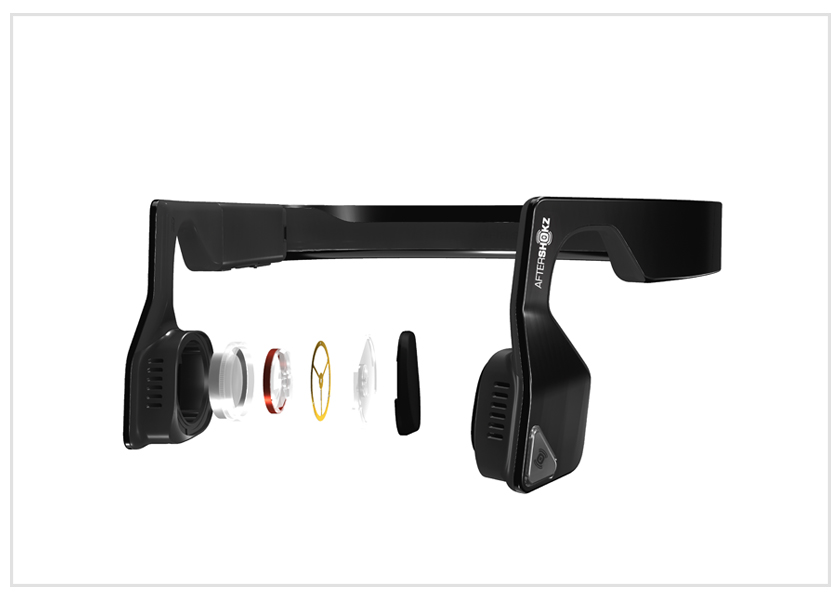 It doesn't seem sensible that audio travelling through your bones instead of your ears could be so finely tuned. It wouldn't be possible without our PremiumPitch technology, which assures the finest in bone conduction audio, with a range that suits music and voice.
SWEAT RESISTANT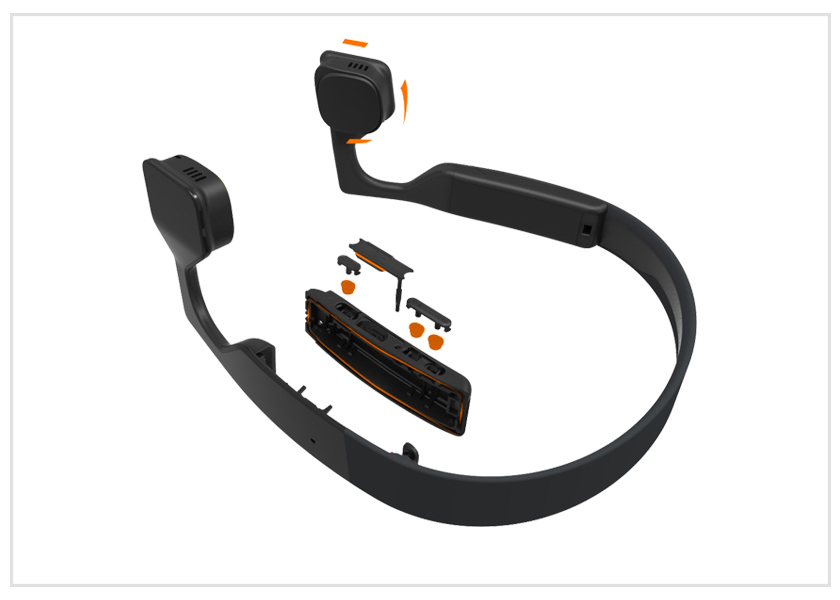 Durably designed to withstand high-impact activities, these headphones will power through daily sweat sessions and wicked weather. A nanotechnology coating and watertight rubber gaskets repel sweat and moisture from the inside out.
LEAKSLAYER™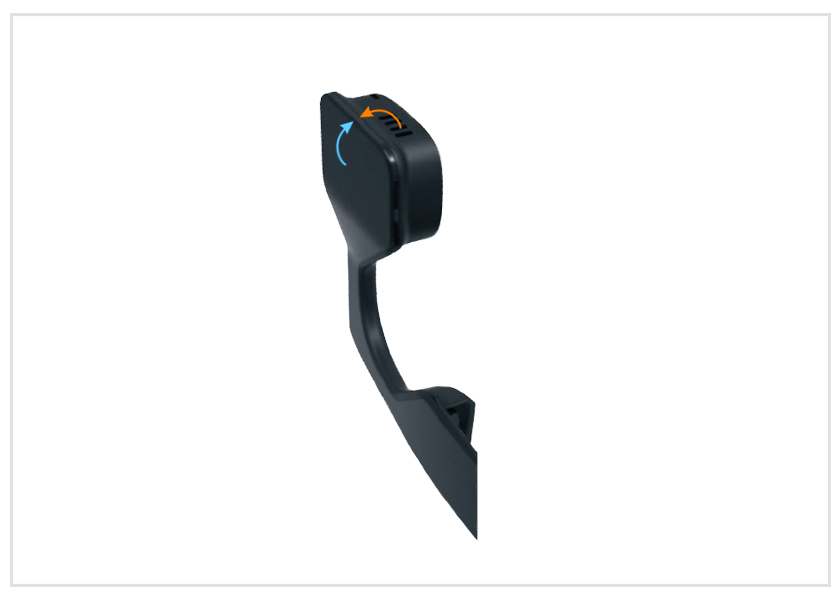 Natural sound leakage is a common drawback found with most all headphones and earbuds, especially at high volumes. LeakSlayer was designed to release sound generated by the transducers in order to cancel sound generated by the housing, significantly reducing leakage, even when compared to traditional headphones and earbuds.
FAQs
To read some frequently asked questions about this product, please click here.
Features:
Bone conduction technology delivers sound through cheekbones
OpenFit(TM) design provides unmatched situational awareness and eliminates ear fatigue
Nanotechnology coating and watertight rubber gaskets repel sweat and moisture
Six hours of music + calls
PremiumPitch(TM) guarantees the finest bone conduction audio
LeakSlayer(TM) significantly reduces natural sound leakage
EQ presets conveniently boost bass and reduce vibration on the go
Dual noise canceling microphones exclude surrounding noise, effectively enhancing speech
Audrey Says(TM) voice prompts guide users through power, pair, play and talk
Hassle-free two-year warranty
Technical Specifications:
Speaker type: bone conduction transducers
Frequency response: 20Hz~20KHz
Sensitivity: 100 +_ 3dB
Microphone: -40dB +_ 3dB
Bluetooth version: v3.0
Compatible profiles: A2DP, AVRCP, HSP, HFP
Wireless range: 33 ft (10m)
Battery: rechargeable lithium ion
Continuous play: 6 hours
Standby time: 10 days
Charge in: 2 hours
Weight: 1.45 oz (41g)
About the Aftershoks brand
AfterShokz brings patented bone conduction technology, initially developed for military special operations and law enforcement by Voxtech in 2001, to sport, mobile and Bluetooth® headphones designed and priced for everyday use. Through a suite of proprietary audio technologies and the only completely open ear design, AfterShokz headphones deliver premium stereo sound and a promise of safety and comfort that is second to none. Since its inception in 2011, the company has been committed to innovating unconventionally and making situational awareness a priority.