Our original, totally waterproof, breathable and windproof, close fitting stretch knit gloves, incorporating our patented Stretchdry technology. These gloves give excellent grip, control and dexterity for a range of outdoor activities.
Features:
100% waterproof, windproof and breathable – Constructed with our patented Stretchdry technology
Increased grip – Chevron printed palm and fingers for firm handling
Moisture control and comfort – Merino Wool lining
Comfort and control – Close fitting stretch knit
Touch screen compatible – Feature on thumb and index finger
Added coverage – Gauntlet cuff offers additional waterproof protection
Material
Outer: 96.5% Nylon, 3.5% Elastane
Membrane: Hydrophilic Membrane
Inner: 84% Merino Wool, 14% Nylon, 2% Elastane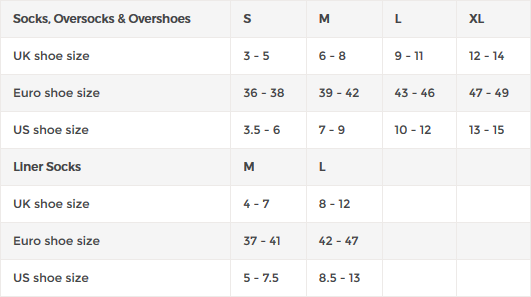 The measurements above are your shoe size, so if you are a UK size 7 we recommend you would be a size M (Medium).
If you are at the top of a size such as a UK 8 to 8 1/2 we recommend you move up in size as our waterproof socks are thicker than normal socks.