A lightweight, flexible and close fitting glove offers maximum comfort, dexterity and performance making it a great trail glove suitable for all types of riding.
Features:
100% waterproof, windproof and breathable
Wear resistance – Highly durable synthetic suede palm
Ultimate control – Zero padding
Added dexterity – Close-fitting, pre-curved fingers & laminated Stretch Lycra on back of hand and Lycra finger forchettes
Increased movement – Articulated knuckle area
Tricot Suede wiper on thumb for a multitude of uses
No liner pull-out – Features anti slip liner technology
Dexterity, increased grip and control – Improved thumb crotch design
Easy to put on – Rubber pull on tab
Increased grip on fingers – Silicone print on index and middle fingers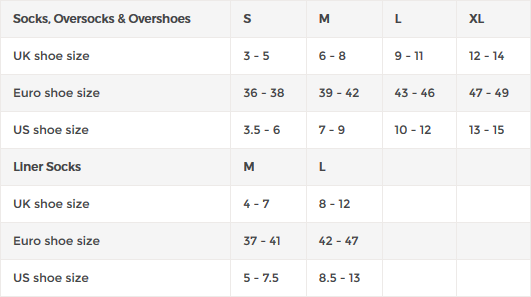 The measurements above are your shoe size, so if you are a UK size 7 we recommend you would be a size M (Medium).
If you are at the top of a size such as a UK 8 to 8 1/2 we recommend you move up in size as our waterproof socks are thicker than normal socks.