We all know that cyclists are gluttons for punishment and that there's no better way to achieve that sense of post-ride satisfaction than with a good hill climb. There are quite possibly tens of thousands of hills to climb across Britain, and we're sure, like us, you've wondered which are the most popular.
But how do you define the most popular? There are numerous lists outlining "Britain's most popular climbs", which use various methods, both subjective and objective. Often these lists are the hill climbs that people do the one time and never return to again. But what we wanted to know is which are the hills people return to time and time again? We've taken a deep dive into some of the most iconic climbs across Great Britain to see which are the most re-visited.
What Defines A "Repeatable" Climb?
There's likely a myriad of factors that contributes to why one climb is repeated over others. For example, some in our lists are features in popular sportives and races, some are geographically convenient to densely populated areas, and some have particularly favourable lengths and gradients for interval training.
In our quest to find Britain's most popular cycling climbs, we spoke with Simon Warren. For those unfamiliar, Simon has spent many years climbing and documenting Britain's most grueling and iconic climbs for his excellent 100 Climbs books. In Simon's view a "[repeatable climb] is one that's on your doorstep, one you fit into your training rides and test yourself on week in week out. It doesn't want to be too hard or too long, just hard and long enough to hurt a bit so you can keep going back without being scared of it." This is something borne out in our findings.
Method
Once upon a time, quantifying a list of Britain's most repeated climbs would be a monumental task, requiring labouriously scouring Ordnance Survey maps and using heaps of subjective intuition to arrive at a list of suitable climbs. Luckily, today we have Strava and Simon Warren!
We have used Simon's 100 Greatest Cycling Climbs and Another 100 Greatest Cycling Climbs in Britain (covering England, Wales, and Scotland) to confine our search to 200 of Britain's top climbs. We used Strava segments to see how many people have climbed a particular hill and also how many total attempts there's been. Finally, we ranked a climb's popularity by how many attempts per person a climb has.
A caveat: even with a tireless climber like Simon doing the literal legwork and a resource like Strava to utilise, there's no way we could capture every hill climb in Britain, so if we've missed your favourite, let us know!
Without further ado, here is our list of Britain's Favourite Climbs.
Great Britain's Top Ten Cycling Climbs
Key Stats: 0.92km | 7.3% av. gradient | 21,600 people | 462,208 attempts | 21.4 attempts per person
If you live in London, you'll be familiar with Swain's Lane; if you aren't London based, this might seem like an obscure top pick. Swain's Lane doesn't have the most individual visits at 21,600 people, but with over 400,000 attempts, it has more than 2.5 times more return trips per person than the runner up.
Lurking to the east of Hampstead Heath and running alongside Highgate Cemetery, it is, surprisingly for leafy north London, unquestionably a serious climb. It's only short, at less than 1,000m, but it's steep: averaging 8% from base to top, it builds towards a crescendo of 20% towards the summit. In short, it's a punishing climb.
A warning (learnt the hard way): being such a 'popular' climb, it's likely to pop up in rides that utilise Strava's auto-route planning feature. For the uninitiated, it can be an unexpected and unwelcome way to start a ride, especially if you've just decided to give commuting by bike a go! It is, fortunately, a mistake you'll likely make only once.
Key Stats: 2.46km| 4.7% av. gradient | 139,084 people | 1,112,146 attempts | 8 attempts per person
No list of Britain's most popular climbs would be complete without an appearance from the world-famous Box Hill. It's easily the most ridden climb in Britain—the world even—with over 130,000 people having ascended this icon of the British cycling scene. Beloved by the hordes of London-based cyclists looking to test their legs of a weekend, it's not the longest or the steepest of hills—not even within Surrey—but having featured in the London 2012 Olympic Road Race and sportives such as RideLondon, it has earned its place on a list of repeatable climbs.
It may lack some of the spectacle of a remote climb in the Highlands, but it does carry its own charm and heritage. Of course, any worthwhile climb must have some form of switchback, and Box Hill delivers. Alpine-esque switchbacks snake their way to the top, and, on a summer's day, it's entirely possible to briefly allow the mind to wander to more exotic locations.
Key Stats: 8.77km | 3.2% av. gradient | 14,239 people | 99,243 attempts | 6.97 attempts per person
This is the longest climb on our list, and in England as a whole. Reaching nearly 400m above the West Yorkshire countryside, it boasts nearly 300m of vertical gain. But despite its length, the steady gradients make this climb more of a slog than a leg-testing beast. Without any significantly punishing grades, you're free to take in some of the quintessentially Yorkshire countryside, once you've left the village behind. For the performance-minded among you, it's featured in the Tour de France and numerous hill- climb time trial events over the years; if you're looking to see how you stack up against the best riders in the world, have at it!
Key Stats: 1.57km | 7.9% av. gradient | 7,584 people | 49,655 attempts | 6.55 attempts per person
Steyning Bostal is your typical British hill climb: short, steep, and feels like the longest four to five minutes of your life. It's a hill of two halves: a short section of respite is sandwiched between gradients, which peak at 20%. Not a hill to take lightly, but on the plus side, it's not too far from the sea and a 99 pick-me-up.
Key Stats: 1.88km | 9.2% av. gradient | 12,892 people | 82,048 attempts | 6.36 attempts per person
Situated close to the market town of Otley, West Yorkshire, and on the edge of Lindley Wood Reservoir in the Nibberdale Area of Natural Beauty, this is a climb that offers something of everything: punishing gradients, scenic views, and ample moments to question your life choices.
This is a challenging climb, which—unusually—is steepest and hardest at the bottom. The overall, nearly 10% average disguises the fact it commences with grades of 16% from the off. This profile makes it tricky to pace well; you'll need to go hard enough in the steep gradients at the start to get up it, but not so hard you are flummoxed by the time the slope levels out!
Being situated at the south eastern tip of the Yorkshire Dales, Norwood Edge makes for an excellent destination climb or as a starting point for longer rides into the Dales.
Key Stats: 0.2km | 12.9% av. gradient | 6,044 people | 36,685 attempts | 6.07 attempts per person
At only a couple of hundred metres in length, Michaelgate, in the centre of Lincoln, is the shortest climb on our list. However, what it lacks in physical length it makes up for with a long history in British bike racing. As recently as 2021 it was also a decisive factor in the British National Road Championship and has been a feature in one of Britain's longest-running and most prestigious road races, the Lincoln GP. It's no exaggeration to say, that the hopes and dreams of both aspiring and established pros have been made and shattered across this steep, cobbled climb.
At an average gradient of over 12% and with peaks of more than 20%, it certainly packs a punch. But since the climb finishes in the city's historic Castle Square, there's options aplenty for recuperation.
Key Stats: 1.5km | 5.1% av. gradient | 16,274 people | 94,875 attempts | 5.83 attempts per person
Not the longest or steepest of hills, but the overall gradient hides the fact this pitches up twice to 15%. Something of an outlier for the area, it's a popular choice for the locally gradiently challenged cyclist. If it's short, punchy climbs that you desire, then head northwest to Potters Bar/Brickenden, where you'll find numerous short, sharp hills to test your legs.
Key Stats: 3.85km | 5.7% av. gradient | 7,995 people | 46,209 attempts | 5.78 attempts per person
Returning to the north of England, Beeley Moor gradually increases in severity but overall remains fairly constant. Settle into a consistent pace for the next ten minutes or so, and it'll be over before you know it. The steady gradient and ideal interval length are likely what makes it popular for repeated hill climbs.
If you're looking to make a day of it, there are numerous hills to explore in the region, and of course, nearby Bakewell is an obvious place for a cake stop.
Key Stats: 5.61km | 4.8% av. gradient | 9,879 people | 56,068 attempts| 5.68 attempts per person
In reaching distance of Glasgow, Crow Road offers an excellent escape from city life. It's a long climb— respectable times reach well into double digits—but the gradients are not overly punishing. Carry on over the top and on to Tak-Ma-Doon and the Carron Valley Reservoir, and there are certainly worse ways to spend a few hours.
Key Stats: 2.2km | 5.3% av. gradient | 1,861 people | 10,435 attempts | 5.61 attempts per person
The final climb on our list can be found to the southwest of Newcastle upon Tyne. It's another typical British hill climb: short and deceptively difficult. Not the longest, not the steepest, but still it'll leave you feeling like you've done some work.
Honourable Mention
Key Stats: 1.93km | 10.6% av. gradient | 19,422 people | 52,158 attempts | 2.69 attempts per person
We couldn't have a resource like Simon Warren at our disposal and not ask him for his own favourite climb to return to. He tells us the "one climb I never get bored of riding is Newlands Pass in the Lake District. It is long, hard, but not too hard to make it unpleasant and just about the most beautiful road in Britain."
The Top Five Most Popular Cycling Climbs In Wales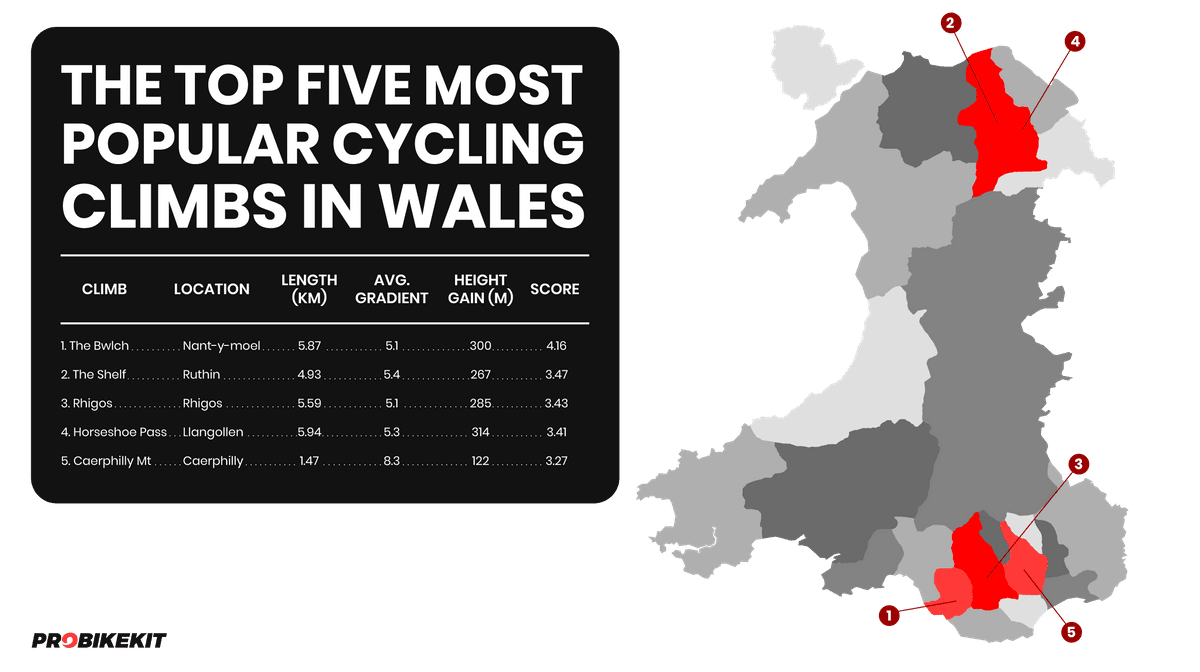 Key Stats: 5.87km | 5.1% av. gradient | 3,477 people | 14,451 attempts | 4.16 attempts per person
It'll be of no surprise to the cyclists of south-east Wales that the iconic Bwlch comes out on top. Likened to Mount Ventoux for its three possible routes to the top, the Official 100 route ascends out of Price Town. This a popular climb for sportives, like the Dragon Ride, amateur weekend riders, and the local pros. The Bwlch boasts well-engineered switchbacks, a steady gradient, and quality tarmac; the only thing to watch is wayward sheep on the descents. Reach the top and you're rewarded with views of the Rhondda Valley and some excellent descending opportunities.
Key Stats: 4.93km | 5.4% av gradient | 5,791 people | 20,087 attempts | 3.47 attempts per person
A short distance from the historic market town of Ruthin, in North Wales, the Shelf is a quiet climb with largely steady gradients. Barely more than a farmer's track, the condition of the surface itself isn't the highest quality. Fortunately, the views of rolling Welsh hills at the top are more than enough to compensate for the rough ride to the top. What's more, from Ruthin there are numerous more hills and routes to explore. Or simply into the town itself for your refreshment of choice.
Key Stats: 5.59km | 5.1% av. gradient | 10,602 people | 3,649 attempts | 3.43 attempts per person
Back down to South Wales. Rhigos is another excellent example of the climbing opportunities available in Wales. The climb is a bit of slow burner to begin with, but once it starts to steepen you'll soon have beautiful views of the Brecon Beacons—assuming you've been lucky enough to get a clear day. As you reach the top, there's even a switchback or two, before moving on to a fast and smooth descent.
Key Stats: 5.94km | 5.3% av. gradient | 12,219 people | 41,699 attempts | 3.41 attempts per person
Horseshoe Pass (Bwlch yr Oernant), so named in English for the distinctive shape of the valley, rises out of the picturesque village of Llangollen. If you're fortunate enough to catch the weather on a good day, the views as you ascend are second to none. The gradient is largely steady, with a few pitches into double digits. Thanks to the horseshoe shape of the hill, you'll be able to see the route to the top for much of the climbing; this can serve as incentive or torture. The choice is yours.
Key Stats: 1.47km | 8.3% av. gradient | 19,560 people | 64,049 attempts | 3.27 attempts per person
In terms of individual people visiting, Caerphilly Mountain ranks second overall for hills in Wales, but it terms of attempts, it sits at number one. Rising pretty much from Caerphilly itself, this is a short but steep leg sapper.
The Top Five Most Popular Cycling Climbs In Scotland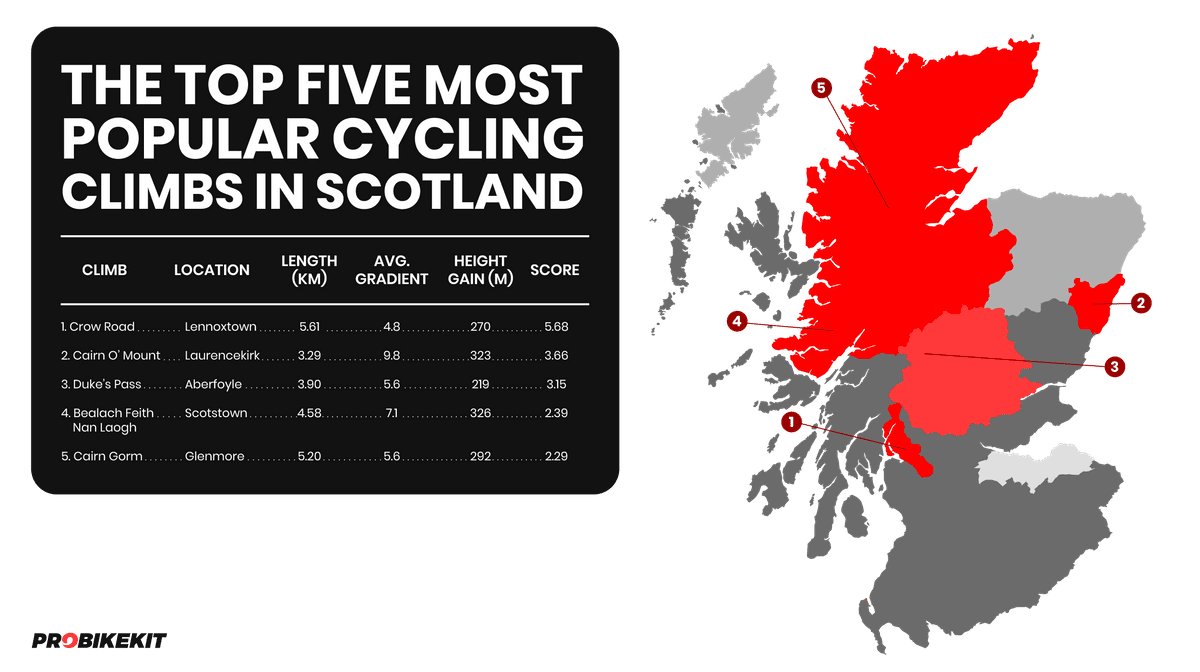 Key Stats: 5.61km | 4.8% av. gradient | 9,879 people | 56,068 attempts | 5.68 attempts per person
In reaching distance of Glasgow, Crow Road offers an excellent escape from city life. It's a long climb—respectable times reach well into double digits—but the gradients are not overly punishing. Carry on over the top and on to Tak-Ma-Doon and the Carron Valley Reservoir, and there are certainly worse ways to spend a few hours.
Key Stats: 3.29km | 9.8% av. gradient | 4,298 people |15,742 attempts | 3.66 attempts per person
Set on the eastern edge of the Cairngorms, the Cairn O' Mount is a brute of a climb, that is a real test of any cyclists' character. The average gradient is nearly 10% and pitches up to a leg-burning 18%. When Cairn O' Mount featured in the Tour of Britain, 2021, even pros could be spotted desperately looking down for an extra gear. But, as Newton tells us, what goes up must come down: on the other side of this beast you can succumb to gravity and enjoy a glorious descent.
Key Stats: 3.9km | 5.6% av. gradient | 8,762 people | 27,612 attempts | 3.15 attempts per person
Duke's Pass is a staple climb out of Aberfoyle. It's a climb of two halves: starting steep, but beginning to level out at the halfway point. As you would hope, once you do reach the summit, there's fantastic views of the Scottish countryside to be had and a fast descent to recuperate the legs. Beyond the peak awaits all of the fern and pine trees and lochs you'd hope for in a Scottish climb.
Key Stats: 4.58km | 7.1% av. gradient | 406 people | 972 attempts | 2.39 attempts per person
Deep into the Scottish Highlands, straight out of the village of Strontian, Bealach Feith Nan Laogh is a well-trodden climb by those that know. However, with fewer than 500 people having ridden this climb and uploaded the ride to Strava, it would seem there are few in the know. Meaning that perhaps everyone that has climbed it has done so twice. Understandably so, it's a quiet climb, with excellent views, and offers plenty of opportunities for you to think about what you've done.
Key Stats: 5.2km, 5.6% av. gradient, 6,231 people, 14,248 attempts, 2.29 attempts per person
Being the sixth highest mountain in the UK, as you would expect (hope?), Cairn Gorm is a long climb. At best you can hope for it be over while the minutes are still in the teens. At worst perhaps settle in for a good podcast. Overall, the gradient is on the more steady side. Cairn Gorm also boasts some well-engineered hairpins, an absolute must for any top climbs. Plus, (obviously) it's set within the Cairngorms National Park, and so can be a feature of a number of stunning rides.
For all things cycling and the latest news, follow us on Instagram, Twitter and Facebook.