Running is part of cyclo-cross and cannot be avoided in most races. Generally you have to run because of the terrain or to get your bike over an obstacle that you can't ride over, or get through muddy sections that would otherwise clog up your chain. As you can imagine running with a bike is pretty difficult. Running on your own through mud is hard enough let alone with a heavy, muddy bike on your shoulder! So to get the best running technique for cyclo-cross, you have to practice…a lot. Learning how to run with your bike is quite an art which is why we have put together a quick guide on how to run during a cyclo-cross race.
Master the art of Dismounting & Remounting first
Dismounting and re-mounting are the first two skills that you should master before considering running with your bike on your shoulder. You can learn a little more about this in the blog post below: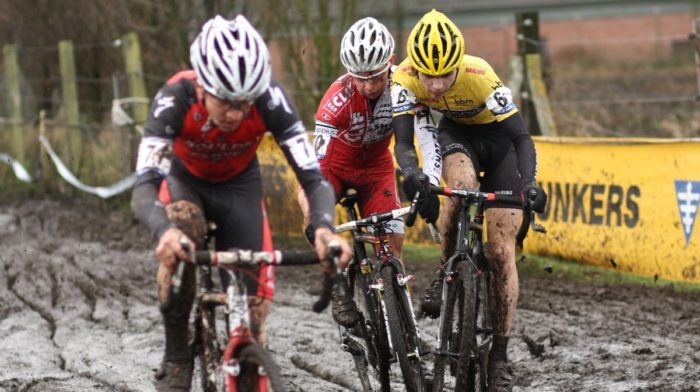 Fancy giving cyclo-cross a go? Read our top tips on how to get started in cyclo-cross for you to practice and become master of mud! And if you need some cross-specific kit, you can find all that you need here at ProBikeKit.
Different running techniques for cyclo-cross
Once you have got to grips with getting on and off your bike you can then have a go at running with it! Depending on the reason for running with your bike there are a few ways to go about this. Below are a couple of techniques and example scenarios:
Carrying your bike on your shoulder
If you are running to get over steps you will be required to get the bike on your shoulder. To do this, put your arm through the frame of the bike and hook your hand on the opposite side of the bars to stabilise the front of the bike. This way the bike is up, clear off the floor and you are free to run without tripping over your bike or getting caught in it and falling flat on your face in the mud as a result!
Long muddy sections on the course that you can't ride across are often found which would be another opportunity for you to carry your bike on your shoulder. This way, you will avoid getting caught up in it and keeping the bike as free from mud for as long as possible.
Lifting your bike over obstacles
There may be other obstacles on the course that don't require you to carry the bike but lift it over obstacles such as planks of wood and jumps. As this is simply a quick jump off and jump on, carrying the bike over the shoulder would be unnecessary.
Wheel your bike next to you whilst running
Off camber sections can be very tricky and in some cases running with the bike on the ground can help with foot stability, so always bear this in mind if there are features like this on the course!
Running is sometimes quicker than riding the bike even if the sections of the course can be ridden, so make sure you make this decision during practice laps to try and get the fastest laps possible. Carrying your bike can be really hard on your back arms and core. So winter workouts to improve this are key to create strength to perform these skills and techniques.
By running twice a week up hills and off road can help in preparing yourself for the strenuous act of carrying your bike in a race. Running helps with core strength and overall fitness so is a great addition to have in training whilst in cross season. Short, sharp interval based sessions are the best sessions – long endurance based runs don't really get used in cyclo-cross racing. Hill repetitions and sprint efforts are worth focusing on too as cyclo-cross is an explosive strength sport, so these sessions will help in achieving peak fitness and overall technical skills.
Again, please feel free to ask us questions on the #PBKRaceTips on our social media accounts!