Since the Vuelta is on it makes us think about how the pro's peak more than once in a year – how do they ride the Tour de France, then a couple weeks later rider the Vuelta Espana? You think they would be shattered right?! And for many of us it's also that time of year where you may want to peak one last time before the season is out. Either for an event, sportive, charity event, whatever your goals are in cycling, we thought we would help you achieve yours, and wondering how to peak twice in a season is a common question amongst cyclists!
Athletes or avid cyclists like you whom ride their bikes every weekend or often have a busy cycling calendar, like a series of sportives or a full season of racing, often find it hard to peak twice. With races, events, challenges sportives and so on, running every week with barely a rest weekend to take advantage of. It's easy to get sucked in and become tired, stale and fatigued, essentially leading to a loss of form and the feeling of going backwards, losing power and even enthusiasm.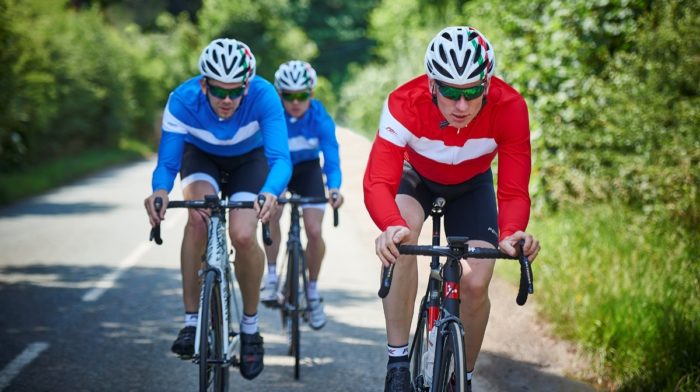 Our very own PBK cyclist Aaron Hemsley is back on the blog with some handy advice on how to prepare for a sportive! Read his advice written from experience of riding in sportives!
Our Top Tips:
We have written a few top tips to advise you on how to peak twice in a season – follow these any you'll be well on your way to a successful season!
Start in Winter!

Winter training is key to get that solid base in. This gets you ready in time for the start of the season. You worked hard building up a base fitness ready to start interval based training and peak for that first race. After the first few races you are probably finding some form and feeling quite fit and strong, however, unfortunately this cannot be replicated week in week out throughout the whole entire season. There are going to be times where you simply cannot be firing on all cylinders all of the time. So it is key being able to identify which events, races and/or sportives you are happy to either miss or accept you are not targeting to do well in.

Plan your Season

Knowing your season inside out is an essential aspect in figuring out how to peak twice, especially if it's a busy one! Make sure that you know which races to push on and which ones to take easy. Structure it so you have a good period to rest and take a break from such high intensity (see next point).

Rest is the Answer

Sorry – I know you don't want to hear this, but take a break! Pick your end of season goals and make sure you have built in a couple of rest weeks beforehand. Go on holiday perhaps? Go walking, or have some fun. By having a couple of weeks rest it helps the body to recover and strengthen back up ready for a new building phase in order to peak again.

You will have heard many athletes mention they are on a mid-season break. This means simply this. It is what it is. They are taking a couple of weeks to recover from big, tank-emptying efforts, niggling injuries and a loss of enthusiasm.

But remember to time it well! You will need to give yourself time to get back on the bike and rebuild some strength and speed up. This time period should have given you enough rest and recuperation to get back to your blistering form you had at the start of the season!
As always, let us know your race tips over on social using #PBKRaceTips and don't forget to tag us! @ProBikeKit