You can be fit and fast enough to compete with the best by simply training hard enough but it's not just about speed and strength, believe it or not cross racing is very technical. Agreed, there may not be rock gardens, drop off's or jumps to contend with but its technical in it's own way. There are a lot of aspects to getting the perfect lap. Lap after lap.
Carrying speed is one of those the techniques that if often overlooked. It requires practice. The main parts in which you can lose a lot of speed is either in short sharp climbs, corners and features such as steps and obstacles. We have broken these techniques into small bite size bits for you so you can use these in a real life situations.
Short sharp uphill sections
Get in the right gear before sharp uphill sections. These can often catch you out, generally they are on the course after a downhill section or corner in which you can find yourself in the wrong gear very quickly if you haven't thought about it. This is something that you have to be very conscious of. In practice laps try and learn what gears are needed to get up short sharp climbs as quickly as possible. You need to be in a low enough gear that you can keep pedaling with ease up the hill to keep momentum. Finding that you are in the wrong gear half way up the bank can result in a complete loss of momentum, staling and even having to get off and run. These are thing you need to avoid.
Fluidity through the corner
If there are corners before these sharp efforts then try and carry speed though the downhill and or corner to keep as much speed and fluidity as possible before hitting the climb. This way most of your speed will help you get up the other side as quickly as possible.
Perfecting Cornering
Cross racing lends itself to many corners and can be very energy sapping.  Learning how to ride the corner as smooth as possible will save you lots of time. Again get in the right gear so you are able to keep your pedaling motion throughout the corner, pedaling throughout the corner will in fact help you gain traction through the corner and help to avoid the front end from washing out. In addition to this by keeping some of your speed in the corner you wont have to work quite as hard to get out of the corner.
Breaking
One of the big things to avoid is breaking too much going into the corner and loosing all your speed and momentum, in addition this also may result in loss of traction in turn this will leave you having to make a huge effort to try and get out of the corner and back up to speed.
If the terrain is unridable because of either mud, off camber sections or obstacles then plan these sections. It may be quicker to get off and run (see below). If you decide to ride the section and then have to bail off the bike half way through the feature this could loose valuable time and take much longer than if you had already planned a dismount.
You can make up a lot of time by simply planning how you are going to execute each feature in the race. Cross races can be won and lost by seconds. So imagine loosing 2,3,4 seconds or even longer on each  feature, this can really affect your final result.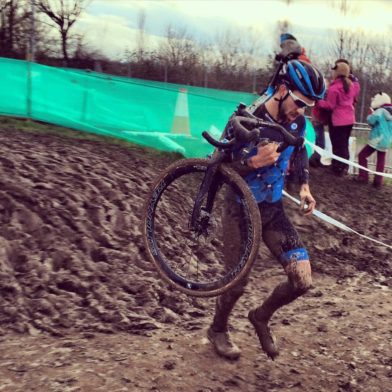 Running is part of cyclo-cross and cannot be avoided in most races. Generally you have to run because of the terrain or to get your bike over an obstacle that you can't ride over, or get through muddy sections that would otherwise clog up your chain. Here are a few tips to get your technique perfect.
Now get out there, start racing and be smooth! Ask us any Question's on the #PBKRaceTips on twitter.
Feature Image: Joe Griffiths – Torq Performance