This winter we ran a competition to win a Whole Summer Supply of MyProtein Products – We had hundreds of stories come into us for the chance to win this epic prize. Choosing was really hard as so many of you have awesome cycling stories from all around the world. We narrowed it down to a short list and then sent the stories around our office to help us choose a winner, and after weeks of trying to choose we decided to go with Joshua's. We asked Joshua to tell us his story.. and what a story it is too…
Bio:
Name: Joshua Hannam
Age: 29
Bike (s)

Giant Defy Advanced Pro 2
Giant TCX SLR 1
Old Red Fixie/Project bike
Favourite piece of kit you own.
That would have to be my Hells 500 Grey Stripe kit. To wear that you need to have completed an Everesting or HRS ride. This makes it pretty unique and awesome to wear.
What couldn't you live without.
I definitely couldn't live without the support my Wife gives to me to enable my cycling addiction.  She takes care of our daughter whenever I go out riding. She doesn't bat an eye lid when I spend silly amounts of money on bike stuff every month. She runs the bath when I get home from a ride that I've pushed a bit too far and can't really walk and makes awesome carb loading meals any time I have a big ride planned, just to name a few things she does for me to indulge my cycling habits. Without her support I don't think I'd be able to ride my bike anywhere near as often or as well.
Most memorable bike ride.
My most memorable ride would probably be the 2016 Fleurieu 300. Organised by a crazy man in Adelaide, Adam Willis, this ride at the start of the Australian summer covers 300km with 5000m of ascent. All self-supported. The ride starts and finishes in Brighton, just South of Adelaide. I left home at just after 4:30am to ride to the start line, and after getting home just after 10pm I'd covered almost 375km. The ride wasn't a slow cruise along the coast either, with 5000m of elevation gain you know there is going to be some climbing! What drove home just how hard the ride was, was the fact that my Strava Heart Rate suffer score was over 60 points higher for this ride than my Everesting, even though it was over 4 hours shorter.  The weather was perfect, the roads and route were awesome. As hard as it was though, I think it was the rest of the crew on the ride made it one of the most fun and memorable days I've ever had on the bike.

Biggest achievement on a bike.
This one would have to be my Everesting. Lots of blood, sweat and tears goes into being able to complete a ride like that. It's definitely an achievement I'm proud of.
If you could give any advice what would it be?
Ride your bike. It's one of the biggest cycling clichés there is, but it is by far the best piece of advice I've been give and could give. It doesn't matter how far or how short, how fast or how slow or what, where or when you ride your bike, just get on and start riding. Fitness will come, strength will come and the more you ride the more relaxed you will be when taking on bigger and crazier challenges. At the end of the day, its only riding a bike.
Tell us more about your everesting
I completed my Everesting late October 2016 on an access road in Belair National Park, South Australia. I had planned on taking part in a group attempt with some friends the weekend before, but unfortunately a bout of illness the night before meant I had to pull the pin 2 hours before I was supposed to start. I was pretty disappointed as it takes a lot of planning logistically to get everything ready and I was really looking forward to taking part in the group attempt. It's also not really in the spirit of the challenge to go and do a hill that had been done before, so I needed to find a new one. Thankfully a friend of mine had a few suggestions and after a quick scout of the area I settled on Melville Gully Road in Belair National Park, and the following weekend for when I would make my attempt.
The climb was a bit of a mixed bag, the first 600m were almost a false flat at around 4%, then there was one of the most amazing switchbacks you can ever climb, but it was steep at around 12% for 400m, then the last 300m flattened off a bit, but was still pretty steep. The total climb was 1.3km at an average of 7%.
For the day I rode my Giant Defy. Compact gearing on the front and I'd put on a medium cage derailleur with an 11-32 rear cassette. The disc brakes came in really handy with all the descending, I did manage to forget to check my brake pads as part of my preparation though, meaning after 10 or so laps I had to stop and put some new ones in.
One of the things that really stuck out to me was the poor condition of the road, it was an access road to the national park, and so had no regular traffic, which meant very little road maintenance. There had been some severe storms in the area recently too, which meant a lot of debris on the road. As part of the preparation I went the day before with a broom and cleared a path through some of the really rough areas, but it was still pretty average. After the sun went down there wasn't a lot of natural light in the area, it was basically pitch black except for my cycling lights. Despite having completed the descent over 50 times there were still points where I'd miss a pothole and get a bit of a rude shock. To counter this a friend of mine, Dave Bills, started placing White Lillie's, which had fallen as part of the storm in all of the potholes so they were easy to pick on the descent, definitely made things easier on the way down! Another friend of mine, Chris Cirami was there, who after the sun went down spent a few hours with the broom clearing off a lot more debris from the road making it even safer.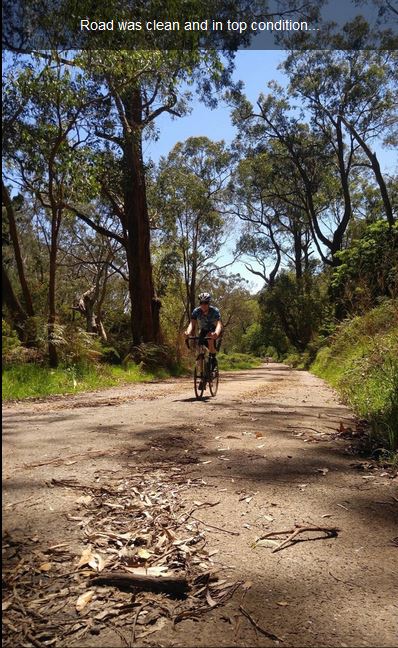 I had a lot of visitors come along during the day; the Adelaide Hells 500 Everesting community is really supportive of anyone having a go. One previous Everester, Rob Wood, rode up the entire climb on a Cargo Bike with his Daughter in the front. He had a small electric motor, but still pretty crazy!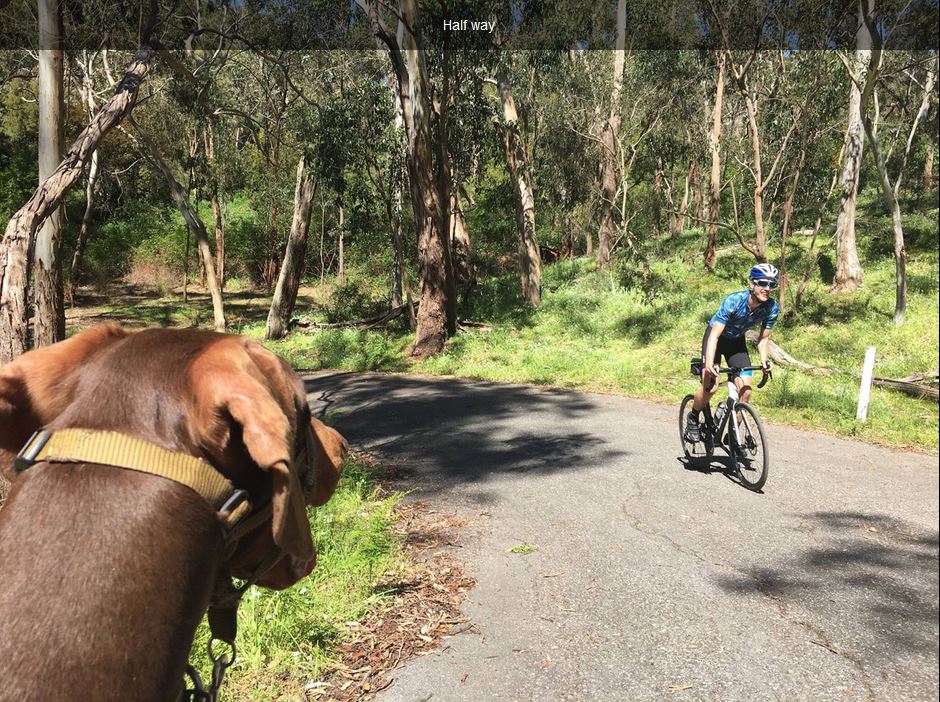 Everything was going along really well and while I was starting to feel some fatigue I was still feeling pretty good. That was until all hope appeared to be lost when at just over 7000m the police arrived and told me that the park was closed and that I was not allowed to be in there until sunrise! I was pretty shattered but started trying to figure out which was the better option; try and force myself to stay awake until sunrise (no sleeping allowed during an everesting, with sunrise about another 7 hours away) then ride another 4 hours to finish it off (id been riding for about 17 hours at this point), or to give up and try again another day. Fortunately Mr Idonttakenoforananswer Super Sherpa Dave Bills rocks up, finds out how to get in contact with after hours regional duty officer for Belair National Park. One phone call later with a lot of begging and explaining what Everesting was and I had permission to head back in, in addition to a rather ominous extreme weather warning for thunderstorms rolling in about 3 hours from then….
Back on the bike for another 4 hours and 1900m and it was all said and done. Apart from some strong winds and a light rain the storm didn't even show up!
https://www.strava.com/activities/759620222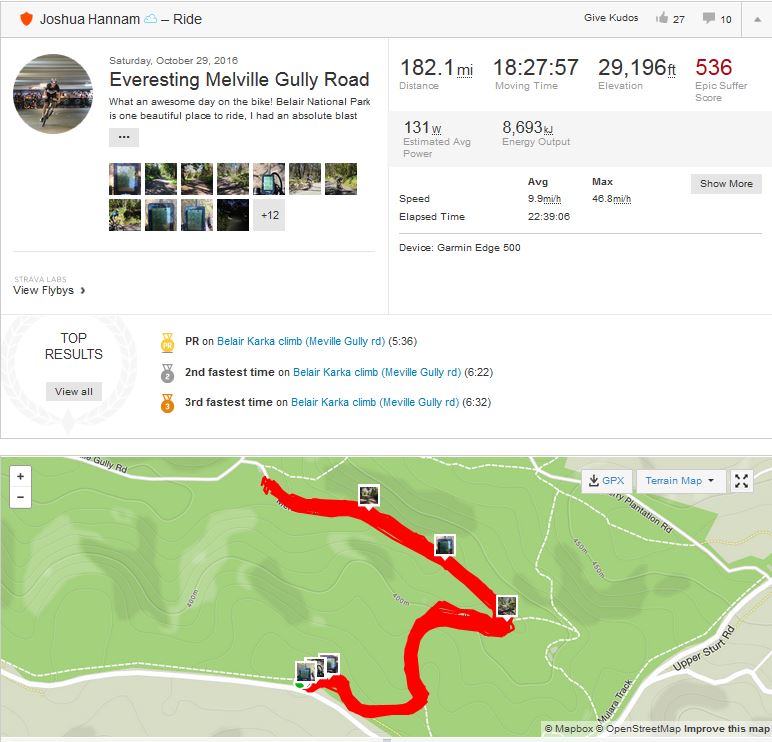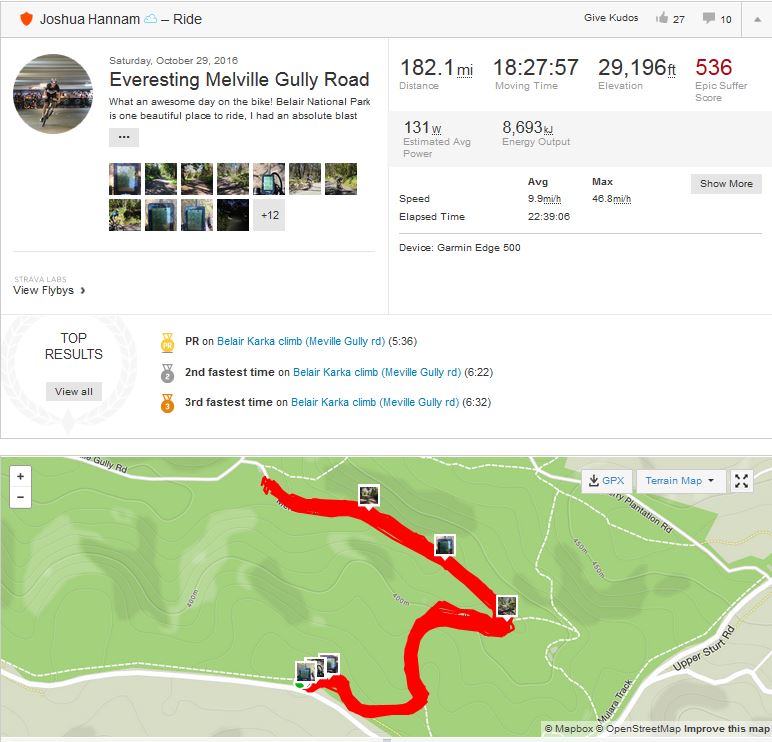 Tell us about your commute into work.
My commute to work is about 12.5km each way, mostly along public roads with bike paths. I've been doing this commute for the last 6 months, with a very similar one before that for a couple of years. One of the best things about commuting in Adelaide is the close proximity of the hills to the CBD. This means that by leaving home early I can sneak in an easy 50km ride with 1000m of elevation gain in a couple of hours before work. There are dozens of different climbs to choose from too, the options are almost endless!
What's your favourite road, climb or route in Aus?
We are really fortunately in Adelaide to have so many great roads and climbs just a stone's throw from the City. I think my favourite route would be up the quintessential benchmark climb of Norton Summit, across Woods Hills Road, next to a heap of Vine yards, then up the back of Mt Lofty, across the top and down the old freeway then home. It's the perfect short loop with around 800m of climbing. There are also lots of options to easily make it longer, steeper and harder depending on what you are trying to achieve from the ride.
I've also got a soft spot for the Victorian Alpine region. My Wife's parents live just outside of Bright, VIC, so we head over there quite frequently. The Climbs there are amazing with Mt Buffalo being a highlight I don't think I could ever climb enough times. We were over there just after Christmas time last year when I took on the 3 peaks loop solo from Bright, climbing Mt Hotham, the back of Falls Creek and Tawonga Gap for 260km and just over 4000m. It is such an awesome loop and hard to beat for the challenge and the scenery.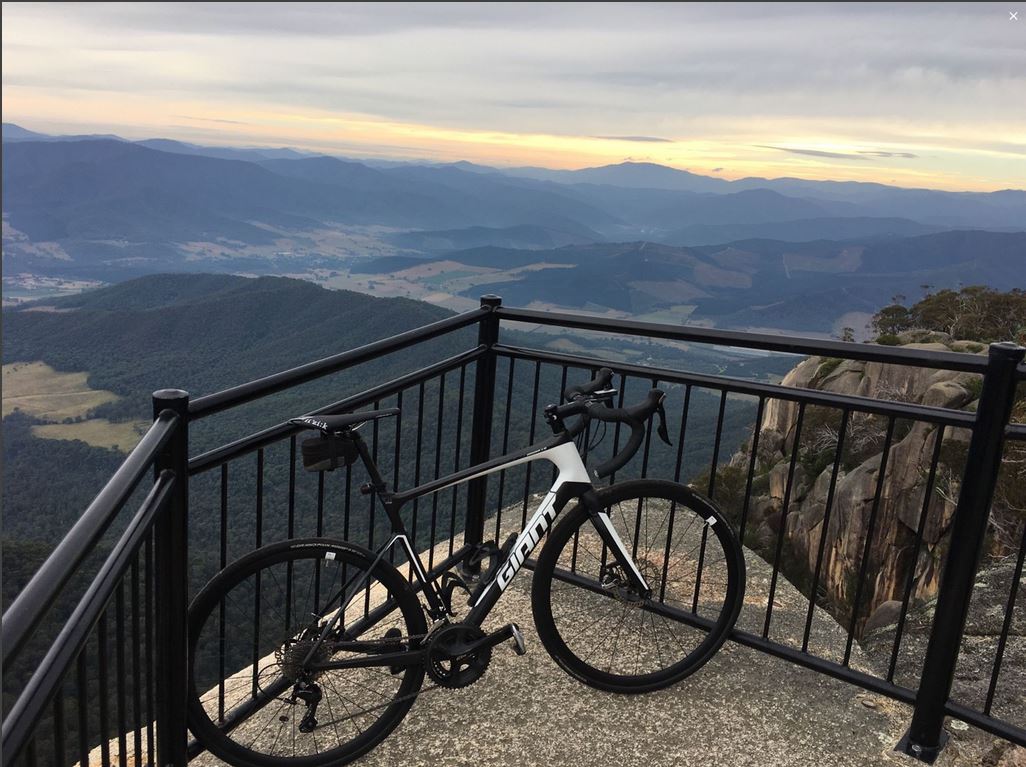 Do you have any plans for 2017/18?

During 2017/18 I'm planning on getting more into gravel riding and Cyclocross. I've recently bought myself a second hand Giant TCX and took part in my first Cyclocross race a couple of weeks ago. There is a summer twilight series run here where I managed to get 2nd place in the C grade in my first ever proper bike race, I had an absolute blast. I'm also really looking forward to riding the second Gravelaide Grinduro, an event put together by some local cyclists that looks to find some of the best and least known local gravel roads to explore. Definitely worth a look if you can get to Adelaide!
Another reason for the TCX is that it has rack mounts, which means I can attach a child seat. My Daughter turned one the other day, so I'm really looking forward to putting her in the back and taking her on a few adventures around town. I'm hoping she will like cycling just as much as I do.
Save
Save
Save