ProBikeKit: Hi Sanne, I thought we'd start with your childhood, at what age did you start competing in cyclocross races?
Sanne Cant: I was taken to watch my Uncle's cyclocross races when I was seven months old. I grew up with the sport and started racing when I was six years old. There were no races for me in Belgium so I went over the border to the Netherlands. You could choose what bike you wanted to ride and I used one I painted myself.
ProBikeKit: You came close to winning the Belgian Road Race Championships this year. Do you plan on trying to win the National Road Race Championships in the future?

Sanne Cant: It's not a specific goal, but the (road) nationals have a good place on the calendar according to my preparation for the cyclocross season. When the parcours suits me I will definitely try it.
ProBikeKit: At what time of the year do you start preparing for the cyclocross season?

Sanne Cant: During the spring and summer I train endurance and compete in races on the road. In August my specific cyclocross training starts. That's always a nice moment for me because I love training for cyclocross but I still combine it with endurance training. I even do some endurance training during the cross season.
ProBikeKit: You've won the Belgian National Cyclocross Championships every year since 2010, do you feel like there's a lot of expectation on your shoulders from the public and the media? If so how do you deal with that expectation?
Sanne Cant: There's always pressure for me when the national championships arrive. In the past, it was not easy for me to handle, but now I've learnt how to deal with it. I know there will be a day when I won't be national champion when someone is better on that day. You can also have bad luck in races, but hopefully not this season in Koksijde.
ProBikeKit: Do you have a routine that you stick to in the 24 hours leading up to a race?

Sanne Cant: I'm not superstitious but usually the 24 hours before every race look the same. I go to bed around 10pm, have breakfast in the morning then go to the race and do one or two recons of the course. An hour before the race I start my warm up.
ProBikeKit: How did it feel to finally be able to pull on the rainbow jersey after being so close to winning in 2014/15 and 2015/16?
Sanne Cant: It was the most beautiful day of my career, obviously. I knew I had it in me to become world champion and I did it. Now, I try to enjoy the jersey to the fullest but the season is going so fast it's not always easy.
ProBikeKit: What do you do when you're off the bike to take your mind off competition or are you always thinking about the next race?
Sanne Cant: During the season it's all about the training and racing. I have races during the weekend and on Monday I already start preparing for the next weekend's races. When the season ends at the start of February I take some time to do something else.
ProBikeKit: Who was your biggest inspiration growing up and who do you look up to now?
Sanne Cant: When I was younger I was impressed by Marianne Vos, now she's a rival but I have a lot of respect for her. Hanka Kupfernagel was someone else I looked up to. Today, Mathieu van der Poel is someone I can learn from. Being on the same team as him and having the opportunity to train together is a big motivation.
ProBikeKit: You've won in Koksijde three times in the past, but this season you finished 3rd there in the World Cup. How is your preparation going for this year's national championships in Koksijde?
Sanne Cant: The nationals is certainly a big goal, but you can't compare a World Cup race with a national championship. The competition during a World Cup race is a lot tougher.
ProBikeKit: You currently make a living from cyclocross racing, do you think more female riders will be able to do the same in the future? 
Sanne Cant: That movement has already begun, especially with the live broadcasting of a lot of women's races, that's very good for publicity and sponsors. Also, new UCI rules help a lot; every cyclocross team should have a woman in their team.
ProBikeKit: You've won almost everything there is to win; the World Championships, the European Championships, National Championships and the World Cup Series. Are you as motivated now as you were before you dominated the sport?

Sanne Cant: Definitely! I always set new goals and they present themselves too. For example, Marianne Vos and Pauline Ferrand-Prevot have just started their cyclocross seasons. Competing against them is a challenge. By the way, this season has been no walk in the park for me! I have had to work hard for my victories and that's really not a bad sign, it means the level of women's cyclocross is high.
To be in with a chance of winning a signed World Championship jersey and cap from Sanne Cant and Kalas just comment on one of our social media posts and answer the following question: Which current teammate does Sanne learn from and train with?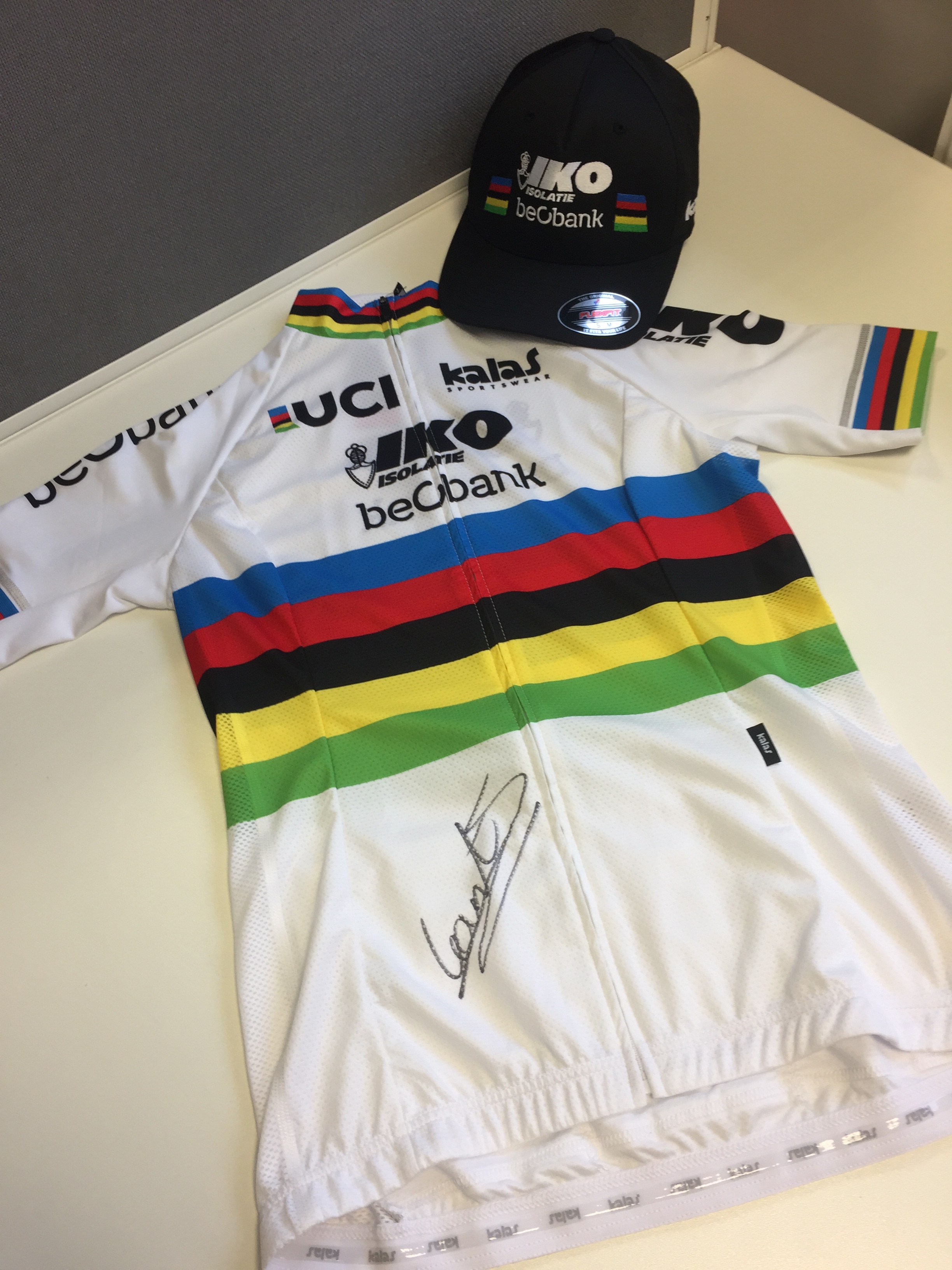 Thank you, Sanne for taking the time to speak with ProBikeKit during your extremely busy season and good luck at the World Championships in Valkenburg!
–
Shop our range of Kalas clothing here!