After a tough 3 weeks of the Giro d'Italia, many riders (wimps) are having a well deserved break, but some (machines) are heading up to Luxembourg for their Tour which starts on Wednesday the 2nd of June. Not many people will have earmarked this as a race to take note of and there are probably some of you out there who are relatively unaware about this European country and its nuances.
So, to help you along here are some facts to get you in the mood. Luxembourg is the 6th smallest country in the world, measuring a whopping 51 miles (north – South) and a slender 32 miles (east to West). It is in fact smaller in area than Rhode Island! It is nestled in between Germany, France and Belgium, has 3 official languages, (French, German and Luxembourgian) and in 1909, Francois Faber became the first non Frenchman to win the Tour de France…Mon Dieu! It lies in 5th place in the world beer consumption (per head) with each person consuming 101.5 litres, however it is apparently to beer what Korea is to car manufacturing…..trying hard and making progress, but not there yet! Harsh!
Not surprisingly, the tour is a short race with only 5 stages, made up for with the tough and repetitive climbs and it will no doubt be the scene for some brilliant racing – who will have recovered best since the weekend?

Riders:
Today's news was that Lance Armstrong will be racing after his tumble out of the TOC, he should have fresh legs although with all the recent controversy will his mind
wander? The other RadioShack riders should be able to do a good job of protecting him, Kloden and Gregory Rast being experienced riders.
Other names on the start list – F. Schleck and Richie Porte, Kim Kirchen and Ben Swift will all be looking to impress. No Wiggins from Sky or any other big names with Katusha.
If you had to choose a team to support you it would be Saxo Bank all the way. Schleck, Fuglsang, Jens (shut up legs) Voigt, Richie Porte and Stuart O'Grady sounds like a dream-team amongst some of the lesser known teams who are racing.
Stages: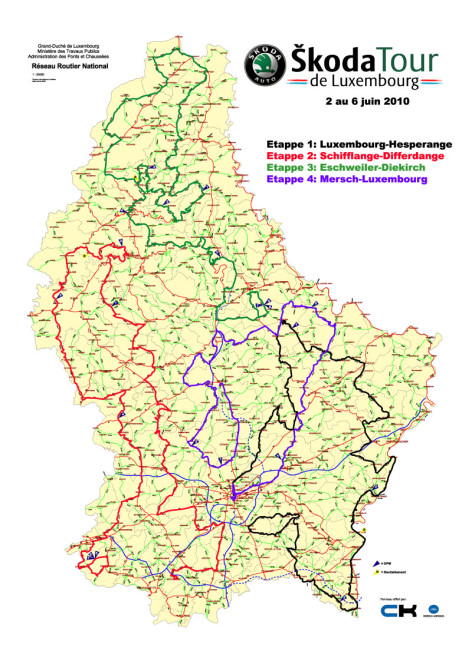 All 4 of the stages have a similar 'lumpy profile' with the prologue being almost pan flat and only 2.6km long.
Stage 3:
Here you can see – no alpine like climbs, but plenty of shorter and steeper climbs – a race for the tough man? It sure will be if the sun isn't shining.
---
Office predictions:
Three who we're tipping in the office:
Brice Feillu of Vacansoleil, Caccia of ISD-Neri and their luminous kit, along with Frank Schleck of course. Two outsiders and a firm favourite we believe will make an impact. Saxo Bank as a team should be unbreakable and unbeatable.

Will you be watching? Who do you think has a chance of smashing the field apart?