Oh to have the life of a Pro. Let's compare a 4th cat's winter activities to those of a Pro rider for say Garmin-Cervelo or Luxembourg for a minute.
4th cat:
1 ride in the last three weeks – mainly due to the snow and ice.
Alternative ways of keeping fit include: the 10 minute walk to work and the occasional sprint across the warehouse!
1 week of skiing planned for January with suitable amounts of home grown red wine to be consumed in the evenings.
3 weeks before my first Crit of 2011 I'll get back on the bike and be amazed at my lack of fitness!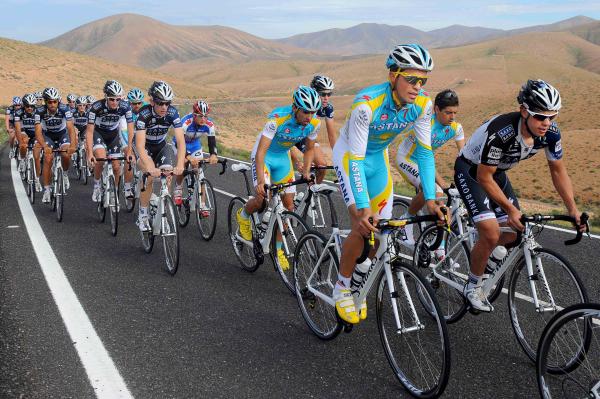 A Pro Tour rider:
Early December – A newly signed, million euro contract for your new team.
A couple of weeks spent here:
With the accompanying Tweet: "Around 12 people from the team are on the skis and enjoy on top of crans-montana… Un lucky the weahter is bad… What ever we hard guys…"

After "My winter training… With this weather it ia amazing… Hope to have in the teamcamp next week the same"

We'll excuse him the mis-spelling – he's our idol!
If you're Jurgen Van Den Broeck you might fancy a couple of weeks in the Caribbean – certainly beats the -10°c drive home I had last night!

Spotted here on Pez Cycling he's certainly keeping his tan lines topped up while most of ours blend quietly into the background…
So what have the teams been up to so far this year?
Garmin-Cervelo, Liquigas and RadioShack have all been out for the press in exotic locations with a little bit of bike riding thrown into the mix.
Garmin-Cervelo:
– After the sneak peak of their new 2011 jersey the guys have been busy in the Cayman Islands. An initial 70km bike ride for the riders to become acquainted and then the team signed the official team statement which includes the all-important anti-doping stance and philosophy.
With such beautiful surroundings the team have been sunning themselves, diving with stingrays, visiting the Cayman Motor museum and doing nothing to diminish the homo-erotic side of Pro cycling (check out rule 52. here – http://www.facebook.com/group.php?gid=2258201150) –
What appeals to me most is the mass ride which they took part in, the chance to see your favourite Pro's – Thor, David Millar and Tom Danielson out for a potter (90% HR for me) must be incredible. Add to that how relaxed they are from the very nature of the team camp and you seem to have a perfect situation!
Looking good Dave…
With the 2011 team including many of the riders from 2 stunning 2010 teams this is surely a team to watch out for. On that note we've just had a delivery of actual team edition Garmin Transitions team kit – as made and put aside for the Pro riders (some items even have the riders' name in the collar!) Check it out here: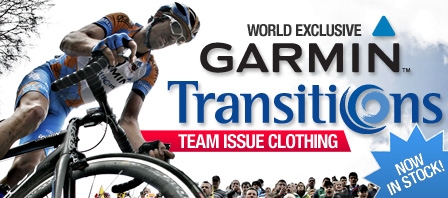 Team RadioShack:
While Spain doesn't sound as exotic as the Cayman Islands the team gathered here for their week long camp.
Team RadioShack is back for our first training camp of the 2011 season. All European-based riders are all officially present and accounted for, now that Jani Brajkovic has arrived. It took Jani almost two days to arrive in Spain. Like often, he was very unlucky with his flights!  It is great to finally have the European riders and staff reunited, as we catch up and welcome the several new riders of 2011.
No riders from the USA (Lance will surely be involved somehow with the team?) made the trip but the new Irish signing Phil Deignan was more than happy to head south in an attempt to beat the arctic conditions which the UK and Ireland has seen over the last 10 days.
2011 brings riders in from Cervelo Test Team, Footon Serveto and Caja Rural bolstering the ranks for hopefully all 3 Grand Tours.
Instead the USA based riders were lucky enough to be TT'ing and racing cars around the Nissan Test track in Arizona!
A mix of bike challenges with Lance Armstrong and Levi in attendance plus driving challenges made for an exciting time. Young gun Bjorn Selander took the cycling TT win with the suggestion that LA and Levi were saving their legs?!
Driver of the day went to Mr Armstrong who has been doing a lot of publicity for Nissan lately (what can I say – I drive a mighty Nissan to!)
Here's his latest effort:
Liquigas-Cannondale:
The chance to swap bikes for ski's and sledges appeals to most people and Ivan Basso is no exception, given the chance to go sliding he was straight in there complete with suitable winter jacket and hat!
A brief 4-day event in Moena, Italy gave the team chance to catch up and prepare for 2011 which sees specific targeting of the Giro, Tour and some strong presence in the Classics with Daniel Oss and Peter Sagan being favourites for these.
---
The 'DREAM' training camp:
After reading these stories of exotic locations, exciting activities and tanned wives we've come up with some tips for a dream winter training camp:
Location: anywhere with sunshine, and lots of it with a minimum temperature of 18°c please.
Daytime activities to include – catamaran trips, massages, strictly eating at Michelin starred restaurants only, a spot of skydiving and bear hunting.
In case this sounds too much like a holiday we'll have hill reps, an evening spin session on the balcony (with Deadmau5 on the decks providing some spin tunes) and some well organised tweet rides for all the local riders to take part in.
What would you add to this list? Let us know below: