Team Probikekit arrived at work on Friday morning, complete with their bikes and kit for the weekend's 24 hour race.
A bright sunny day put us all in a good mood and with a generous donation from the PBK bosses we loaded up the van, with 5 hours ahead of us comfort and music were high on the list.
It would seem that some of the guys here at PBK take travelling seriously, made most apparent by Nick: his combination of hard bike box and kit bag made fitting his stuff in easy.
---
I, on the other hand travel light – rolling up to work on my race bike and a well used Intermarche Bag for Life full of a weekends race kit:
---
Once packed up we were on our way, a quick stop for fuel and jaffa cakes and the south of England and lots of M6 motorway beckoned. On the way down we discussed race tactics for the next day, my vaguely large head, saw some unbelievable driving and hoped that the sat-nav lady was leading us the correct way. Our overnight stay was in High Wycombe, luckily just 5 minutes walk from what looked like a pub from the outside. After ordering a few pints we sat down to hone our strategy when we noticed this:
All we wanted was to talk about the race, and after checking in with the boss, receipts for this wouldn't be accepted.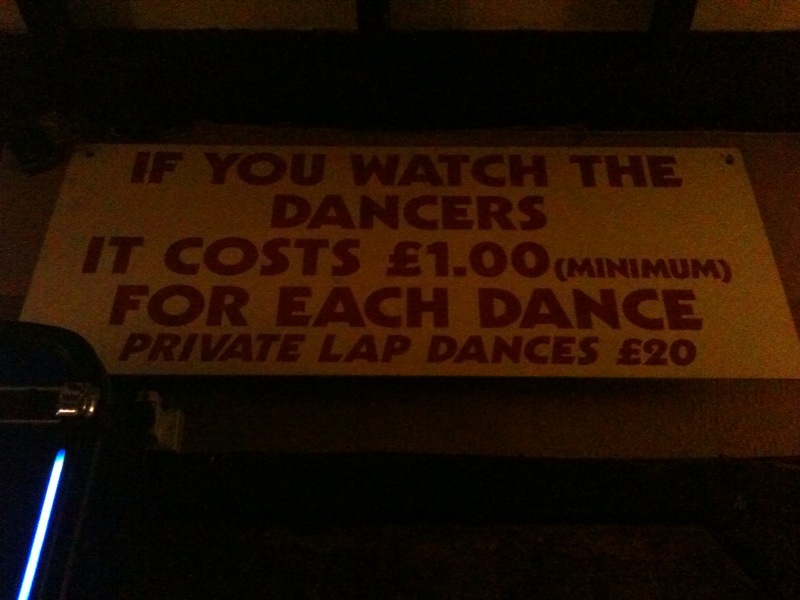 With Fatty and Dave retiring early me and Nick took it upon ourselves to sample a bit more of High Wycombe's night life, specifically the pub a further 10m down the road which didn't turn out to be outstanding either. It did however serve beer, have some girls in it who didn't want our money and shelter us from the rain.
---
Race-day AM:
An early (slightly hung-over from some) start and a bowl of bran-flakes (If they work for Chris Hoy they work for us), some black coffee and the final stage of the Dauphine Libere on WorldSport spurred us on for the 24 hours ahead.
A quick drive down and around the M25 led us to the Top Gear Test Track. Windy, open, windy and windy would sum it up. We had to set up our tents and get bikes re-built in time for a demo-lap so we all knew the course, checked our timing chips were working and had chance to have a chat with everyone. The wind was immediately going to be a big factor in the race. The back section of the track was tail wind, once we'd turned around to come back even on this warm-up/demo lap everyone was hiding from the constant onslaught of wind. The last turn brought us out onto the wide runway and at the end in the distance was the red finishing tunnel.
A welcome sight after 3 or 4 minutes of runway, and beside it was the ominous clock set at 24 hours ready to start counting down…
---
Midday:
Race time and Dave was first up for an hour of power, followed by me, Nick and Fatty who all stuck a fast hour in to keep the pace up and keep us placed high.
Dave stuck in there and with the addition of a crash on the main runway (we hope he's OK) was firmly in the front group and looking fairly relaxed. The group had lots of quality looking riders, lots of deep section wheels (how they must have loved the cross winds!) and a couple of Di2 equipped bikes made for some serious racing. The Cobbleshocks Team had a guy with Di2 who had seemingly endless amounts of power – more on him later.
A flying visit from the Johnson family/photographers gave us these pics along with some from our camera.
[nggallery id=29]
To be honest we all agree that the 24 hours were a complete blur – you were either racing, had just finished racing or getting ready to race (if you're Fatty you can also add getting massaged after each stint and Nick having a trip to the first aiders after falling out of his tent and dislocating his thumb – thank you for not screaming and waking us up, really, thank you.)
---
Here's each riders view on the race; Dave:
Two weeks and two 24 hour races, as I write this I'm still in a bit of a daze. More from a come down from what seems like a years worth of energy gels than from lots of travelling and lots of hours in the saddle.

Two weeks ago Italy; last week an old air strip made famous by The Stig in Dunsfold.

Winds were the one thing that seems to characterise the event. That and a lack of sleep.

Roll out was 12 mid day on Saturday; when I say roll out what I mean is a quick hobble of a jog to your bike in cleats then roll out. Yep! the race started with a Le Mans style sprint. Then 24 hours to be completed.

Lap after lap a fast back straight a slight hill that got harder as the hours ticked by then turning the bottom corner hitting the head wind and seeing a red square in the distance gradually turn in to a large inflatable start/finish banner. What else would you want to do with your weekend?

Chris and I took care of the majority of the day shifts leaving Adrian and Nick with the 10:30 till 6am night shift. A great idea, the two diesel engine riders churning out the long dark hours and during the daylight when you could see the pot holes us two fresh from a good nights kip putting in the laps. A good idea, but you try sleeping after several caffeine energy gels on a dodgy lie-low!

Still up at 4:30 and with a banana for breakfast it was time to hit the track for 6am, letting Adrian hit the sack for some shut eye.

Sunday was fast with everyone wanting to clamber up the leader board. With a great crowd and marshals cheering everyone on it made for an enjoyable event, as enjoyable as it was with 8 hours and 300km in my legs, I was glad to see Chris bring home the final lap for our team.
Nick:
So after my intensive training resume building up to the race, I was confident that I was turning up fully unprepared and ready for nothing, but somehow I came out the other side still standing and with a smile on my face. Admittedly, I was only still standing because my a**e was too sore to sit on and the smile on my face was induced by the caffeine that had now replaced my blood which was merrily pumping around my body keeping it in a perpetual state of disbelief. This was definitely one of those occasions where at one thirty in the morning whilst pedalling my bike around in the dark on a airfield for three and a half hours my whole body had become numb to what was going on. Ideally I would have liked this sense of nothingness to have kicked some time earlier to have somewhat eased the pain in various parts of my body. Of course, falling out of my tent just before my four hour night time stint and dislocating my thumb wasn't the best of starts, yet I was never the less undeterred from doing my bit for the team as this was one of those times through all our different beliefs, sexual preferences, massive heads, witty remarks and general tomfoolery we had all pulled together as a team. We came through the other side victorious in the knowledge we had all put our hearts and souls into doing our bit for the team and a worthy cause.

My only regret? Well the lack of dancing girls we didn't manage to acquire to welcome us over the finish line and possible my lack of training.

Would I do it again? With out a shadow of doubt.

What would I do different? A lot more training, a lot more!……… and dancing girls, a lot of dancing girls.
Fatty:
Fatty on sleepless nights at the 24hr and banter that the youngest in a team will always get…

Ok, lets cut to the chase here. I was not practically well prepared for this event. The cycling had been going well (well enough) but the week before the event saw me on holiday and a little poorly, I got back at 2.30pm on the Friday and had a hour to get ready…

A bag full of summer race kit and a bike with the wrong tyres then…

So how great that the weather dropped 10 degrees from the supposed cold north, to the warmer climbs of the south? Oh and the wind picked up, Global warming my a**…..

It's lucky we were a "team". Nick unpacked the van while I swapped tyres, I rode round in David's knee warmers and gloves. Chris had done all the arrangements, all I did was turn up and drive the bus,  so one word of advice to wannabe 24h'ers – be prepared.

As for the racing I did an hour early on to get my legs in and then rode in the dark (thanks for fitting the lights Nick) for 3 1/2 h. It was surreal, full of caffeine on a super wide runway wondering if the event has been cancelled as you haven't seen another light for 3 laps!

What can I say it was dark, cold and windy then it was light, cold and windy, then Dave came into the pits and I went back to my tent but sleep evaded me probably due to too much caffeine.

The event was really well organised (I clearly am not) and a big thank you to all at Action research AND TO OUR SUPPLIERS. Great light and motion lights courtesy of Madison, great caffeine gels and other nutritional support from High 5 and a great weekend, now where did I put my shoes…

P.S. Chris got lots of stick all weekend most not deserved so just a quick note to say your heads not THAT big!
Chris:
Gutted to not find out who the Stig was, also:

In a word 'blooming hard' especially if you didn't have anyone to shelter behind into the wind you were a gonner. From the timing you can see the massive increase in lap times, it added about 30 seconds onto a lap – not ideal when trying to chase groups ahead. My highlight was chasing the attacking no.88 – the man with Di2 who was just unbelievably strong. He said he needed to get a lap back on the leaders (Sky) and so we had a good go along with a man on a red bike. I was so far out of my league here, I was hanging on for dear life but somehow I managed to come through and give him a bit of draft before he took over again. Some of the memorable quotes:

A rider who "stormed around for 1 lap and then blew up spectacularly" made my day, along with the brilliant catering on offer – many chocolate muffins and pieces of flapjack were consumed over the 24 hours.
Me directing my parents to me when I was "in the tents". Given that the camp site was approx 250m long, it wasn't the best description.
Dave's early morning meal of beans on bread – "hard to get into my pocket, even harder to get out".
The gels with so much caffeine you could see through time.

It's not often you get to ride with so many cyclists of all abilities and so many friendly people. The only stressed people I saw were when a change-over didn't go quite to plan, in the pits there were many hand shakes after some good companionships out there, which were vital to prevent other groups from catching you as easily.
The worst part? It must have been the morning when even un-worn kit had become damp and the sprint out of the pits to get onto a group felt like my legs weighed 2 tonnes. Once the sun had risen the temperature rose a bit but even the last few hours were done with warmers and a grimace.

But it was all worth it. As a team of 4, we managed to ride around for 24 hours and put 177 laps in (at an overall average of 21mph) and that is what these events are all about. It would have been impossible without Fatty, Nick and Dave to get anywhere near this.

See the results and timings here: http://dbmax.co.uk/store/results
Thank you again to everyone who's sponsored us, there is still time to enter the prize draw here. Madison kindly donated us the Light and Motion lights for the night time, Nick and Fatty were more than impressed with the units, a 700 lumen and 900 lumen kit were definitely the brightest lights out there and Fatty didn't even use his on 'high' which says a lot. High5 provided us with plenty of gels, bars and recovery powder which even at the darkest of hours was palatable and worked a treat out on the track – I've become a real fan of the raspberry plus gels.
(A video will appear here soon – depending on how busy PBK towers get this afternoon)