My Protein's PRO:LONG energy powder lends itself to the Ronseal family of nattily named products and is firmly planted in the does what it says on the tin category. It "PRO:LONGs" performance. Originally named. Certainly, a quick glance through the ingredients on the back of the understatedly stylish 1.5kg pouch that PRO:LONG is delivered in will leave you in little doubt that this powder has the credentials to do just that.

With a high proportion of carbohydrates, namely maltodextrin, dextrose and CarBarleyTM, combined with a blend of vital electrolytes, PRO:LONG has a similar foundation to many of its energy powder contemporaries, but it is the added extras that My Protein have included that raise this product above its rivals in the quest for performance. Branch Chain Amino Acids (BCAAs) and Casein Hydrolysate both help to aid recovery during sustained periods of exercise while the clever addition of Vitamin C helps reduce fatigue during and after exercise while maintaining normal metabolic and immune system function. Simply put, My Protein has designed an energy powder to cater entirely for an athlete's intra-exercise requirements.
In practice, I used one serving (50g mixed with 500 to 750ml of water as suggested by My Protein) of the PRO:LONG powder around 1 hour before a heavy training session or a big race. I supplemented this with another serving in one of my race bottles and a half-serving to complement my post-ride recovery shake. I found that alongside my other fuel this was more than sufficient for a 5 hour training ride and I was often left with spare energy gels and bars come the end of a session. I can honestly say I was very impressed with the amount of energy provided per serving. My Protein claim each 50g serving contains 154kcal, slightly less than purely carbohydrate focused products on offer from other manufacturers, but when you consider the high performance blend that PRO:LONG provides, a few kcal deficit is neither here nor there. The addition of BCAAs and Casein, in my experience, also made a noticeable difference leaving me feeling fresher after my most intense training sessions and better recovered than usual come the next day. My Protein really know how to make an energy powder that works.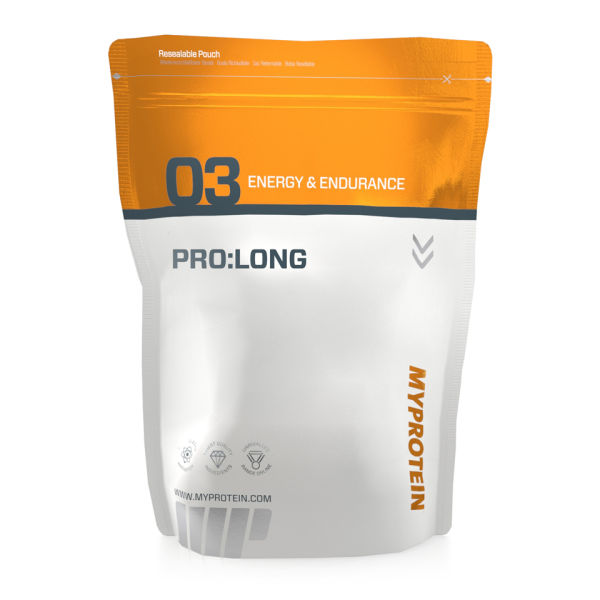 The taste: I have tried various brands and flavours of energy powders and this has to be up there in terms of taste and ease of consumption. Once mixed, PRO:LONG was no different to drinking a water-cordial mix, with the powder completely dissolving, leaving no residue as is sometimes the case with powder based drinks. The tropical flavour was indeed wonderfully refreshing and slipped down easily.
Pricing for the 1.5kg pouch of PRO:LONG is also superbly competitive. SiS GO Energy (1.5kg tub) and High5 Energy Source (2.2kg tub), PRO:LONG's direct competition, come in at £25.99 and £29.99 respectively while My Protein provide a 1.5kg pouch for only £19.99. For this you are getting a lot of bang for your buck.
Conclusion
An excellent value, well-flavoured, high performance energy powder with that little extra, making it the perfect energy source for long training rides and racing.