When it comes to high visibility cycling clothing, it's a matter of safety over anything else. While in the bright Summer mornings you may love wearing your block-coloured red, blue. black or white cycling gear, in the colder months however, when darkness comes around prematurely, fluorescent yellow can be a sensible choice. Donning the bright reflective material can save your life as well as help protect those around you, and it doesn't have to look generic either, thanks to our new range of high visibility cycling clothing.
Northwave high visibility cycling clothing 2014
As Northwave specialise in both cycling clothing and snowboarding gear, you can pretty much guarantee that their winter clothing range is going to be warm.  Northwave have delivered the goods this Autumn/Winter, producing some top garments that will keep you warm and aid your rides in the colder season, but they've also done something even more spectacular this year: they've released a range of high visibility cycling clothing that looks great. 
From the sleek, trim and slimline contours of the technical Bullet Long Sleeve Jersey, to the bold and simple styling of the Traveller High Vis Jacket, the high visibility range from Northwave is anything but bleak and 'safe' (although it is safe in the literal sense!) If you want to go the extra mile and double – or triple – up on your safety, you can add in a pair of Power Long Gloves or Winter High Shoe Covers, which both provide adequate illumination by reflection, along with a design smart enough to integrate into the rest of your cycling wardrobe. If you're off out on a particularly dark route, or you prefer a more subtle safety approach, you can always try the Traveller Waterproof Cap.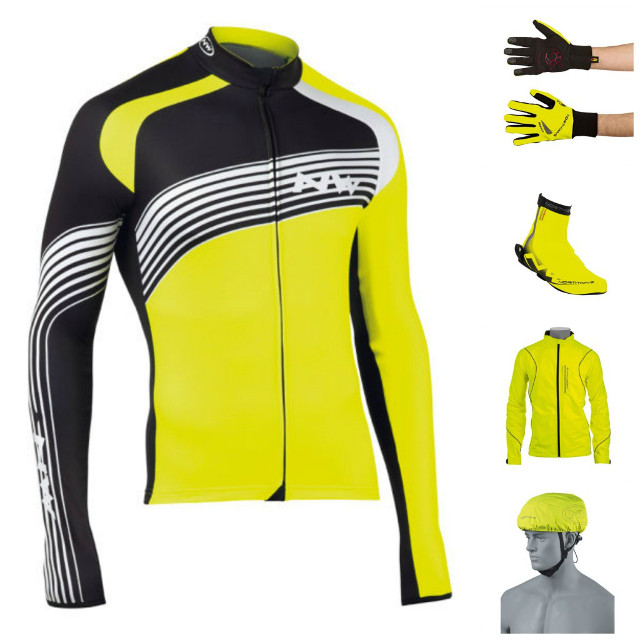 Main picture: Bullet Long Sleeve Jersey by Northwave. Top to bottom: Power Long Gloves, Winter High Shoe Covers, Traveller High Vis Jacket and Traveller Waterproof Cap all by Northwave.
---
Proviz high visibility cycling clothing 2014
When it comes to high visibility cycling clothing, Proviz are the kings of reflective, visible attire. Providing high visibility wear for a wide range of sports, Proviz are well and truly in their element when it comes to making their garments visible and seen, the only remaining test was to see if they could bring something exciting to the cycling forefront this year, as they had done before.
2014's effort from Proviz is no disappointment, combining fluorescent yellows with reflective silvers, they have incorporated some cutting-edge designs into their range this winter.
Featured: the Proviz Reflect 360 Jacket
The Proviz Reflect 360 Jacket is getting a lot of attention at the moment as a game-changing first in reflective technology. The 360 degree reflective material is is engineered with allows drivers to see wearers of the jacket around 3 seconds sooner in dark conditions. The material works to reflect even the slightest fraction of light around, making you visible and safe.
The Proviz does all this whilst still remaining a very wearable, functional jacket. It combines waterproof technology, built-in air vents and a subtle rear spray guard. It manages to pull this all together with its stylish silver look, which acts as a nice break from the usual yellow colour-ways.
The rest of the Proviz high visibility cycling clothing range follows suit with the inclusion of function, fashion and safety, and serves very much as an extension of the Reflect 360 jacket, as silver is used throughout and contrasts against the fluorescent yellow to create a subtly stylish effect. The Nightrider Rucksack, Waterproof reflective gloves and Nightrider Rucksack Cover can be used in conjunction with the 360 jacket or with other cycling wear.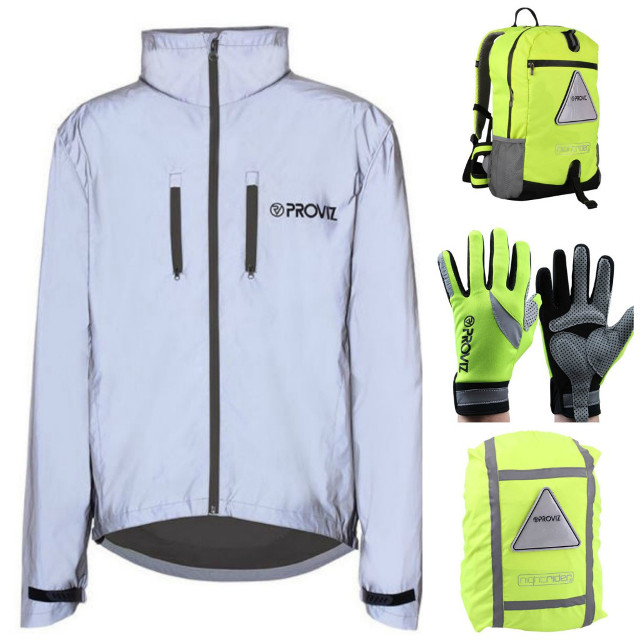 Main picture: Reflect 360 Jacket by Proviz.  Top to bottom: Nightrider Rucksack, Waterproof Cycling Gloves and Nightrider Rucksack Cover all by Proviz.
---
Sugoi Zap High Visibility Cycling Clothing
Sugoi haven't just put forth a collection of high visibility cycling clothing for 2014, they've completely reinvented the genre. Thanks to their state-of-the-art Zap technology, Sugoi have made it possible to stay fully illuminated whilst doing away with traditional reflective materials, meaning that their garments can retain their iconic colour-ways and modern styling. Sugoi's Zap technology is one of those things that must be shown in a video rather than simply written about, watch the short feature below to see how Zap technology works:
If watching that doesn't make you want to try it out, then nothing will! Sugoi's ground-breaking  Zap technology is drip-fed through their 2014 Autumn/Winter collection, and it is available across a wide selection of garments, allowing the colour-ways to use reds, blacks and silvers. Check out the selection below for a high visibility cycling clothing collection with a difference.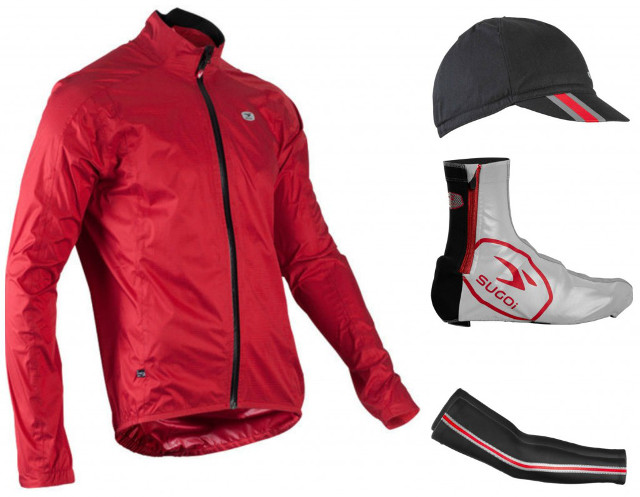 Main picture: Zap Reflective Jacket by Sugoi. Top to bottom: Zap Reflective Cap, Zap Reflective Shoe Cover and Zap Reflective Arm Warmer all by Sugoi.
---
What else is on the market this Winter?
The big choices for high visibility cycling clothing this winter are going to be the Sugoi Zap range, Provis 360 jacket and the entire Northwave reflective range, but there are other items of equal quality and functionality available this year.
If none of the above takes your fantasy, you could always check out Endura's Luminite range, which contains a large amount of men's and women's high visibility and reflective wear for the dark nights and unclear mornings. Highlights include the Luminite II Cycling jacket, available in both men's and women's versions, and the range's overshoes and helmet cover. Staying safe and looking good needn't be two contrasting forces when it comes to cycling wear this winter.