Before the weekend we saw the maglia rosa change hands from Cadel Evans to Rigoberto Urán, which was the first major changeover since Michael Matthews lost it early on. The weekend brought more surprises and shocks as the riders entered the beginning of the latter stages of the race.
Stage 14 ran from Agliè in the province of Turin, to Oropa in the comune of Biella. The 164km course included a few big climbs, one being right on the finish line. Not so tall, but undoubtedly steep, the Alpe Noveis reaches an incline of 16% at its maximum.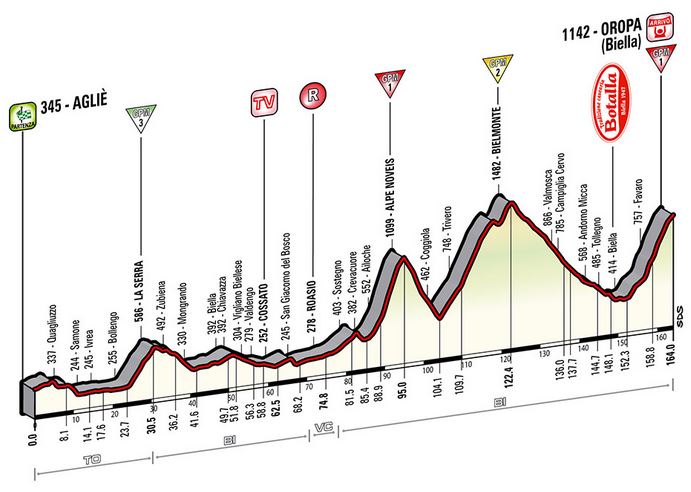 Enrico Battaglin takes a win in Oropa, and fights for recognition
A stage win for the 24 year old Enrico Battaglin was huge in stage 14 of the Giro, as he has been a constant hard worker in cycling ever since his signing by Colnago at the young age of just 17 back in 2006. His past Giro d'Italia record looks a little like this: 2012 – 74th, 2013 – withdrawal. This stage win is sure to put the confidence back in the Italian.
Stage 15 – Uran stays ahead.
Stage 15 was 225km of mainly flat terrain, with a 1,400 climb thrown in at the final 20km, and Astana's Fabio Aru was first to cross the line, leaving Fabio Duarte ( Colombia) a huge 21 seconds behind. This win was the first of it's kind for Aru, and the success will stick with him for the rest of the event no doubt.
Rigoberto Uran now stays ahead in the general classification and simply said 'I'm satisfied'.
Stage 16 – Quintana rosa!
This route from Ponte di Legno to Val Martello saw Nairo Quintana take the maglia rosa from Rigobero Uran. It was a 139km ordeal that was full of elemental distractions: mist-shrouded heights, icy snow-capped mountains and general miserable weather.
Race organisers were cautious and concerned over the conditions on race day, as the high-altitude mist was a potential danger to all riders. On top of this, Quintana had apparently been suffering with a minor illness – possibly a cold – so how he managed to turn it all around is a wonder at all. With Uran continuously failing to increase or even maintain his lead however, it soon became apparent that the pink jersey was about to be stolen away from him.
The final 8km played to Quintana's strengths, uphill climbing and power-to-weight ratio. Being a very light, small-statued rider, Quintana burned off both Rolland and Hesjedal, managing to take both the stage win and the GC title.