Perhaps one of Italy's greatest cycling clothing brands, Sportful's Autumn/Winter collection for 2014 doesn't disappoint. Providing a variety of high-end quality ranges, Sportful's cycling garments are accessible to the cycling public, for both weekend warriors and serious club racers, whilst still being a serious choice for the professionals.
Chosen by Team Tinkoff-Saxo for their pro peloton, Sportful's Bodyfit pro range is a close-fitting, top-performing selection with the proof in the tour success. Their Fiandre range boasts a wide array of highly functional and technical jackets and jerseys that rise above the required standard by far, introducing new technologies to fight the elements. They have also updated their new R&D range, a high specification speciality range with new innovative tools and features that are still being created and tweaked as we speak, they are the garments of the professional future, and Sportful have opened the range up for you to try out.
Let's get deeper into the Sportful Autumn Winter cycling clothing range for 2014.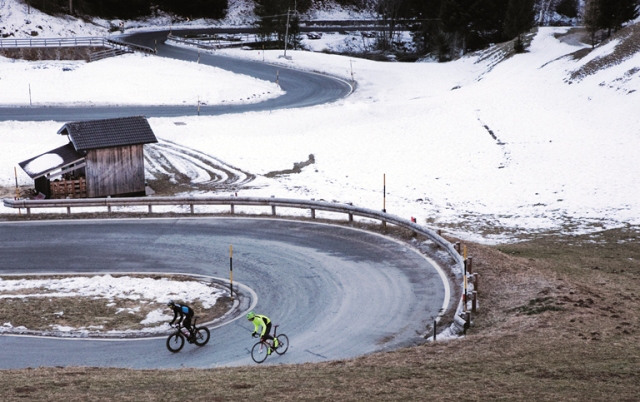 Bodyfit Pro
Favoured by the Tinkoff-Saxo team and worn by many amateurs and hobbyists, the Bodyfit Pro range from Sportful is a favourite for all.  Designed alongside the Tinkoff team, the Bodyfit line is crafted with only the finest technology. For the 2014 Sportful Autumn Winter cycling clothing range, this means ultimate warmth and protection whilst retaining sleek, streamlined performance for road races and serious riding.
Product in focus: Bodyfit Pro WS Jacket.
The Sportful Bodyfit Pro WS jacket is a multi-purpose Autumn Winter cycling jacket for the rider who plans to ride hard through the colder months. The first thing you notice about this jacket is the sleek look, the trim-cut seams and it's cool subtle colour way. Beyond the understated look, there's a multitude of hidden technical features that ease you through your ride and help the jersey to customise your ride.
These features include three external rear pockets for quick access and storage of nutrition, which also include a breathable material for when the rides heat up. This jacket includes a number of high-tech elements, such as the iternal ThermoDrytex Plus cuffs and the Anatomic BodyFit Pro construction.
All in all this jacket from Sportful is a no-brainer when it comes to the cold weather, it's a versatile, useful jacket to have on your rides. Check out the jacket here in blue, black with yellow fluo, and black with grey.
Fiandre NoRain
Fiandre is Italian for 'Flanders', and it is notoriously one of the toughest race series around, and so the Fiandre NoRain jacket must match.
Product in focus: The Fiandre NoRain Jacket. 
If there's one jacket that sticks out in the Sportful Autumn Winter cycling clothing range, and one that can counteract all weathers, elements and resistance, it's the Sportful NoRain jacket. Expect to see this draped over the backs of riders aplenty over Autumn and Winter, as they battle the elements wearing the closet thing to a shield available for cyclists. The NoRain jacket features a breathable back section, ThermoDrytex neck seal to prevent rain from breaking the seal, and a myriad of other protective and free-flowing dynamic features, all designed to give you the Swiss Army Knife of cycling jackets. This is a tool that will see you through Winter, check it out in more detail here.
R & D – Premium technology and the future of cycling wear.
It may seem as though all of Sportful's ranges boast high tech features, and while that's true, you'd have to experience Sportful's R & D range for optimum technology overload. The R & D range is pure innovative on the edge of the limits of modern technology.
Product in focus: The R & D Jacket. 
The R & D Jacket features WindShield/Polartec Alpha stretch fabric material, an anatomically shaped high collar with a special fleece lining for comfort. This cutting-edge technology means that you're on the cusp of innovation, wearing technology that even the pros don't use yet. Take the chance to be ahead of the peloton with this incredibly new technology, pick up yours here!
This is just a slice of the  Sportful Autumn Winter cycling clothing collection we have at ProBikeKit, to shop the whole collection click here.