Say the word Bianchi and the first thing that comes to mind is the iconic Italian brand of bikes and kit that have been seen in the peloton on the backs of Coppi , Pantani and many more cycling legends. Since 1885 Bianchi has been worn and ridden up the greatest climbs, over the highest passes and across the line at some of the most prestigious events in history.
Bianchi's clothing range has been designed and manufactured to accent their range of top quality, stunning bicycles. In true Italian style they look to be out of the pages of a vogue magazine; given the chance I'm quite certain they would have a 10 page spread.
Looking through the catalogue of the new Spring/Summer collection I can't help but appreciate the classic looking clothing. Whether you are a track cyclist, fixie rider or Roadie the items in the collection will appeal to all.
Women will appreciate Bianchi's clothing as well. This fashion collection looks like it belongs on the cyclist who still wants to turn heads as she rides past or as the catalogue shows, pushing her bike down the high street. The shorts and jerseys have all been made to high standard but a lack of bib shorts leaves me to wonder if the women's range was designed more for a quick café ride with friends than it was for the serious racing cyclist.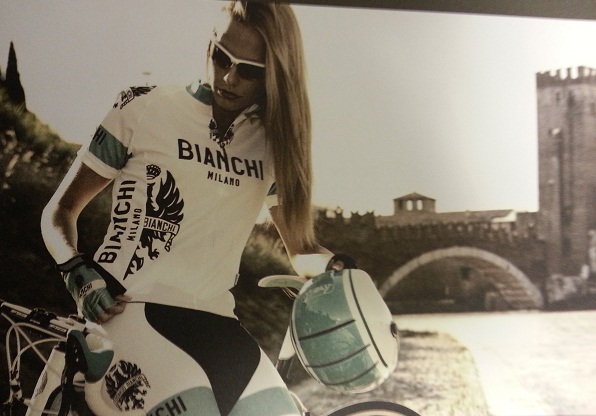 The Celebrative Range has a number of classic Bianchi jerseys and bibshorts in colours such as black, white, King of the Mountains and of course, Celeste. My personal favourite is the Fudoki jersey. This jersey looks like it belongs on the track or the single speed commuter of Rome and the accents in celeste make this truly a Bianchi inspired bit of kit.
The Performance line is available for both men and women. This lightweight summer range has a race fit and is extremely breathable. Perfect for a hill climbing session in the Dolomites or racing through the vineyards of Tuscany however, they do fit small so if you aren't built like a pro you may want to consider ordering a size up.
Bianchi definitely looks like classic Italian cycling should look. Clean, beautiful colours and Milano style that makes you want to get out and ride. My only criticism of the kit is wondering if it will look good on another brand of bike or outside of Italy for that matter. It is almost as if they have been too literal with their designs and one may feel a bit apprehensive about being seen wearing it whilst riding a Trek. I guess you can't blame them for creating something to emulate their timeless collection and if you love the Italian style you will adore this kit.