We have a great relationship here at PBK with the premium Italian clothing manufacturer Castelli. With the 2010 range here in our warehouse we've all been climbing over boxes to find these new Body Paint bibshorts.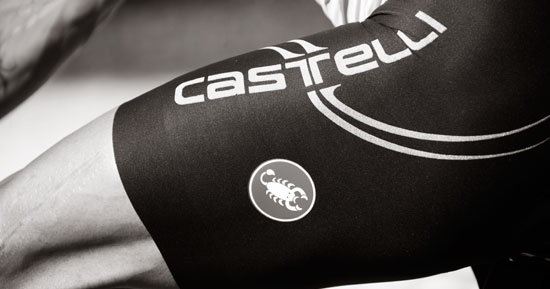 Fatty first tried these last year at the Castelli 24hr race and managed to bag himself a pair. You soon find out what an item is like in an intense race like this, this is what he had to say about them:
So what can they do with a short you ask?? Well quite a lot as it happens as this short is as different as a short can be. To start with it is made of a single piece of engineered power stretch Lycra; yes a single piece! It also includes integrated leg grippers, which are integrated so nothing is bonded, sewn, injected or stuck on, just a subtle increase in the amount of Lycra content. The real star however is the pad.  The ProgettoX2 is a double skinned pad with a free floating pad next to the saddle and a fixed body hugging micro fleece next to the skin. There is a lot of science behind it and you only need to know one thing… they work! They work very well, in fact they are by far the most comfortable shorts I have ever worn.
Now that we have them in to look at and try on, all of us staffers would love to own a pair. As with all the Castelli range, the first impression you get is of the quality feel to them. The fabrics, the stitching and even the packaging immediately let you know that Castelli are serious about cycle clothing. This body paint short is  the "result of three years of development, some futuristic thinking and feedback from elite riders".
Starting at the top: the bibs are seamless, wide and made from Giro++ elastic. The width allows them to sit flat against your skin and there is very little movement once on. This fabric is soft with plenty of stretch and return in it, you'll wear out long before this does.
There is a fine mesh panel on the back which keeps the bibs together and this will help with ventilation/sweat dispersal on hot days. There's also a neat little rubber Italian flag on the back.
The front is low cut around your stomach for a chafe free ride.
The main short is made from just one panel of Power Stretch Lycra – no seams to get in the way/fail or irritate.
The X2 chamois which I'll go into more below is light, soft and flexible.
The legs have reflective silicone print and the famous Scorpion is visible for all to see.
---
From the company that brought you the first synthetic pads and then the revolutionary Progetto Y, comfort is raised to a whole new level with this pad.
A pad has to do two things: caress your skin and cushion your bum. So Castelli created two distinct components, each one that does a job without any compromises.
The top SKIN LAYER is a soft, stretchy, seamless, bacteriostatic layer next to your skin with the simple task of preventing any sort of chafing. It's probably the softest things to touch your private parts since you got out of diapers.
The CUSHIONING LAYER puts just the right padding in just the right places. The edges of the pad are thing, gradually thickening to maximum thickness under the ischial bones where you sit.
Some Pro remarks:
"The new red pad is really good and I used it without chamois cream! No problem, also in the hills…. Good job!" — Thor Hushovd

"Just wanted to give you some feedback about the shorts!! For me they're perfect!"
— Heinrich Haussler

"In 16 years as a pro, this is the best seat pad I have ever used."
— Inigo Cuesta

"Don't change anything. It's perfect."
— Andreas Klier,
So if you're in the market for some new bibs, these are highly recommended – feature packed and the latest short from a world renowned and Pro endorsed company. Perhaps these could be the push you need to get out and ride that little bit more and become that little bit faster…